From Mary Ann's to Mary Jane
It's the end of an era in Cleveland Circle. 
While they may be miles and years away from the Heights, generations of BC alumni can still recall the smell of Mary Ann's. The 1996 Sub Turri yearbook, in fact, asked students to describe what came to mind when they thought of the infamous dive bar. The responses included "the stench of wine," a "unique smell," "how bad your clothes smell the next morning," and "the kind of smell that won't wash out of your hair."

The scent was a potent combination of mop water, beer, and sweat—the smell of wine and cheap perfume, to borrow the lyrics of a classic song that was blasted thousands of times from the crackling speakers at BC's Cheers. Now, as Mary Ann's is licensed to become a marijuana dispensary, it will likely be laced with a different odor. But Eagles scattered across the globe will always remember the original.

To most Bostonians, Mary Ann's was just a crappy dive bar packed with drunk students. At one point, it was deemed the city's worst bar by Boston magazine. Mary Ann's owners displayed that scathing review with pride: "The beer is warm, flat, and expensive," it read, "and if you're not careful, you could end up wearing as much as you drink."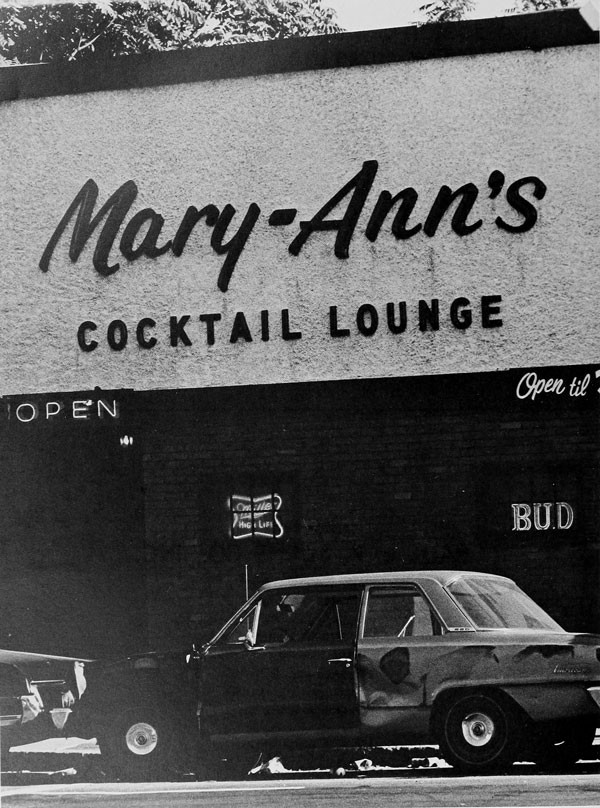 But for Boston College students, it was a place of legend, and its scrappy, sloppy parts were the point. The space housing the bar used to be two establishments: a laundromat and a restaurant. The latter, Reservoir Cafeteria, was founded in 1916 by George Kanavos, a Greek immigrant who opened it when he was 16 years old, according to a 1978 article in The Heights. In the early 1970s, Kanavos's son, George, convinced his father to turn the cafeteria into a bar named after George's wife, Mary Ann, and also to expand it into the laundromat space. 
The BC students were "super," and usually well behaved, George Kanavos told a writer from The Heights, though "a bar without a fight is like a ship without a sail." Indeed, Mary Ann's was not without its debauchery. The bar's history is littered with licensing violations like serving minors, overcrowding, and maintaining a nuisance. And urban legends abound: The hockey team is said to have once driven a Zamboni to Mary Ann's. 
By the time I showed up at Boston College in 2012, the bouncers at Mary Ann's were notoriously tough, and the drink of choice was the Green Monster shot—a sickly-sweet concoction of vodka, Southern Comfort, melon liqueur, peach schnapps, and blue curaçao, glowing green like nuclear waste.
When I read that Mary Ann's had officially closed for good, I thought back to the first time I went there, on my 21st birthday, in April of my senior year. I sipped a very strong, very flat vodka soda with a bone-dry lime floating in the drink, curling in on itself as if from shame. The bar made almost no impression on me. But as the months passed and more and more friends started to plan their nights around a trip to Mary Ann's, it transformed for me from a windowless brick rectangle with one of the tiniest, most disgusting bathrooms I'd ever seen to a place of thrumming energy, where any night could turn into a round of "remember when?" Sticky floors didn't matter when each trip through the door shuffled the deck, and revealed a new cast of familiar faces waving across the bar.

Cheers, one more time, to Mary Ann's. 

---
Molly Boigon LSOE'16 is a freelance reporter based in New York.