Campus Digest: Fall 2021
News and happenings from around Boston College.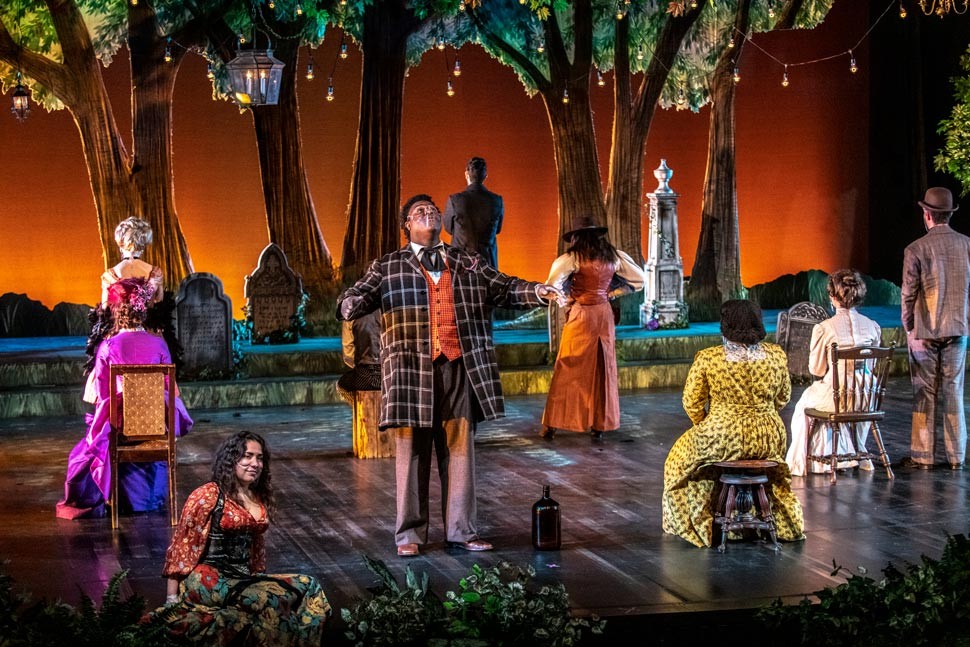 Theatre Department Wins
The Theatre Department's spring staging of Spoon River Revival won an Outstanding Creative Ensemble Award from the Kennedy Center American College Theater Festival. It was presented as a one-act collage of socially distant monologues set to live bluegrass music. "We took so many precautions that it seemed at times that we were producing a medical drama," said Associate Professor of the Practice and Theatre Department Chair Luke Jorgensen. "I am truly fortunate to have been able to lead this experience with these wonderful students." Jorgensen, who directed and adapted the show from Edgar Lee Masters's Spoon River Anthology, will receive the honor at next year's festival.
Dr. Shawna Cooper-Gibson has been named the new vice president for student affairs. The former vice president for student services at Seton Hall University succeeds Joy Moore, who stepped down in October. "I am excited to contribute to the University's Strategic Plan, to enhance the overall student experience, and to build an equitable experience for all BC students," Cooper-Gibson said.

The BC School of Social Work has debuted the new certificate program "Leaders for Equity and Justice in the Workplace." The program will prepare master's students to foster equality for marginalized employees, and to help lead equity, justice, and inclusion programs. 
Boston College Athletics has entered a new ten-year agreement with the Boston-based New Balance Athletics to become the official footwear and apparel provider for thirty of BC's thirty-one varsity sports. The partnership will also include the opportunity for student-athletes to be part of an annual internship program at New Balance.
Using matching funds from the Department of Veterans Affairs, the University has launched a pilot program to cover tuition costs for veterans enrolled in BC Law School and the Carroll School of Management's full-time MBA program. The move "further underscores Boston College's commitment to enhancing its status as a veteran-friendly institution," said Executive Vice President Michael Lochhead, a U.S. Army veteran. 
The Institute for Advanced Jesuit Studies at BC has launched the free app Journey with Ignatius, a virtual pilgrimage that follows Saint Ignatius of Loyola from his years as a young page to his final days as Superior General of the Society of Jesus in Rome.
Nora Field, Boston College's deputy general counsel since 2014, has been promoted to general counsel. She succeeds longtime General Counsel Joseph Herlihy, who retired last summer after nearly three decades of service to the University.
---
"Free transit isn't a nice-to-have. It's a legitimate tool in the toolbox—one of many—to improve service and access to transit that should be seriously considered by transit agencies of all shapes and sizes."
—LivableStreets executive director Stacy Thompson on the panel "Can (and Should) Public Transit Be Free?," part of the Greater Boston Debate Series cohosted by the Rappaport Center for Law and Public Policy at BC Law School
---
$5.3
MILLION
The size of the contract that the Boston College Institute for Scientific Research received earlier this year from the United States Air Force to study the chemistry and physics of the space environment.
---
Engineering a Better World
For the first time this fall, Boston College is offering a bachelor of science degree in human-centered engineering, which equips students to solve complex problems that address critical human needs. Here's a look at the program's inaugural class of 31 students.