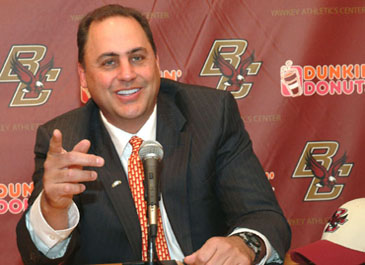 A focus on faith and family. New football head coach Jeff Jagodzinski will deliver the keynote address at this month's Laetare Sunday, scheduled for March 18. He will share the importance that his faith and family played in his decision to accept the invitation to coach the Eagles. RSVP to Laetare Sunday
Alumni Association News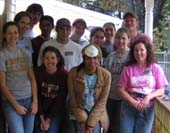 Alumni volunteers at a recent service project in Hartford
Nominations Sought for 2007 Alumni Awards of Excellence. Each year, the Alumni Association Board of Directors honors 10 alumni who embody the University's motto Ever to Excel. Nominations for the 2007 awards, to be conferred in the fall, are due April 1. Read more
Second Annual BC Alumni National Day of Service. Alumni from across the country will join together on April 21 to be men and women for others. To find out if a chapter near you is participating, visit the chapter Websites.
Alumni in the News
Scott Fifer JD '87
Rev. Anthony Chiaramonte PhD '83 has a support group for families of soldiers serving in Iraq and Afghanistan. More
Tamra Gormley '85 is running for family court judge of Scott, Woodward, and Bourbon counties in Kentucky. More
Scott Fifer JD '87 is the director of the TunaHAKI Foundation, which provides shelter to children of AIDS victims in Africa. More
More news stories about alumni
My Favorite Professor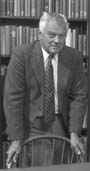 The late P. Albert Duhamel.
Photo courtesy of The History of Boston College by Charles Donovan, SJ (1990)
By Kevin J. Donovan '78
The late Professor Al Duhamel, longtime Shakespearean in BC's English Department, was an inspiration to me and more. He helped set me on the career path I've followed for the last 28 years, one which I've found to be enormously satisfying.
In 1977-78, I was a senior English major intending to go to law school, not because I felt any real calling to the legal profession but because I wasn't sure what else to do with my life. The two semesters of Shakespeare I took from Prof. Duhamel were life-changing. Not only did I fall in love with the plays, but watching him teach in his witty, urbane, highly professional manner, I would think to myself, "Now that would be a fine way to earn a living!" Read more
Share a tribute to your favorite faculty member
Read stories about other alumni in Class Notes Online
Networking Night for Alumni in the Arts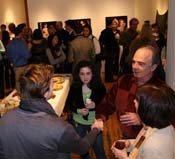 A networking night for alumni in the arts attracted more than 120 aspiring artists
On February 11, more than 120 actors and producers, artists and gallery owners, writers and filmmakers gathered for an evening of networking at a contemporary photography gallery owned by Michael Foley '84 and a performance by Saturday Night Live star Amy Poehler '93. The Networking Night for BC Alumni in the Arts came about thanks to a partnership between the New York City Chapter of the BC Alumni Association and the Boston College Arts Council.
"Making connections and finding opportunities in the arts and entertainment industry can be quite a challenge," notes Arts Council Project Director Cathi Ianno Fournier. "The BC arts community is growing, and we wanted to help facilitate possibilities for collaboration."
Alum Michael Foley graciously offered his gallery for the reception. Foley opened the gallery in the fall of 2004 after 15 years of working at other photography galleries in New York... Read more
Learn more about the New York City Chapter
Join the BC Arts Calendar mailing list
Alumni Services
As a Boston College graduate, you are able to take advantage of a whole range of benefits, including discounted auto insurance, life insurance, and medical insurance, as well as loan consolidation, the BC Rewards Platinum MasterCard, and satellite radio services.
Alumni Programs
Career Services
Chapters
Classes / Reunions
Lifelong Learning
Newton College
Travel / Study
Service & Spirituality
Got ideas for programs or services you'd like us to consider? Contact a member of our staff.
Call for Volunteers
The Alumni Association is currently seeking volunteers for a variety of board committees and community service projects. If you are interested in getting involved, join us on Friday, March 16, at 6:30 p.m. at the McMullen Museum of Art to learn more about the types of volunteer opportunities available, and to see the new Belgian art exhibit A New Key. For more information about volunteering, or to RSVP for the reception on March 16, contact the Alumni Relations Office.