Alumni Connections
a monthly e-newsletter
My Favorite BC Professor
by Kevin J. Donovan '78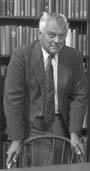 The late Professor Al Duhamel, longtime Shakespearean in B.C.'s English Department, was an inspiration to me and more: he helped set me on the career path I've followed for the last 28 years, one which I've found to be enormously satisfying.

In 1977-78 I was a senior English major intending to go to law school, not because I felt any real calling to the legal profession but because I wasn't sure what else to do with my life. The two semesters of Shakespeare I took from Prof. Duhamel were life-changing. Not only did I fall in love with the plays, but watching him teach in his witty, urbane, highly professional manner, I would think to myself, "Now that would be a fine way to earn a living!"

However, I knew enough about the dire prospects of the academic job market to put the idea of pursuing a Ph.D. out of my head: an academic career seemed an impossible dream. Al Duhamel encouraged me to consider the idea and steered me toward a graduate program (at his graduate alma mater, the University of Wisconsin) which I found to be very congenial. I not only received an excellent education there but also met my wife and other lifelong friends as well.

I've been teaching Shakespeare and British and Irish literature at the college level for twenty years now, currently at Middle Tennessee State University, and feel truly privileged to do so. I am delighted to have this opportunity to pay my respects to the memory of Professor Duhamel.
Networking Night for the Arts
View photos from the event
On February 11, more than 120 actors and producers, artists and gallery owners, writers and filmmakers gathered for an evening of networking at a contemporary photography gallery owned by Michael Foley '84 and a performance by Saturday Night Live star Amy Poehler '93. The Networking Night for BC Alumni in the Arts came about thanks to a partnership between the New York City Chapter of the BC Alumni Association and the Boston College Arts Council.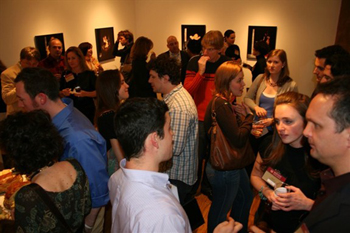 "Making connections and finding opportunities in the arts and entertainment industry can be quite a challenge," notes Arts Council Project Director Cathi Ianno Fournier. "The BC arts community is growing, and we wanted to help facilitate possibilities for collaboration."

Alum Michael Foley graciously offered his gallery for the reception. Foley opened the gallery in the fall of 2004 after 15 years of working at other photography galleries in New York. A faculty member at Parsons School of Design and the School of Visual Arts, he teaches and lectures on issues in contemporary photography.

Following the reception, alumni took in a performance of the Upright Citizens Brigade Theatre featuring UCBT founder and star of NBC's Saturday Night Live, Amy Poehler '93. Poehler is the 2006 recipient of the Arts Council Alumni Award for distinguished achievement in the arts.

The BC Alumni in the Arts reception is just one of the networking opportunities the New York City Chapter has been facilitating for alumni, under the leadership of R. Michael Wirin '89 and Jason Moore '03. A reception in January for alumni in cable and broadcast television, entertainment, and strategic branding drew some 125 attendees. Sean Cunningham '83, president and CEO of Cabletelevision Advertising Bureau, was the guest speaker. For more information about the NYC Chapter, visit www.bc.edu/chapters/newyorkcity.