Serving ice cream—and the community
Annie Park '13 and her mother came to the U.S. with nothing but a suitcase each. Now their ice cream venture is a thriving local favorite.
Every afternoon, after her high school classes let out, Annie Park '13 walked to her part-time job at Starbucks, nestled in the upscale Wildwood Shopping Center in Bethesda, Maryland. By that point, she had lived in the United States for seven years, but approaching the strip mall, bustling with afternoon shoppers, still awed her.
"I would always think, 'Oh gosh, it's so nice, all these small businesses…and these customers can come here and just spend money?!'" she recalled. "Nothing seemed affordable at the time." 
Fourteen years later, a lot has changed. Park now lives in Washington, D.C., and has degrees from Boston College, Johns Hopkins, and Harvard. She's still commuting to Wildwood, but not as a barista. After arriving in Bethesda from South Korea in 2000 with nothing but a suitcase each, Park and her mother are now the co-founders of Sarah's Handmade Ice Cream, a successful local business with 35 employees and an annual revenue of $1.86 million. Park's mother calls their story "an American dream."
Becoming the owner of an ice cream business was never Park's plan, although entrepreneurship has intrigued her for years. At Harvard, she attended pitch competitions just for fun, and volunteered for one of the start-ups she discovered there. But when her mother called her in 2018 with an idea for an ice cream shop, Park didn't consider it a business proposal. 
"I never thought of it as entrepreneurship," she recalled. "I just wanted my mom to feel fulfilled with her time and enjoy her retirement by having this little project in the neighborhood where our neighbors would come by to eat ice cream." 
"

I love the idea that your learning is not just for yourself—you're going to go out into the world and shine your light on other people. BC really shaped the way I see my role in the community.

"
In the beginning, Park and her mother, for whom the shop is named, planned to make ice cream once or twice a week, using recipes her mother had been working on at home. A local shop had recently gone out of business, so they bought the space, and Park's mother spent a week at "ice cream boot camp" learning how to operate the commercial equipment. Meanwhile, Park worked on a slew of logistical and business-related tasks: setting up the menu, designing the shop's logo and website, writing an employee manual, and creating an Instagram account. 
The first Sarah's location opened in 2019 on River Road in Bethesda, and a seemingly permanent line formed out the front door. Overwhelmed by the support, Park and her mother ramped up their ice cream production and hired more employees, but by 2020 it was time for a second location. Today, both shops' ice cream makers are churning from sunup to sundown, but still can't keep up with demand. This year, Park began planning for a third shop, in nearby Potomac, which should be open for business early next year.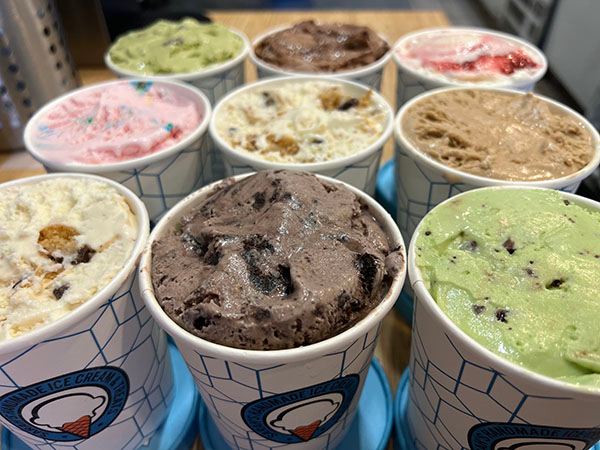 What makes Sarah's ice cream so popular? A menu of rotating seasonal flavors like Summer Peach Melba (pureed peaches with raspberry swirls), Rose Pistachio, Pink Grapefruit Champagne Sorbet (one of six vegan options), and Sarah's Pool Party (a summer favorite that's the same blue as a swimming pool, with marshmallow clouds, fruit loops, and nerds) alongside classics like butter pecan and mint chocolate chip.
"People are fascinated by the flavors," said Park. "My mom always wants to use whatever seasonal ingredient is out there, and we're always brainstorming—if we go out to eat and there's an amazing peach ricotta toast, the next day my mom will come up with an ice cream flavor with peach and ricotta." 
Park and her mother have also built community involvement into their business plan, holding fundraisers with local schools and selling kids' books at the shops to benefit a nearby children's hospital. When the COVID-19 pandemic hit, they brought ice cream to hospital workers and later set up a matching donation program. To support nonprofits looking for auction items, Park designed a "behind-the-scenes" experience where customers could visit Sarah's outside of regular hours, see how ice cream is made, and sample all 40 flavors. A single ticket has raised as much as $400.
On an average day, Park can usually be found at one of the Sarah's locations, working on her laptop or, if it's sunny and the lines are especially long, scooping ice cream alongside her staff. She makes it a priority to get to know her employees, mainly high school and college students, and to provide them with a meaningful experience that includes opportunities for advancement (Sarah's doesn't hire shift supervisors, it promotes from within) and monthly coaching sessions for anyone looking for help with college essays or SAT prep.
As Sarah's continues to grow, Park is always thinking about its impact—both on employees and the greater community. She returns frequently to a core value gleaned from her time at Boston College, where she majored in communication and music while considering a career in education. 
"I love the idea that your learning is not just for yourself—you're going to go out into the world and shine your light on other people," she said. "BC really shaped the way I see my role in the community."