Heidi Yun '24 receives 2023 Aquino Scholarship
Her BC experience is marked by advocacy for students with disablities and service to others
Morrissey College of Arts and Sciences student Heidi Yun '24, whose
Boston College experience has been marked by advocacy for students with
disabilities, promoting greater awareness of Asian culture, and work on
behalf of low-income persons in Boston, is the winner of the 2023 Boston
College Benigno and Corazon Aquino Scholarship.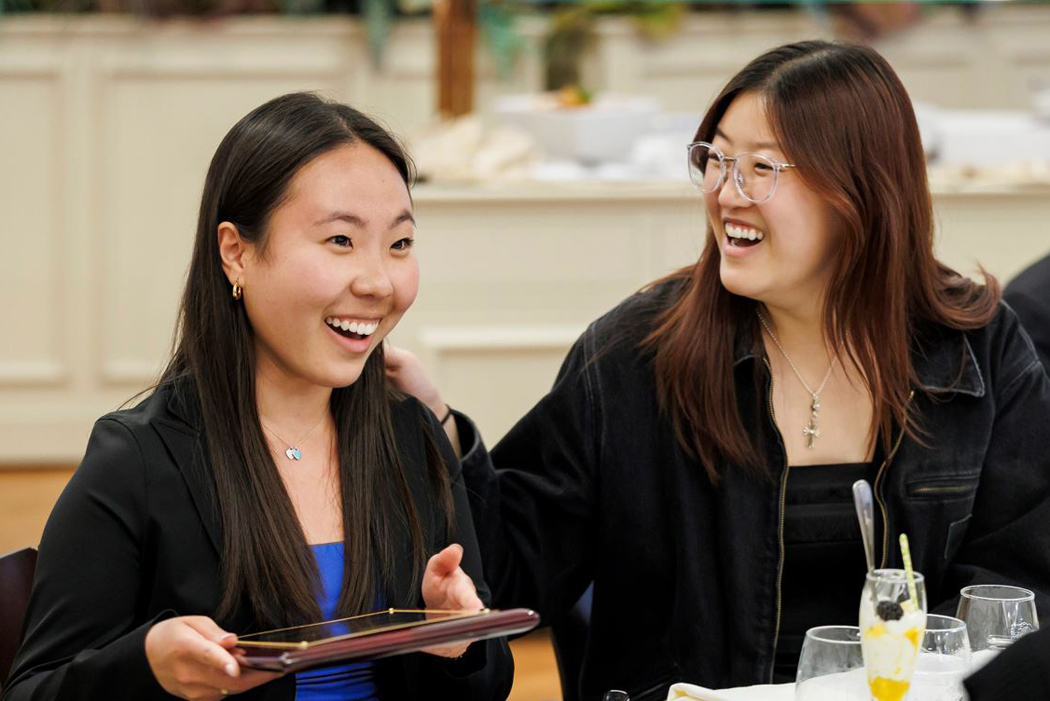 Yun was presented with the scholarship by University President William P. Leahy, S.J., at the annual Aquino Scholarship Banquet earlier this month.
Annually awarded to a junior each spring, the scholarship recognizes a strong academic record, active engagement in Asian American issues, and service both on and off campus to the Asian American community.  The Ridgefield, NJ, native was selected from among a highly competitive pool of applicants, including the three other finalists, Sophia Barrett, David Kim, and Lucy Xiao.
A sociology major with a minor in women and gender studies, and the daughter of South Korean immigrants, Yun is a member of the Undergraduate Government of BC, where this past year she served as the intersectionality
coordinator on the Council for Students with Disabilities (CSD), providing a bridge between the council and the AHANA+ Leadership Council and LGBTQ Leadership Council; she will be the CSD director in the next academic year.
Yun said her decision to attend BC, based on its commitment to a liberal arts education and the goal of fulfilling its Jesuit and Catholic missions of faith and service, has proven a wise one in many ways. Classes such as Planet in Peril: The History and Future of Human Impacts on the Planet and Deviance and Social Control—featuring Toni Morrison's The Bluest Eye, which depicts the devastating effects of racism and self-hatred on young Black girls in America—have had a profound impact on her, as has Social Theory, which explored hegemonic masculinity and the path it paves for toxic gender norms."
Through my courses, professors, and community, BC has been pivotal to my
formation," she said. "I understand that this is extremely important, as
I aim to become a woman for others, not only on campus, but in the real
world."
She was named a Morrissey College Dean's Scholar—selection is based on candidates' overall academic performance, recommendations from faculty,
cocurricular initiatives, and "the sense of purpose with which they
approach their future"—and has been a member of the Bellarmine Law
Society, the Government, Law, and Public Policy Student Advisory Board,
and the Korean Students Association (KSA).
"I'm very passionate about highlighting intersectionality," said Yun, who
helped facilitate, along with the CSD and KSA, a campus screening of the
Academy Award-winning South Korean movie "Parasite" with subtitles to
enhance deafness awareness.  "To me, diversity and inclusion mean
normalizing the idea that you can be proud of your disability, and still
feel upset about the issues you face as a disabled person. To advocate
for BC students with disabilities gives me the opportunity to take a step in
the right direction in the fight for a more diverse and inclusive world."  
Last year, as KSA culture chair, she co-produced the 22nd Annual Culture
Show, which honored the development of Asian cultures over time and
encouraged students to remember their heritage and traditions—a matter
of particular interest for Yun, who said that many in her generation and
the one after it are losing touch with their familial roots.
Winning the Aquino Scholarship, she said, engenders a responsibility to hold
other Asian Americans accountable: "I hope to become a more knowledgeable and resilient Asian American leader on campus and in the greater world as well."
Her stints as an intern with the Boston College Innocence Program and Greater Boston Legal Services, meanwhile, gave her the opportunity to have the greatest impact on others, said Yun. Among other activities at GBLS—which assists more than 10,000 low-income individuals and families with civil legal problems—she helped homeless and unemployed persons to obtain food benefits, searched for clinics that would address clients' mental health needs, and found health services that were convenient for persons with disabilities who had difficulty traveling.
This combination of on- and off-campus service, along with her own family's experiences, has pointed Yun to immigration law as a career path. "I want to practice law in a way that will establish it as a vehicle of change to eradicate the oppression and marginalization of communities in need of advocacy.  My parents are my 'fuel,' and there is nothing more that stirs my will to serve and work for the Asian American community than knowing that there are other Asian Americans in similar positions."