(Photo by Lee Pellegrini)
Vanessa Kerry urges action to address health crisis caused by climate change
Leading global public health expert, physician, and CEO of Seed Global Health delivers Connell School of Nursing's fall Pinnacle Lecture
"The climate crisis is a health crisis, and it is killing us." This was the dire message Vanessa Kerry, M.D., a leading global public health expert, delivered at the Connell School of Nursing's Pinnacle Lecture on November 1 in the Yawkey Center Murray Room.
"The events of this past summer brought these painful truths into sharp focus," said Kerry, citing the wildfires in Canada and Maui, extreme heat in the American southwest, flooding in Libya, and cyclones in southern Africa. "Each climate-driven event is leaving devastation, death, and a long tale of health complications. And so the time for challenging leaders, the time for challenging the status quo, and the time for bold and decisive action by every single one of us is now."
Kerry is as physician and co-founder and CEO of Seed Global Health. Under her leadership, Seed Global Health has helped educate more than 34,000 doctors, nurses, and midwives in seven countries. She also is the World Health Organization's first-ever Special Envoy for Climate Change and Health, playing a pivotal role in amplifying WHO's climate and health messaging and undertaking high-level advocacy.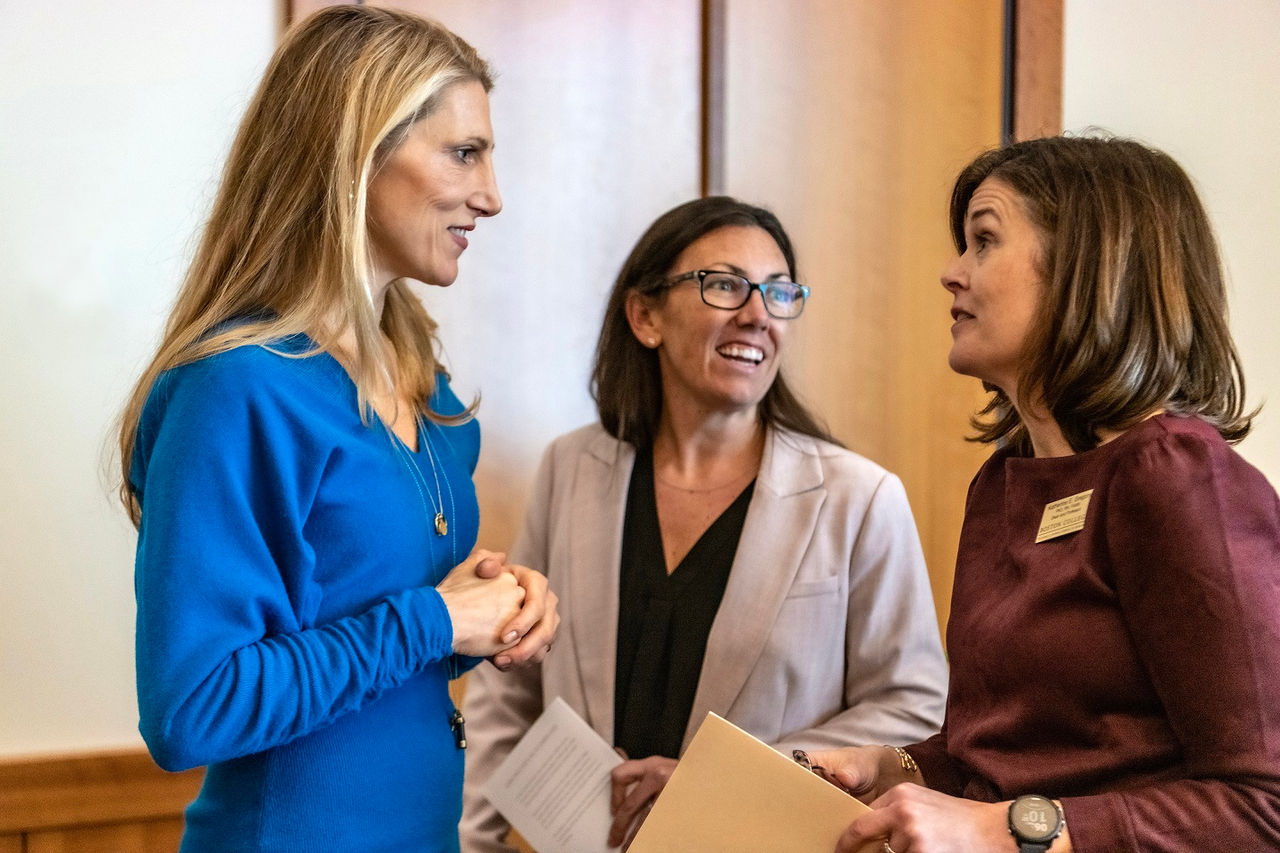 In her introduction of Kerry as the Dr. Maureen P. McCausland Pinnacle keynote speaker, CSON Dean Katherine Gregory called her, "a visionary leader…an exemplar of how healthcare professionals can bring about transformational change in the world of global health and climate advocacy."
The Pinnacle event also served as a celebration of the new Global Public Health and the Common Good undergraduate major, administered by the Connell School in partnership with the Schiller Institute for Integrated Science and Society.
Kerry praised the Global Public Health major in her talk. "Congratulations on this new academic major," she said. "It's an extraordinary statement and is exactly the kind of leadership that we need from academics—to train the next generation of leaders and the next generation of smart decision-makers that can take us on a different course."
She also lauded her "longtime mentor," Professor of Biology Philip Landrigan, M.D., the Global Public Health program's founding director, whom she called "a leader and true pathfinder for the changes we need in our world and our environment for better health.
"The World Health Organization estimates that one in four of the world's deaths are from a preventable environmental cause and climate change is further exacerbating these risks," said Kerry.
She shared two hopeful anecdotes from Malawi, a country that has partnered with Seed Global Health, to illustrate how countries that invest in their professional health workforce will be better prepared to respond to the effects of climate change.
Malawi was battered in 2022 by two powerful tropical storms that sparked a historic cholera outbreak. Then Cyclone Freddy, the longest and deadliest cyclone on record, struck Malawi earlier this year, causing catastrophic flooding and destroying roads. Despite everyone's fears that the cholera outbreak would spiral even further out of control, Kerry said, efforts to curb it were actually very effective. Malawi's health workers were already well-trained, well-resourced, and well-supported to respond to the situation, and by the end of June, the country managed to control the cholera outbreak in 21 of its 29 districts.
In other example, a nursing and midwifery officer in Malawi's Nsanje district advocated for the transformation of one of the community hospitals into a fully functional comprehensive emergency obstetric and newborn care site, recognizing that expectant mothers and newborns had been physically cut off from the rest of country and specialized medical care. While construction crews worked to restore the roads and bridges, Kerry said, the team at Columba Community Hospital performed seven cesarean sections, treated one case of postpartum hemorrhage, and two cases of severe newborn asphyxia. All of the mothers and newborns were safely discharged.
"It's an extraordinary statement and is exactly the kind of leadership that we need from academics—to train the next generation of leaders and the next generation of smart decision-makers that can take us on a different course."
"At the heart of any resilient, functional, quality health system are knowledgeable, skilled, confident, caring health workers who can flexibly and capably respond to the unpredictability of climate change, to the deep need of patients, and be on the front line serving those in need," said Kerry.
She continued, "For too long, our investments in health have been largely siloed, technocratic, and disease focused." The result, she said, has been piecemeal progress at the expense of helping countries build resilient healthcare systems that can handle repeated shocks.
She advocated for "a holistic approach centered on health system strengthening, long-term financing, strong governance, management, leadership, updated infrastructure and reliable supply chain operations, and a fit-for-purpose, skilled workforce to deliver care as the best investment to address the growing burdens of disease and the inevitability of disease in climate change."
Watch her full address below.