Luke Kuechly with Allie Wettenberg '25, Sarah Dansreau '25, and Audrey Mitchell '24. (Photo by Annie Quinn '26)
Luke Kuechly and Project Life return to Boston College
The alumnus and football star promotes UGBC's drive for the Project Life Movement, which encourages BC students to enter the donor pool for bone marrow and stem cell transplants
Luke Kuechly '15, former star linebacker for Boston College and the NFL's Carolina Panthers, returned to campus on October 25 to promote and participate in the Undergraduate Government of Boston College's Project Life Movement drive, which encourages BC students to enter the donor pool for bone marrow and stem cell transplants. After spending part of the day manning the Project Life table on the Quad, Kuechly spoke that evening in the Yawkey Center's Murray Room about his commitment to this life-saving organization and the immense impact one person can have.

During his BC appearance, Kuechly introduced a pair who had been matched through Project Life and were meeting for the first time: Boston College alumnus Tim Smyth '22, the donor, and the recipient (whose name is withheld for privacy reasons).

Meghan Keefe '24 talked with Kuechly about Project Life and his post-NFL activities.

(This interview has been lightly edited for clarity and condensed.)

How did it feel to be back on campus, and to see how you're able to help make an impact here?
I loved my time at BC. I'd go back to school there again. Being up there, especially at this time of year, was a blast. Obviously, it's powerful for the family of the recipient but also the donor, because when you swab your cheek at school you don't really think much of it but then when you get that call it's like, "Wow, I'm actually able to help somebody."
When did you join the Project Life Movement, and how has your commitment deepened or changed since then?
I've been working with them for a little over 10 years and I just enjoy helping people. I think that's the biggest thing that I take away from all of it. I just want to help people and this is a very direct way of making a positive impact on other people's lives.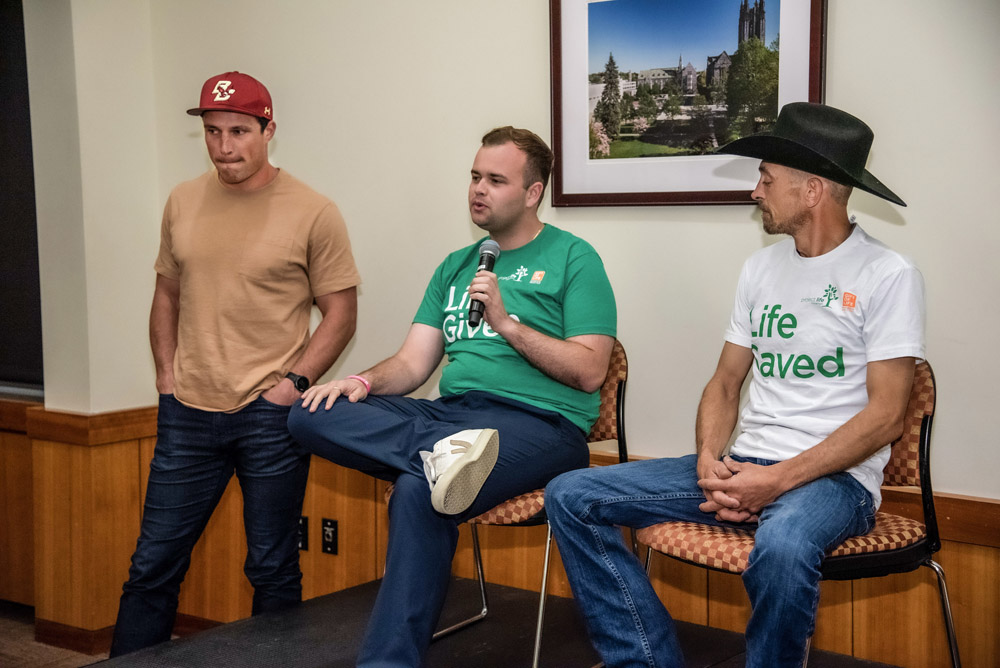 Your talk touched on the life-changing aspects of this movement that all BC students have a chance to participate in. What did you want to make sure those who heard you speak took away from it?
I think the thing that's really powerful is when you get to see a donor and a recipient meet because that's when it truly hits home and shows how this registry provides someone with a second chance at life. I think it's really amazing. It does help to be on college campuses like BC because the students will come and listen. They're willing to help. Having people there that have been through the process and can show people that what they're doing can help save someone's life.
What has been your favorite part of being an ambassador for this program?
I love coming back up to school, of course, but I think the biggest thing is seeing how people's lives are impacted in positive ways because of the work. The donors and recipients, when they get to meet each other, it's a really powerful thing and I think it shows that what we're doing is working. What we're doing is worth everybody's time.
You devoted so much of your life to football—how does this dedication carry over into your work with Project Life?
I love the game of football and that's something I'll always remain close to. It had a big impact on my life in a very positive way. There were a lot of people around me that helped get me where I was and BC was a huge part of that. That's one of the reasons I love coming back to BC for stuff like this. Everyone there has always treated me so well and I wanted to come back and do the same.
Besides your work with Project Life Movement, what else are you working on or passionate about at the moment?
I coach a 12-year-old Pop Warner team with all my buddies that I played with and it's awesome. Next Friday, we play in the regional semifinals so I'm super excited about that. We've spent a lot of time working with them, getting the boys ready. I think it's going to be a ton of fun.