A climate for opportunity
BC undergraduates aren't just learning about climate change. They're looking at it as a potential career path
Anna Davis '24, a history major in the Morrisey College of Arts and Sciences, arrived on the Boston College campus with an interest in climate change; over the course of three years, it's become her North Star.

"I did not anticipate climate change dominating my studies," said Davis. "I've taken a wide variety of courses on the topic, exploring the intersection between my major and the development of climate activism in the United States. I minored in Managing for Social Impact and the Public Good. Now, I'm working on a Scholar of the College thesis that explores the legal and economic thought that developed in response to the 1973 Endangered Species Act, which reflects the broader polarization over environmental and climate issues in America today, which has merged all my academic interests into a singular project."

Davis, who will travel to Dubai next month for the United Nations Climate Change Conference (COP28) as a member of the BC faculty and student contingent, was one of nearly 50 students who attended the first Climate Change Professional Dinner and Networking Night on October 26, sponsored by the BC Career Center and the Schiller Institute for Integrated Science and Society.

The event enabled undergraduates to interact with BC alumni employed by companies focused on the long-term shifts in temperatures and weather patterns, and—as reflected by opening remarks from Professor of Earth and Environmental Sciences Yi Ming—underscored the University's commitment to climate change-related research and teaching, and providing students like Davis the opportunity to consider the field as a potential career path.

"Over the last 10 years, we've experienced the hottest decade in our history; there have been numerous wildfires; the temperatures in the Southwest have soared; and in Florida, insurance companies are refusing to insure homeowners because of excessive flooding," said Ming, the Schiller Institute Professor of Climate Science and Society, in his address.  "If we go back to Hurricane Katrina, the storm flooded 80 percent of New Orleans, impacting underprivileged residents disproportionally. Worldwide, the Global South has historically had a lower rate of greenhouse gas emissions, but often is the most exposed to the effects of climate change due to a lack of financial and technological resources, and a limited access to renewable energy sources.

"The Schiller Institute, through its collaborations with BC economists and social work faculty, is focused on solutions, such as renewable energy and windfarms, and addressing the impact of climate change on the mental health of those living in low-income countries," said Ming.  "We share the same humanity; we have an obligation to pass down our planet to the next generation in better condition than we found it."  

Co-hosts Jim West, outgoing assistant director of Schiller Institute Programs, and Career Center Associate Director Kayla Pelland invited attendees to chat with BC alums in attendance, including Ashley Medlar '11 from the advocacy group Environmental Defense Fund; Olivia McCaffrey '17 of the Massachusetts Executive Office of Energy and Environmental Affairs; Chantala Chanthasiri '96, from State Street, a global financial services company; Caitlin Connelly '19, of energy research and consultancy Wood Mackenzie; Michelle Fay '95, at business management consulting firm Guidehouse;  Asa Ackerly '22, from Ceres, an accelerator for sustainable capital markets; and Joe Fonseca '20 and Leanne Ortega '23, of solar energy company EnergySage.

"There was a buzz in the Schiller Convening Space as students and alumni discussed pressing issues and opportunities associated with climate change," said West. "This collaboration provided an opportunity for students to connect with alumni, and develop the professional networking skills they will need to achieve their potential."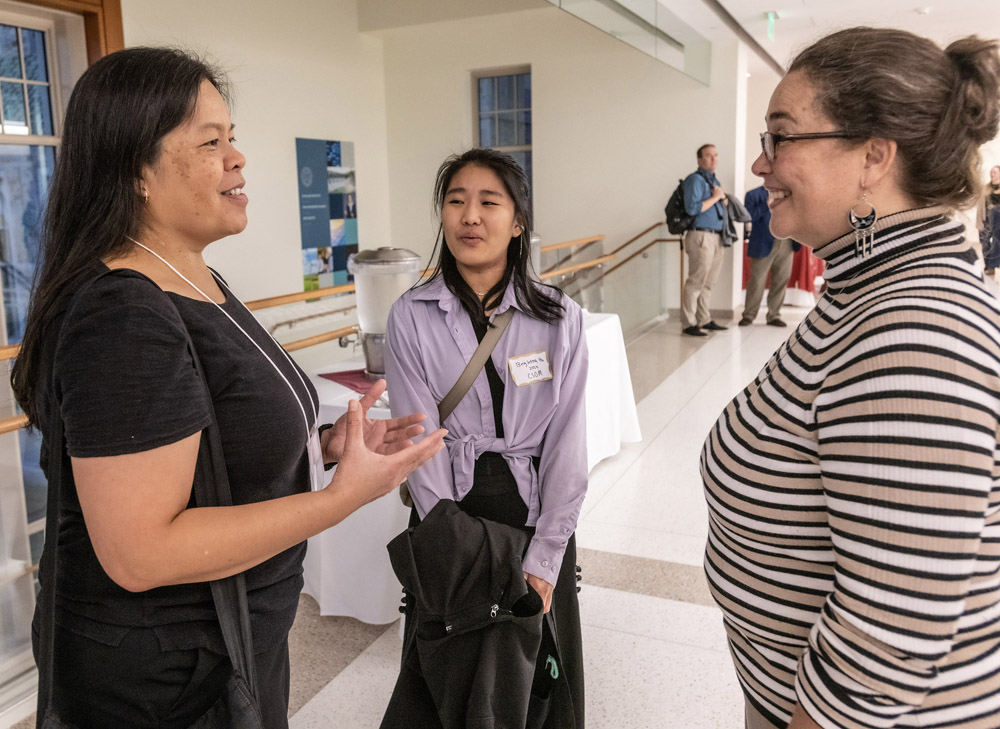 Students were quick to comment on the session, funded by a Career Center's Big Ideas Innovation Grant, developed to encourage staff to innovate and experiment with bold, new programs that enhance career education and student opportunities. Davis, who has hopes of attending law school and specializing in environmental law, characterized the networking night as a major success.
"It was a great opportunity to learn about the diverse range of sustainability careers, and to network with professionals who are eager to bring students into the field. These sessions have shown me that professionals in this field come from various backgrounds and possess a diverse range of expertise. I appreciate that BC has taken the initiative to organize such events, encouraging students to explore numerous career paths within the sustainability sector."
"As a BC alumna and now a [Woods College of Advancing Studies] grad student looking towards my next step, I found the Climate Change Professional Networking Night particularly more enjoyable than other networking events," said Kirsten Stanislawski '22. "It was great to connect with professionals not only on what we're passionate about, but to also discuss our BC experiences. It gave me hope that other BC alumni who studied the same things I did, found work and are successful post-college."
Pelland, who heads up the Career Center science, technology, and engineering career cluster, explained that the center operates in a career cluster model, with industry-specific mentors who provide tailored advice and support students in their career development.
"Given that climate change-related careers span multiple industries, many of our cluster coaches have worked with students interested in this field to develop targeted job and internship search strategies," she said.
She noted that in their post-event survey, 100 percent of student respondents reported they felt confident in their ability to communicate with alumni and professionals after attending the Climate Change Professional Dinner and Networking Night.
"Looking forward, the Career Center and the Schiller Institute hope to build on this momentum by collaborating on Green Careers Night in April, a networking event for students and alumni interested in sustainability," she said. "Talking with people in climate change-related careers is a great way to explore and build meaningful connections."