Under Construction
How Head Coach Earl Grant is rebuilding the men's basketball program.
In late December, Men's Basketball Head Coach Earl Grant was crouched low on the sideline, watching his team run through a practice drill. It was the day before a big matchup with Virginia Tech, and Assistant Coach Anthony Goins stood at midcourt, instructing the starters on how to defend the offenses of their ACC rival. Grant projected calm, saying little from his crouch as his players ran through the drill, a silver whistle held loosely in his mouth with white string dangling. Even Grant's choice of attire was unassuming: gray long-sleeved tee, baggy black gym shorts, gray New Balance running shoes.
Hired in 2021 after a successful stint at the College of Charleston, Grant is used to rebuilding programs. Consider him a construction foreman. Last year, in his first season at Boston College, he led the Eagles to a 13–20 record, a losing campaign to be sure, but one that included hopeful signs of growth, including a 9–7 record at Conte Forum. Grant's controlled intensity is sort of like the process of rebuilding a team. It creeps up on you. It happens slowly—you almost don't notice the shift—then suddenly it's there. In the second half of practice, he took his place on the court, running a boxout drill. "Go!" he called out, not screaming or yelling, more of an impassioned shouting. He shuffled quickly across the paint, demonstrating defensive positions for the zone. 
"CJ, you've got to be ready to slide quick, now," Grant said matter-of-factly to forward CJ Penha, who transferred to BC after averaging over 20 points at Division II Trevecca Nazarene last season. The coach's feedback emphasized the positive. He didn't tell players what they were doing wrong but focused on what they needed to change or what they should do next. This is an important distinction. Even when Grant was giving commands, there was an evenness in his tone. "Prince, you need to get your hands up! Like this," he said to freshman guard Prince Aligbe, who nodded and threw them up in the air. Sometimes all Grant did was give hand signals.
The atmosphere in practice matched Grant's persona. The players waited their turn, standing quietly at the baseline, spaced equally, relaxed and attentive. They offered each other soft words of encouragement as the team ran through its offensive sets.
This did not seem like a team that finished with a losing record last season and is facing its share of struggles this season. It looked like a team that knows it has a plan and is in it for the long haul, a team showing up every day, calmly taking its cue from Grant. The players were prepping for the intensity of the next day's big Virginia Tech matchup, but back in his crouch, Grant projected calm and positivity. "Here we go!" he said, clapping.
 Now in his second year at BC, Earl Grant has embarked on a much-needed overhaul of the men's basketball program. He's using the blueprint he used during his seven seasons as head coach at the College of Charleston, where his teams showed marked progress. In Charleston, Grant took over a program in 2014 with a history of success that had recently stumbled, posting a losing record the previous season. The team bottomed out in Grant's first season, going 9–24, but from there things took off. By his third season, the Cougars went 25–10. The year after that, Charleston went 26–8 and earned its first appearance in the NCAA Tournament in nearly twenty years. In all, Grant compiled a 127–89 record in Charleston, with three seasons of at least twenty wins.
A former standout Division II player at Georgia College, Grant was an assistant coach for fourteen years before taking over in Charleston, with stops at The Citadel, Winthrop, Wichita State, and Clemson. He saw different head coaching styles up close while serving as an assistant under head coaches Pat Dennis, Ray Marshall, and Brad Burnell. From militant to hard-charging and intense to fun-loving, these styles swirled around in his head when he began his first head coaching stint. "My first two years as a head coach, I was like, Who am I? Am I that guy? Am I this guy?" Grant said. "I had to figure out what was most important to me." Once he did, success quickly followed. In addition to being named the Colonial Athletic Association coach of the year in 2017, Grant sent three players from Charleston to the NBA.
One of those players, Grant Riller, said he was amazed by his own improvement under Grant's tutelage. "He's really good at skill development. And something about his aura just demands respect," said Riller, who is currently the second leading scorer for the Texas Legends in the NBA G League. Riller, who was part of Grant's first recruiting class at the College of Charleston, said he still texts his former coach every year on his birthday.
In 2021, Grant was selected to lead a BC program that has had its share of ups and downs in recent years. In their three previous seasons, one of them Covid-shortened, the team had gone 14–17, 13–19, and 4–16 . Head coach Jim Christian was let go with a handful of games remaining during the dismal 2020–2021 campaign.
Boston College Deputy Director of Athletics JM Caparro was part of the search committee tasked with finding Christian's successor. "We wanted someone who had success building a program," Caparro said. One name jumped out. "Grant built the College of Charleston program from the ground up in short order," Caparro said, "and we had heard from many people how well he connects with the players."
In Grant's first season, the Eagles posted a 13–20 record, not quite the stuff of NCAA Final Fours but a definite improvement, with nine more wins than the previous season. To Grant, this was the first step on a long road. "I'm here on purpose," he said. "I came here to build a program, to try to get this program to a place we can all be proud of. We are in year two of the building project."
As it happened, Grant's hiring coincided with the announcement of a literal building project: the Hoag Basketball Pavilion, a huge state-of-the-art space attached directly to Conte Forum that will feature a 10,700-square-foot practice facility in addition to nutrition and sports medicine spaces and new locker rooms. Ground broke on the pavilion in July 2022, and the project is scheduled to be completed this summer. Renderings of the future practice space are spectacular, with gleaming hardwood, the latest tech in lighting, and walls of glass overlooking the Chestnut Hill Reservoir. In December, the whole thing was still a construction site. But if you looked hard enough, you could tell that something special was being built.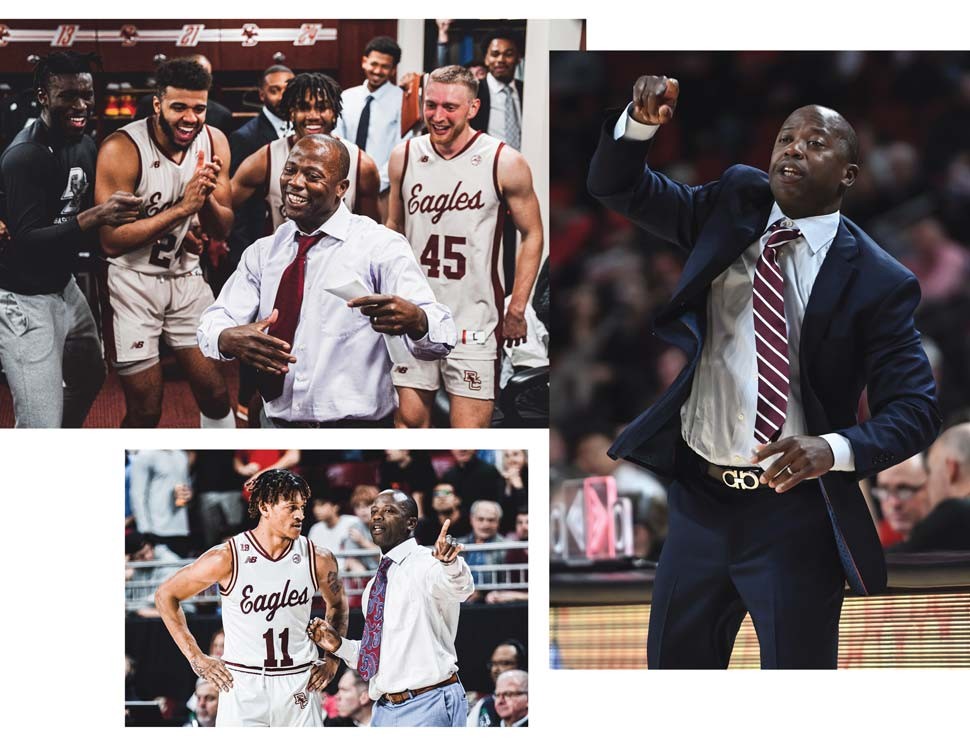 When you talk to Earl Grant, there are certain phrases you'll hear repeatedly. One is that humility precedes honor. There was more than enough humility the first half of BC's current season. Injuries and sickness plagued the squad. Seven-foot senior center Quinten Post and junior guard DeMarr Langford Jr. were out at the beginning of the season with foot and ankle injuries. Then freshman guard Donald Hand Jr. played in only two games before going down for the season with a torn ACL. For his part, Prince Aligbe sprained his ankle and missed almost a month.
The team managed to overcome the injuries for a time, getting out to a 5–2 start, but then BC lost four games in a row, including an embarrassing performance at home against the University of New Hampshire in which the Eagles shot just 38.5 percent from the floor and 13.6 percent from behind the three-point arc, along the way to a 74–71 loss in overtime. 
After the game, Grant had a sit-down with his players. "He told us, don't be weary and we will reap the harvest," Penha recalled. "Everything is big-picture with him."
"I think we expected to be a little bit better than we were the first few months of our current season," Grant acknowledged. "But adversity and setbacks and the disappointment and the failure are part of unbelievable growth. My players, and our support staff—sometimes you don't realize that humility precedes honor. Adversity and discomfort are the best way to grow."
Following the stumble against New Hampshire, BC lost to Villanova but then beat Stonehill. Virginia Tech was up next, and a victory was the kind of thing that could start to turn the season around. The players closed out practice with a scrimmage on the day before the game. Voices got louder, but never out of control. There was an air of respect among players and between players and coach. "Good poise," Grant said as he watched.
 Grant attributes his ability to stay even-keeled during challenging seasons in part to his faith. It doesn't seem like an accident that he's leading the men's basketball program at a Jesuit institution. It's virtually impossible to have a conversation with Grant where a Bible verse or two doesn't nonchalantly work its way in, even if it's not noted as such.
Growing up in Charleston, South Carolina, called the Holy City due to its tolerance of all religions, Grant lived near an orphanage. He recalled his interactions with children who lived there as a religious experience. "My mother would always let the kids from the orphanage—white, Black, Mexican—jump the fence and come to our house. She would open the door and let them into our house, saying, 'They're OK. They just want a little snack or something.' And I'd think, 'What if they steal something? Why are they in the orphanage? Are they bad kids? What's going on?' But then I'd watch my mom's spirit. Those are good kids. And I have never forgotten that."
Grant spends many hours attending church services and reading the Bible. He belongs to multiple faith groups that meet in person or over Zoom, several of them groups of fellow coaches. But he doesn't expect his players to share his zeal. "He doesn't force religion on the team," Penha said.
"All kids aren't spiritual," Grant said. "That's what I've learned over the years. I've tried not to go in and say, 'here's a verse.' If I tell you to find peace in the storm, we can talk about how to do that, but I'm not going to say, 'here's what this verse is.'" What he does expect is that he'll be able to reach his players with his messages of enduring, and even embracing, the struggle in order to emerge from it. With a team that went under .500 last season and was going through another difficult campaign at the moment, it was an important concept.
Plenty of coaches use anger in an attempt to motivate. Caparro has taken note of what Grant does differently. When a player comes out of the game, Caparro said, "He's not yelling at the kid. He'll immediately go up and huddle with them and talk closely. He's teaching that kid in that very moment."
It's an approach Grant brings to recruiting as well. "He would just talk to me about life, and about basketball," said Aligbe, a four-star recruit from Minnesota who said the rapport with Grant during the recruiting process contributed to his final college choice. "He always wants guys who have that underdog feeling, who are going to come in and give it all they've got. He talks to us a lot about enjoying the process. It came down to how connected I felt."
Grant acknowledged that the season hasn't gone perfectly but said that unexpected blips are all part of the process. "I've seen all different kinds of seasons in twenty-three years of coaching," he said, "years where you win fifteen in a row and years where you lose seven in a row, years where you get to the NCAA Tournament and years where you lose double the games that you win. I've seen everything."
This is what I've learned from trying to build programs over the years: A storm comes before great success. I talked about that when I interviewed for this job, and it's interesting that we are here now, kind of in the storm. And I knew it was coming. Maybe I didn't know some of the injuries or setbacks, but when we are trying to build, we always experience some sort of storm before we get to that success. And that gives me peace, in the storm." That's what you're going to get from Grant, no matter the win-loss tally. And there may be some small signs that the sun is peeking through the storm.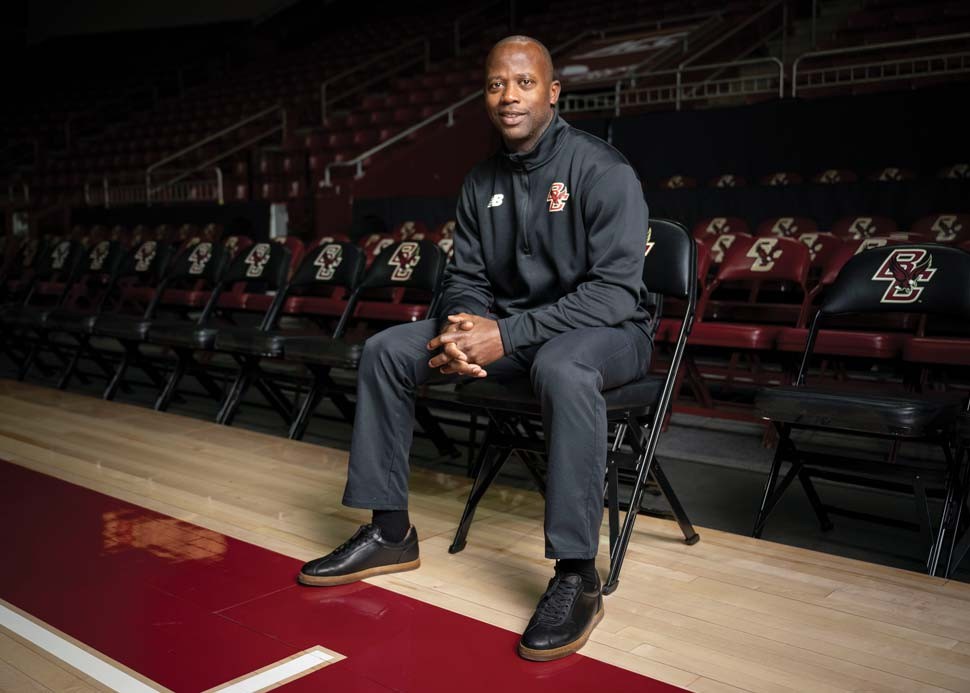 Conte Forum was buzzing on December 21 as BC tipped off against Virginia Tech, who sat at number twenty-one in the national rankings. The Eagles were hoping to start turning things around after the topsy-turvy beginning to the season and prove that they were on their way up. That was the plan, anyway. Virginia Tech came out hot, leading by as many as eight points early on and finishing the first half ahead by five. But BC clawed its way back in the second half, shooting 46 percent from the field, and tied the score as time ran out. In overtime, the Eagles got a second wind, outscoring Virginia Tech 11–6 and pulling off a huge 70–65 upset.
After the win, the BC players hollered and whipped towels around the locker room, and the head coach joined in a bit of their dancing. But when it came time for the postgame press conference, the Grant persona had returned. He sat stone-faced and returned to his usual principles. "It was a challenge," he said. "It's a long journey. I tell the guys all the time, no one win or loss is going to define us. The guys have been showing up day in and day out, not making any excuses. They have showed that they want to continue trying to build a program. Today was just the fruits of our hard labor starting to show."
The win briefly pushed BC back over .500, but the Eagles went on to lose five of their next six games, many of them against tough ACC opponents. Just as BC seemed to be stumbling, however, the team once again found its footing, with convincing back-to-back wins against Notre Dame and Louisville. However the current campaign concludes for the Eagles, to Grant the plan has never been about just one season. And things appear to be continuing to come together. Grant has signed two four-star recruits for next season, center Jayden Hastings and point guard Fred Payne. Meanwhile, construction on the Hoag Pavilion is slated to be complete in July, meaning Grant will have a brand-new facility where he can continue his own construction project.
"I'm excited about the pursuit," he said. "I'm excited about the young men who are here who are going to be part of that pursuit and also the young men we have signed for next year. Based on what I've seen, we are moving toward getting the program where it needs to be. We're moving in the right direction."Take a short walk down a hallway from the basketball coaches' offices and once you get past the scaffolding, bare drywall, and plaster dust, you can get a vision of the practice court taking shape. The men's team that will use it is also under construction, with daily work leading toward an ultimate goal.