Fr. Gregory Boyle STM '84
The Jesuit priest talks about the importance of kindness in rehabilitating gang members. 
Over the past thirty-four years, Homeboy Industries, the organization I started in Los Angeles, has grown into the largest gang intervention, rehab, and reentry program in the world. Each year, we help more than 10,000 people change their lives in concrete ways, including through substance-abuse assistance, mental-health support, and tattoo removal. In 2020, we were honored to receive the Conrad N. Hilton Humanitarian Prize, which gave us $2.5 million to continue our mission. People often ask me how we got here, but the truth is there was no master plan.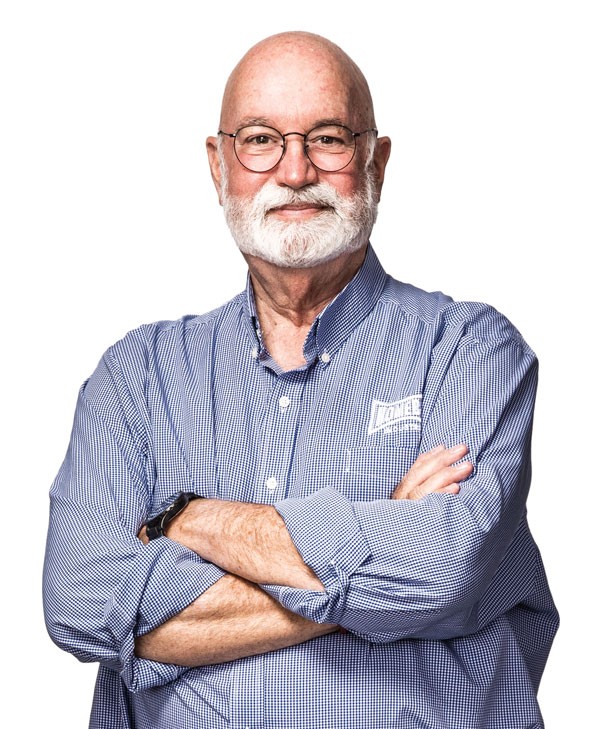 Homeboy's genesis came during my early years as pastor at Dolores Mission Church in L.A.'s Boyle Heights. At the time, it was the city's poorest neighborhood, with the highest concentration of gang activity. When I joined the parish in the mid-1980s, there were shootings morning, noon, and night. In 1988, I buried eight kids in a three-week period. Junior high students were joining gangs, getting kicked out of school, and wreaking havoc in the middle of the day. They told me they would return to class if there was somewhere that would take them, but few alternative schools existed. I knew something had to be done, so I started a school for them at the church. We gradually began offering more services, and that initiative evolved into Homeboy Industries. Early on, a movie producer offered assistance, which allowed us to purchase an abandoned bakery nearby. There, we had rival gang members bake bread together for the first time. In addition to Homeboy Bakery, we now run nine other businesses that employ our clients and have a social mission.
Homeboy has kept me rooted in L.A.—my hometown—but Boston is also part of my story. In 1984, I earned my Master of Divinity degree from the former Weston Jesuit School of Theology, which reaffiliated with Boston College. After graduation I spent a year doing ministry in Bolivia, where I learned to speak Spanish and realized my calling to work with the poor. My first assignment after returning to the U.S. was at Dolores Mission.
Our program's impact is evident in Los Angeles's decreased gang-related homicide rate, now a fraction of what it was during the peak violence of the early '90s, but also in the lives we've changed. Recently, one of our clients, a graduate of Homeboy's job-training program, told me he was amazed to get a job transporting court documents despite his background.
In the past three decades I've learned that kindness is a universal language. Gaining the trust of gang members is not as hard as people expect. Seemingly small acts like visiting people in the hospital or juvenile hall are never forgotten. I've also learned that violence is often sparked by a lethal absence of hope. Homicide rates have risen worldwide during the pandemic because it has exacerbated many people's despair. At Homeboy, we seek to cherish the wounded instead of ostracizing them, because making someone feel cherished often leads them to the best version of themselves.