The First Ladies
The novels of Heather Terrell '90 make history come to life. 
Heather Terrell '90 has had a busy few years, publishing nine books of historical fiction since 2016. But you might be more familiar with her pen name: Marie Benedict. If that rings a bell, it may be because you've seen one of her novels soaring up the New York Times bestseller list, or caught her discussing them on Good Morning America, or read some of the review coverage calling her books "stunning" and "ingenious," as the Washington Post did. Or maybe you picked up her book about the actress and inventor Hedy Lamarr, The Only Woman in the Room, after Barnes & Noble made it a national book club pick. 
All nine of the Benedict books are meticulously researched novels telling lesser-known stories about undersung women in history—the type of brilliant, determined people who managed to leave their mark on the world despite the entrenched structures and misogynist cultural mores of their day. She's written about Clementine Churchill (Winston's wife), the DNA researcher Rosalind Franklin, and Belle da Costa Greene, J.P. Morgan's personal librarian who spent her whole life passing as white.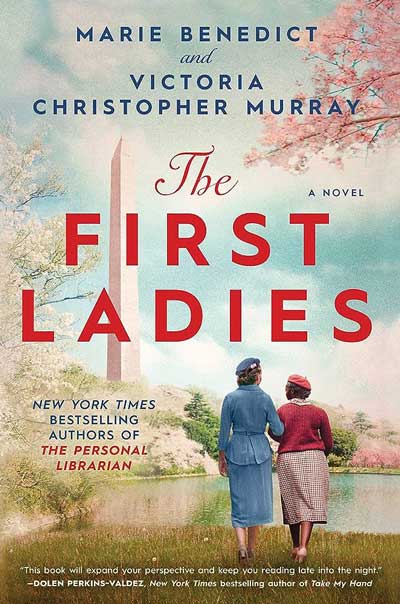 Terrell cowrote the da Costa Greene book with Victoria Christopher Murray, and the colleagues have teamed up again for their latest effort, The First Ladies. The new book is a fictionalized account of the real-life friendship between First Lady Eleanor Roosevelt and the educator and civil rights icon Mary McLeod Bethune, who was known as the First Lady of the Struggle. In the novel, McLeod Bethune meets Roosevelt while she's still a stalwart supporter of the Republican party, but the women begin to bond over their efforts to get meaningful civil rights measures passed during the Depression and World War II. Terrell said that Murray, who is Black, provides a perspective that helps the novels speak authentically to the experiences of Black women moving in white spaces. "It's through the trust we have in one another that we're able to have hard conversations about race," Terrell said, "and then we in turn put that into our books and that's what we see really resonate with people." 
Growing up in Pittsburgh as the oldest of six children, Terrell was a voracious reader, but she found the prospect of writing herself to be intimidating. "The idea that I could ever write something as profound and wondrous as the books I was reading—I couldn't even envision that," she said. That began to change over time, though. 
"I had a wonderful aunt who was an English professor and a poet herself, and she was actually kind of a rebellious nun," Terrell said. The turning point came when her aunt gave her The Mists of Avalon, Marion Zimmer Bradley's classic reimagining of the Arthurian legend, which is told from the perspective of the female characters. Particularly vivid was Arthur's half-sister Morgan Le Fay, whose empathetic depiction contrasted with the villainous way she is portrayed in more traditional versions of the legend. "It completely opened up my eyes to the fact that all these legends and myths have a story we have never heard, and it's almost always the women's stories," Terrell said. 
She went on to major in history at BC, then got her law degree at Boston University before spending ten years as a corporate attorney. But her interest in narrative never wavered, and she worked in her spare time on a novel about Nazi art thefts that eventually became her first book, The Chrysalis, published in 2007. She produced two young adult series and two more historical fiction books before she began writing as Marie Benedict. 
Terrell said she's just getting started with her Marie Benedict books. "I have a long list of women I'd love to write about," she said. "These women, some of them aren't intentionally setting out to make great change or go up against the system. They're just trying to pursue their passions. They're just trying to fulfill the destinies they're designed for."