Building a Champion    
Before Head Coach Acacia Walker-Weinstein took over, the Boston College women's lacrosse team had never won a game in the NCAA postseason tournament. Today, she's turned the program into a national powerhouse. Here's the inside story of how she did it.
Hollie Schleicher '23 can still picture the jittering legs. It was 2021, and the Boston College women's lacrosse team was about to play in the Final Four. When Head Coach Acacia Walker-Weinstein entered the locker room, she found her players sitting silently in front of their stalls, an intense focus vibrating through the group. "I get chills talking about it," Schleicher, a defender, said of the moment. "Like a good shaking, ready to just burst out of the gates."
The winner of the game that day would move on to play for the collegiate championship, which certainly accounted for much of the tension in the room, but some of it had to do with the team BC was about to battle. "Maybe a little bit of fear," recalled attacker Jenn Medjid '22. "That UNC team was like the best women's lacrosse team ever." Indeed, the University of North Carolina Tar Heels weren't just the top-ranked team in the country … they hadn't lost a game in 735 days, and had beaten the Eagles 21–9 just a couple months earlier.
Before the game, Walker-Weinstein did everything she could to keep her team calm. She made their final practice a quiet one, sending the message that the Eagles had already done enough training to win. The night-before meal was nothing special, either: chicken parmesan, a team staple. "We were trying to strip the moment of its glamour," Walker-Weinstein said. And now, as the coach surveyed her players, nervously sitting in their locker stalls before the game, she decided against a rah-rah speech to pump the team up. She had tried that before.
Entering that 2021 season, BC had already accomplished what would have seemed impossible just a decade earlier. The Eagles had made three straight Final Fours, after having never won a single game in the women's college lacrosse tournament prior to Walker-Weinstein taking over the program in 2012. Walker-Weinstein put BC on the map in 2017 with that first run to the NCAA Championship game, even if it did end in a loss. The Eagles proved they were for real in 2018, again making the championship game, before again losing it. But what had once seemed an exhilarating result—losing in the finals—by 2019 felt like bitter disappointment, as the Eagles once again came up short in the championship game. That third-straight final defeat stung.
Walker-Weinstein thought about those losses on a daily basis. At her lowest, she said, "I had considered…maybe I should not coach. You feel like you've just disappointed your kids so much." But within days of the 2019 season ending, she was back on the phone, recruiting potential transfers who could help take the Eagles to new heights. She also looked at every aspect of the program, wondering where the team could get just that much better. Now, a year after the canceling of the 2020 season because of the pandemic, Walker-Weinstein and the Eagles were one win away from BC's fourth consecutive appearance in the championship game. The only thing standing in their way was that juggernaut from North Carolina. In keeping with her strategy, the coach kept her pregame speech simple and reserved, concluding with seven words: "I love you guys. We're gonna win."
And that's what BC did, building a five-goal lead in the second half, and holding on to defeat UNC 11–10. Then, in the championship game, the Eagles beat third-ranked Syracuse 16–10 to at last capture its first national title.
"Guys, I love you, and we're going to win," Schleicher said, recalling her coach's words from before the game. "We talk about that line, as a team, still today."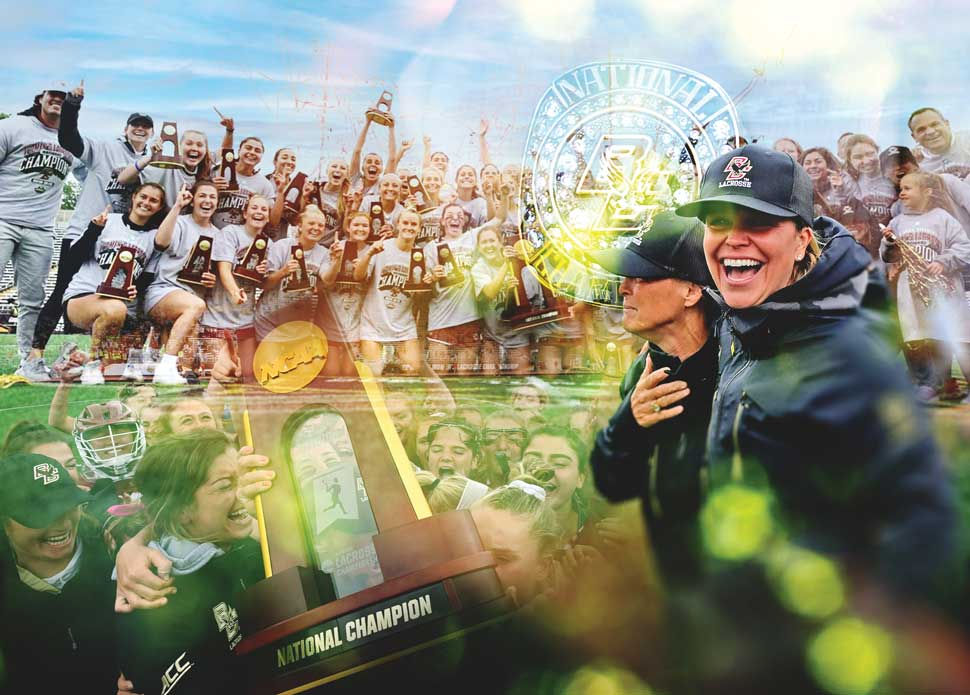 The women's lacrosse team has followed up that 2021 title by advancing to the NCAA championship game in each of the next two seasons, extending its streak to six consecutive years.
But it still has just the one championship. In 2022, the year after the Eagles' triumph, UNC got its revenge, defeating BC 12–11 in the title game. And an 18–6 loss to Northwestern ended the 2023 season on the doorstep of greatness. And yet, as the team prepares for the upcoming season, which begins in February, it's undeniable that BC is on a roll, hungry for additional championships. In fact, that became a rallying cry last season. 
It started as a mid-game plea from Walker-Weinstein to the team's midfielders to give just a little more effort, to be a little more aggressive. Instinctively, the coach pinched her five fingers together on each hand and jabbed them at each other: the American Sign Language sign for "more," which she'd taught her daughters so they could communicate before they could speak. Her players picked up on it, repeating the motion. "We said it a few times here and there and then it just became the bigger theme of, We want more for this team," said assistant coach Sam Apuzzo '19, who graduated as one of the greatest players in program history. "We want it all."
"MORE" eventually became the standard ending to practice notes handed to players, and it was stretched across the back of T-shirts. It was a recognition of how much work is required to reach the top, and it demonstrated Walker-Weinstein's effectiveness at motivating her team. To think that she easily could have been using these strategies, and building this dynasty, somewhere else.
Acacia Walker-Weinstein grew up a multi-sport star in Maryland, smoothly transitioning from soccer to basketball to lacrosse. The latter ultimately stuck, and she led her high school lacrosse team to multiple state titles and was named a 2000 first-team All-American. She also represented her country as a member of the undefeated US team that won the Under-19 World Lacrosse Championships in 1999.
As the team prepares for the upcoming season, it's undeniable that BC is on a roll, hungry for additional championships. In fact, that became a rallying cry last season, crystallized in a single word: MORE.
In 2002, Walker-Weinstein joined the powerhouse University of Maryland lacrosse team that had won seven straight NCAA women's titles under coach Cindy Timchal. Maryland made the NCAA Tournament all four years Walker-Weinstein played for the school, reaching the Final Four in 2003. A captain in her senior year, Walker-Weinstein showed elite stick skills and field vision to go with her natural athleticism. Walker-Weinstein graduated Maryland among the top ten in program history in both assists and draw controls. But what Timchal remembers most about her former player is how she responded to a knee injury in her senior year. Rather than shut her season down, Walker-Weinstein chose to delay surgery and play on the bad leg. "I'm gonna be ready in a couple weeks," she told Timchal. "I can play." "She was just that wonderful, brave soul on the field by leading in that way," Timchal recalled. "Just a warrior. She'll tape herself and get herself back out after it."
After graduating from Maryland, Walker-Weinstein continued to play internationally (she was a member of the US Women's National Team from 2002 to 2012, winning gold at the 2009 World Cup) while working her way up the coaching ranks. She helped Northwestern win titles in 2006, 2007, and 2008 as an assistant coach, and was an associate head coach on the University of Massachusetts team that won the A-10 championship in 2009 and 2010. Then, before the 2011 season, she came to the Heights as associate head coach. The next year, Bowen Holden left BC. "I wanted the job badly," Walker-Weinstein recalled. "I went for it hard."
Of course, that hardly assured Walker-Weinstein of the position, since coaching staffs are often cleared out when the top job turns over. So she looked around at other head coach openings as well. In fact, she said, she was so close to accepting an offer from Bryant University that she was actually on the school's Rhode Island campus when BC's athletic director at the time, Gene DeFilippo, called. "Don't think about Bryant anymore," he told her. 
"I immediately knew that she was destined for greatness," DeFilippo recalled. 
Brad Bates still remembers the binder. Bates took over for DeFilippo as BC athletic director in 2012, soon after Walker-Weinstein was hired. "She already had a playbook as CEO of this lacrosse organization," he said. It wasn't just lacrosse schemes and recruiting plans, Bates said, but how she planned to have her players engage with their academics and develop as people.
First though, Walker-Weinstein needed money. Building a donor base, she realized, would give the team more resources, but more importantly would give it respect within the athletic department. Her pitch to potential supporters was simple: I will bring a national championship trophy to Chestnut Hill. "People thought I was nuts," she recalled. But the line worked. 
She used it on recruits too. In September of her first offseason, Walker-Weinstein was able to bring Apuzzo, then a highly regarded sophomore in high school, to campus for an official visit. In the coach's office, Walker-Weinstein laid out her vision for Apuzzo, who was also being recruited by established powerhouses such as UNC and Northwestern. Walker-Weinstein told Apuzzo that BC would compete for titles just like those schools. And she said that Apuzzo would be a critical figure in making that plan come to life. "I don't know if I believed her at the beginning," Apuzzo said, but Walker-Weinstein's confidence stuck with her. So did the coach's commitment. Walker-Weinstein promised to help Apuzzo reach her own potential. "I hadn't heard that from any other coaches," Apuzzo said.
Later that trip, Walker-Weinstein and her husband, Morgan, invited Apuzzo and her parents to watch a BC-Clemson football game with them in a VIP area on the fifty-yard line. The families instantly clicked. "Immediately after, I knew what I wanted to do," Apuzzo said. In the winter of her sophomore year, she committed to Boston College. Apuzzo can still remember the screams of excitement coming from Walker-Weinstein and her assistant coaches on the other end of the phone line when she told them of her decision. 
"You have to work really hard to get a kid not to go to the University of Virginia or UNC or Duke," said Morgan Weinstein, who used to volunteer as an assistant coach when his wife's program had a smaller staff budget. "It's hard to get the really special—top one, two, three, four, or five kids—to look away from the shiny items and come to BC."
To level the playing field, Walker-Weinstein pressed the University for quality gear and comfortable travel accommodations. She also pushed for the Eagles to play at Alumni Stadium, rather than on the Newton Campus field, where the team couldn't play at night, have goal scorers announced over the loudspeaker, or reliably expect the pitch to be plowed. "I just said things have to change," she recalled. The team hasn't played a regular season game in Newton since February 2021.
Funding was also important for retaining coaching talent. Every offseason, Walker-Weinstein worried about losing Jennifer Kent, her top assistant. Kent, who focuses on the team's defense, was a volunteer member of the staff when Walker-Weinstein took over, but the new head coach fought for the resources to keep and promote her. "It was really important to get her situated with a good salary and solid benefits and a title that she was proud of," Walker-Weinstein said. "It took me a few years, but we got it." Since 2022, Kent has been the team's associate coach.
Kent's contributions are crucial because BC often builds its attack from the back of the field, converting turnovers and key stops into momentum, and ultimately goals. The Eagles play a risk-taking defensive style that relies on individual players running all over the field while trusting that their teammates are shifting behind them to cover any open spaces. "Sometimes it's really hard for teams to even understand what we're doing because it is so aggressive," Apuzzo said. "Jen is like a mastermind."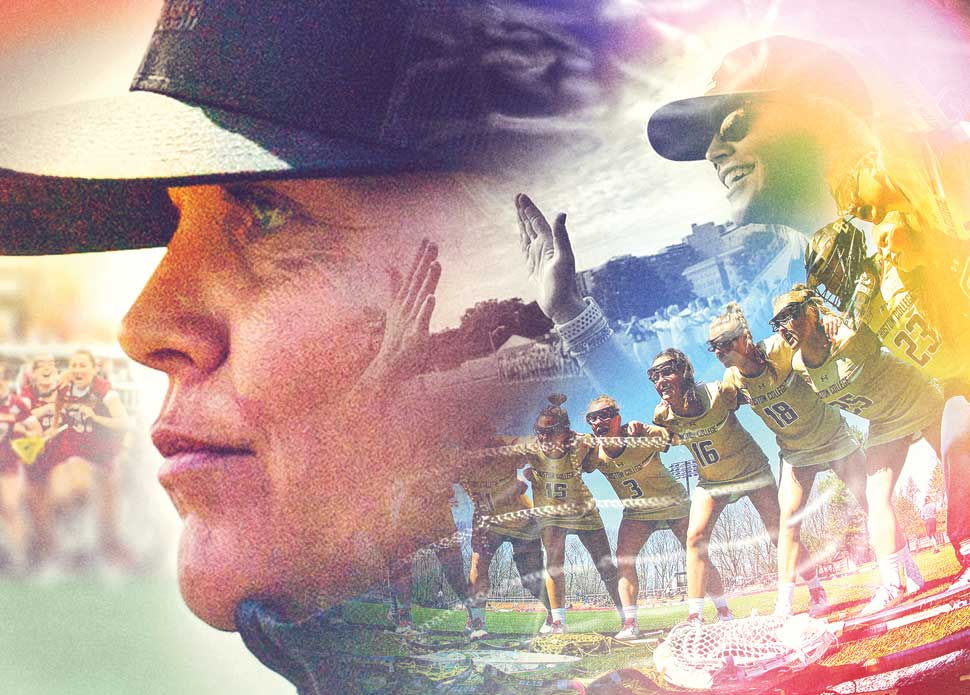 Timchal, Walker-Weinstein's former coach at Maryland, who now leads the Navy program, acknowledged BC's growing lineage of star attackers, but said that what sets the Eagles apart is a "really, really, really tough, tough, tough defense." And the key to making it work, she said, is player buy-in. 
It didn't take long for BC players to develop that kind of buy-in for the system Walker-Weinstein was developing. The Eagles tied their program record with twelve wins in 2013, her first season in charge. By 2014, BC reached number four in the national rankings, and made it to number three the following season. 
But when everything really came together, Walker-Weinstein said, was midway through 2017, in the middle of a blizzard. That was Apuzzo's first full year with the team, after losing much of her freshman season to an ACL injury, and BC got off to a slow start, beginning the year with a 1–3 record in ACC play as the team prepared for a matchup with seventeenth-ranked UVA. To complicate matters heading into the important game, just as signs of spring were beginning to pop up around campus, a winter storm dropped more than two feet of snow. Walker-Weinstein and Kent decided to embrace the challenge nature was presenting, hoping to motivate their girls despite the dreadful conditions. They showed videos of snow storms and Antarctica. Apuzzo, who wound up leading the nation in goals that year, said the off-the-wall clips took some of the pressure off what was a make-or-break game, and helped the players view their team as a robust force in itself. 
On game day, the snow stuck to players' cleats. "It felt like we were literally running in high heels," Apuzzo recalled. If the box score is to be trusted, 101 brave souls attended the contest. What they saw, Walker-Weinstein said, was the turning point for an entire program. UVA and BC went back and forth in the first half, but the Eagles returned from the locker room looking like a different unit. They scored nine second-half goals to Virginia's three in a 17–10 victory. In the face of adversity, BC's young team recognized what it was capable of. Apuzzo scored a game-high six goals. Junior Kenzie Kent '18—Jennifer Kent's daughter, and another all-time Boston College great in both lacrosse and ice hockey—finished with three goals and five assists. The message to the team was clear: If the elements can't slow us down, what can?
The newly toughened BC squad ended up qualifying for the NCAA tournament, making it all the way to the championship game before losing to Walker-Weinstein's alma mater, Maryland. Looking back on the buildup to that game in the snow, Walker-Weinstein said it transformed her program. "It was the week that I think changed Boston College forever," she said. A photo from the game, showing Apuzzo and others confidently walking through the conditions, still hangs in the coach's office.
Over the next two seasons, BC's core of Apuzzo, Kent, and midfielder Dempsey Arsenault '19 established themselves among collegiate lacrosse's elite tier. Apuzzo won the 2018 Tewaaraton Award as the country's top player, finishing her career with a BC-record 283 goals. Kent holds the assist record with 133. And Arsenault, a versatile player who often connected the defense with the attack, was a Tewaaraton finalist in 2019. That spring, Apuzzo, Arsenault, and Kent were taken first, second, and third in the Women's Professional Lacrosse League draft, a nearly unheard-of feat in any sport. But the trio never got to hoist an NCAA trophy, as the Eagles lost in the finals in both 2018 and 2019.
Walker-Weinstein held back tears as she described her seniors to reporters following the defeat in the 2019 championship game. "Boston College wasn't a lacrosse school four years ago, and now it is," she said. "Now, because of them, lots of little girls want to come and play at BC, and a lot of the top players in the world want to come and play at BC. Because of what they've built, the legacy will live on." Yes, BC had become a lacrosse school. But to become a superpower, it needed a championship. And to get one, Walker-Weinstein realized, the status quo wouldn't be enough. She needed more.
In 2019, the superstar attacker Charlotte North '21 decided that she wanted to transfer after two years, and one hundred forty-one goals, at Duke. The very first coach to call her, North recalled, was Acacia Walker-Weinstein. North said she wasn't sure what she was looking for in a new program—until the BC coach called. "I knew right away when I talked to her," North said. "You could feel energy and passion and love." Walker-Weinstein also wooed the goalkeeper Rachel Hall, who'd led the nation in saves as a freshman at Oregon.
Having secured commitments from the two players, Walker-Weinstein turned her attention to updating her program. She made further investments in nutrition and sports psychology, and she shortened practices in order to focus on player recovery and ensuring that the team would have plenty of energy at the end of each season. Walker-Weinstein was also able to add an additional coach to the staff—Apuzzo, in a newly created graduate assistant position—and to promote assistant coach Kayla Treanor to associate head coach, giving her more control over the offense. (Treanor is now the Syracuse University head coach.)
The pandemic-shortened 2020 season prevented Walker-Weinstein from fully realizing the results of the changes she'd implemented, but in 2021 everything came together. After stumbling early with a blowout loss to top-ranked UNC, BC bounced back to win nine games in a row. And when the season came to an end, the Eagles were finally champions. When the final whistle of the title game blew, Walker-Weinstein's face found the shoulder of Treanor, and tears began to run. She looked up just in time to see her players sprinting onto the field, mobbing each other at its center.
Grad senior Jill Reilly '20 was the first to grab the trophy, running it into the maroon and gold mass. Then the whole team couriered it back to the sideline, toward their coach. When North, who won the Tewaaraton Award that year, tried to hand the trophy to her coach, it was instead thrust back in her direction, and then up above in a clamoring collection of hands. From there, the team and their prize made their way to the stands, where family and former players waited. 
"All of our kids are very grounded in that they're always saying, This is for our alums," Walker-Weinstein said. "Because those players, they really created the path and then the team that won finished the job. But the work was in the years before that."
As the on-field celebration continued, Walker-Weinstein retrieved her older daughter, Wesley, from the stands.
"Mom," the seven-year-old yelled, "we finally did it!"
"And I just looked at her and I just—," Walker-Weinstein teared up as she recalled the moment. "I said, 'Don't ever give up.'"  
BC plays a risk-taking defensive style that feeds the attack. "Sometimes it's really hard for teams to even understand what we're doing because it's so aggressive," said assistant coach Sam Apuzzo '19.
After beginning the 2022 season as defending champions, the Eagles once again made it to the championship game, but lost 12–11 to a UNC team that finished the season undefeated. The loss left Walker-Weinstein looking for an edge heading into last season, the 2023 campaign, which would be her first since 2015 in which the offense wasn't anchored by either Sam Apuzzo or Charlotte North. The coach has always taken a flexible approach when it comes to strategy, tinkering with her game plan to fit both her players and their opponents. She and her assistants also look outside of lacrosse for concepts, studying basketball and hockey in the constant hunt for new ideas. In a single game, BC might run two or three different offensive strategies. As the 2023 season got underway, the Eagles added more motion sets to the playbook, using intricate combinations of overlapping runs to get their players open.
As in years past, BC suffered some early-season losses only to find itself midway through the campaign. The team eventually claimed its first ACC title—and just the second in BC history in any sport—by avenging an earlier defeat to UNC. From there it was on once again to the NCAA tournament. BC won its first game in the tournament, but it was closer than it should have been.  "I feel like I'm going to throw up," Walker-Weinstein told her team afterward.
Walker-Weinstein doesn't believe in hiding her emotions from her players. "I just think when you're trying to rally young women or coach young women, they have to believe you," she explained. "If you're anything other than yourself, they're not going to believe you. So if I cry, if I yell, if I'm pissed, if I'm distracted, if I'm disorganized—whatever it is, take it or leave it, it's me. I'd rather them believe me than to pretend that I'm some perfectly organized person or someone who can keep it all together when I'm pissed or emotional."
BC rallied after the close opening-round win and eventually made it back to the Final Four. In the semifinal game, Medjid, the latest attacker to thrive under Walker-Weinstein, scored five goals and the Eagles defeated Syracuse 8–7. An 18–6 loss to Northwestern in the final, however, meant that it was time for Walker-Weinstein to reassess her program once again. With the 2024 season set to begin in just a few months, BC looks loaded. Walker-Weinstein used both the transfer portal and high school recruiting to bring in plenty of exciting new talent. Among the new players is Rachel Clark, whose sixty-three goals at UVA last season were good for third in the ACC. Also joining the team are two defenders who've transferred from the University of Florida, and another from Stanford. Meanwhile, three of last year's top-ten-ranked high school players in the country chose to attend BC this year. They're all here to help deliver exactly what Walker-Weinstein and her entire program remain hungry for: MORE. 

---
Jacob Feldman is a sports business reporter at Sportico and the founder of The Sunday Long Read, an email newsletter celebrating the web's best stories. A Boston resident, his work has previously appeared in Sports Illustrated, the Washington Post, the Boston Globe, and Boston Magazine.