Raising the Bar
Kimberly Addison '12 celebrates her Ghanaian heritage through chocolate.
In 2014, while living in Switzerland, Kimberly Addison '12 joined some friends for a tour of the country's oldest chocolate factory. Like many sweet tooths, she had long associated the confection with Europe. Now, she was shocked to learn that the company sourced almost all of its cocoa beans from West Africa, including Ghana, where her parents are originally from. And that wasn't the only surprise for Addison: She also discovered that even though Ghana is the world's largest exporter of cocoa, the country reaps relatively few of the economic benefits of the luxury chocolate market. "It seems logical that West Africa would be the chocolate hub of the world, but it's not," she said. "I wanted to change that."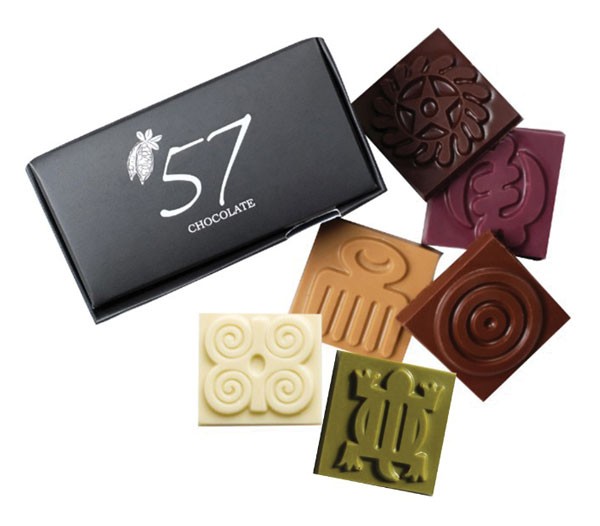 At the time of the tour, Addison had already been planning to move to Ghana and start a company there with her sister, Priscilla. They considered a focus on crêpes, since both had studied abroad in France and spent formative years in the Francophone country of Senegal, but ultimately settled on chocolate. The sisters began visiting farmers around Ghana, where chocolate companies are rare, partly due to the country's lack of infrastructure and training facilities. The Addisons traveled to London in 2015 to learn the ins and outs of chocolate production. And early the following year, they launched '57 Chocolate, named for the year Ghana achieved independence from Britain.
The Addisons set out to make chocolate that was reflective of the country—not just in the raw ingredients but in its packaging and design. The bars are crafted in small batches using cocoa beans sourced from nearby farms and incorporating local flavors such as bissap (hibiscus tea) and moringa (a tree known for its medicinal properties). One sampler box features chocolates engraved with symbols native to the country's Akan tribe: a crocodile stands for adaptability, and a fern indicates resourcefulness. Meanwhile, "Made in Ghana" is stamped proudly on every '57 Chocolate label before the treats are sold online or shipped to stores worldwide. "There's still this stigma, even here in Ghana, that 'Made in Africa' goods are of lesser quality," Addison said. "We want to shift that narrative."
Like chocolate-making, running a business is something Addison had no experience with prior to launching '57 Chocolate, but it's a vocation that satisfies her desire to help others. Ten employees now work in the production center, many of them young people, and as the company continues to grow, Addison hopes its impact in Ghana will as well. The sisters plan to train chocolate makers and, one day, to launch a center where young cocoa farmers can learn sustainable agriculture practices. "The most rewarding part of this is being able to invest in people," Addison said, "and to help people see Ghana in a different light."