Champions at Last
After three heartbreaking losses in the championship game, BC women's lacrosse won the national title.
​​The BC women's lacrosse team reached the NCAA championship game for three straight years, from 2017 to 2019, only to lose each time. So when the Eagles finally claimed the national championship last May with a 16-10 win over Syracuse at Towson University's Johnny Unitas Stadium, the moment was extra special. After on-field photos and a giant group hug, the women rushed over to the stands to celebrate with some of the former players who had built the program into a lacrosse powerhouse.
"Those losses really taught us a lot," Head Coach Acacia Walker-Weinstein said. "We were destroyed by it temporarily, but we picked up the pieces, and we had to pivot here and there to make decisions and persist and stay together to find new ways to win."
BC was led by forward Charlotte North '21, M'25, who would later win the 2021 Tewaaraton Award, given to college lacrosse's most outstanding player. North, who scored six goals in the championship game, said the victory was for all the players who'd come so close in recent years. "It was such a special moment because it was as much theirs as it was ours," she said.
With the win, Walker-Weinstein joins men's hockey coaches Jerry York and John "Snooks" Kelley as the only coaches in Boston College history to win national championships. "You listen to her speak and you want to run through a brick wall for her because she's so passionate," North said. "She also puts her arm around you and is so caring and loves you dearly. She's a once-in-a-lifetime kind of person."
When Walker-Weinstein became head coach in 2012, the women's lacrosse team had appeared just once in the NCAA Tournament. Yet, right away, she began to instill in her players a sense that they could compete with anyone in the country. "The dream that every single one of us had when we stepped onto the BC campus was to win the national championship," said assistant lacrosse coach Sam Apuzzo '19, who was part of all three runner-up squads and won the 2018 Tewaaraton Award. "Acacia engraved that in our minds and made us believe in ourselves."
With that dream finally realized, the women's lacrosse players now look to defend their title—and their chances of doing so increased dramatically when North, who set an NCAA record last season with 102 goals, decided to return for her final season of eligibility. "I don't want it to ever end," she said, "and I'm lucky that I get to have another year." And so are the Eagles.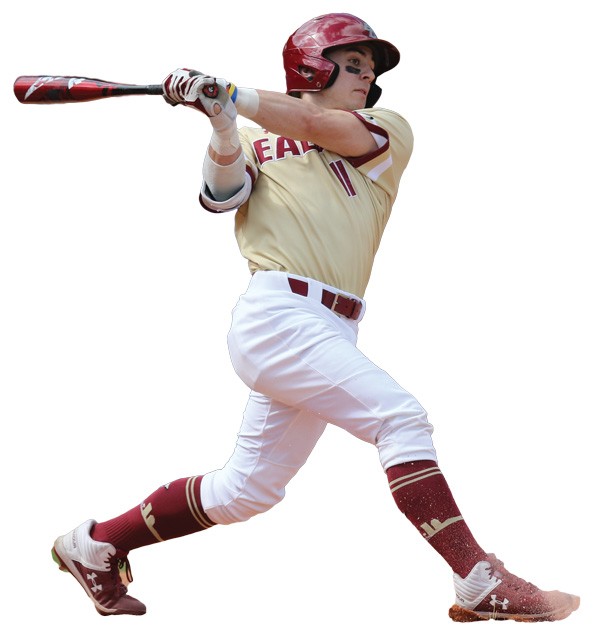 Eagles fly high in MLB Draft
BC center fielder Sal Frelick '22 (above) was taken by the Milwaukee Brewers with the 15th overall pick in July's Major League Baseball Draft. The selection follows a standout season in which Frelick hit .359 and earned All-ACC First Team and ACC Defensive Player of the Year honors. Frelick's roommate, second baseman Cody Morissette '22, was drafted by the Miami Marlins in the second round. 
New basketball facility named
Boston College Athletics has received a $15 million lead gift from University Trustee Michaela "Mikey" Hoag '86 and her husband, Jay, to name the Hoag Basketball Pavilion. The future practice home of the BC men's and women's basketball programs, the 40,000-square-foot facility will include multiple courts, plus nutrition, sports medicine, and strength and conditioning centers.