Going the distance
Founded at Boston College, the Greater Boston Track Club—whose luminaries include four-time Boston Marathon winner Bill Rodgers M.A.`75—marks its 50th anniversary
Launched 50 years ago at Boston College, the Greater Boston Track Club—whose luminaries include four-time Boston Marathon winner Bill Rodgers M.A.'75—celebrated its golden anniversary this month with a walk, not a run, around the Chestnut Hill Reservoir, followed by a reception at Conte Forum.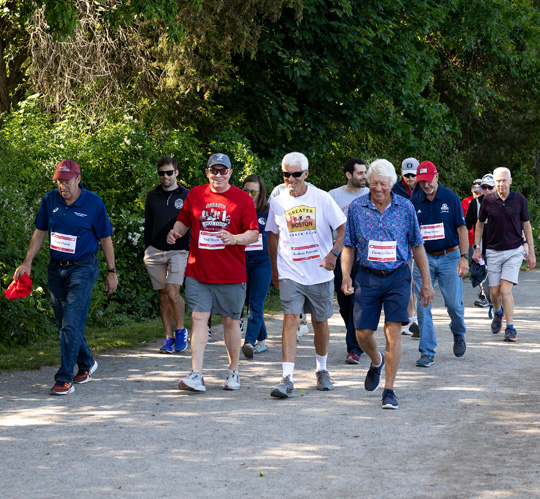 More than 100 current and former members, families and friends gathered on June 13 to commemorate the illustrious club's August 1973 launch, fueled then by former BC Assistant Athletic Director and Men's and Women's Cross Country and Track Head Coach Jack McDonald '73, a four-minute miler and New England champion during his racing days.

He was joined that celebratory day by a host of other runners, coaches, and a track official, including the organization's first secretary, Don Ricciato '71, M.A.'73, Ph.D.'00, the former longtime director of The Campus School at Boston College, a current Lynch School of Education and Human Development part-time faculty member, and a half-miler who ran the opening leg for the relay team that still holds the GBTC's record for the fastest distance medley.

"In the days before the running boom—which most pundits pinpoint as pre-1970—running was exclusively collegiate competition," said Ricciato. "The best runners' college eligibility would expire, and even a top-tier racing career lasted, at most, through the initial, post-graduate Olympic cycle, when employment and family responsibilities inevitably took precedence. Very few athletes had an opportunity to capitalize on their peak athletic performance years in their late 20s and into their early 30s, and there was no system or organization in place in Boston for a post-collegiate runner to find coaching, training support, and comradeship. It was into this gap that the GBTC was born."

One year after the 1972 Munich Olympic Games—marred by terrorist attack on Israeli Olympic team members—a small group of dedicated, Boston-area, post-collegiate runners and track coaches met in a locker room at BC's Roberts Center—Conte Forum's predecessor—and formed what many runners and racing aficionados considered the nation's best distance running club.

In addition to Ricciato, McDonald—who retired in 2017 after 40 years of intercollegiate athletic coaching and administration—recruited runners Charlie Diehl '75, Dave Elliott M.B.A.'74, Dick Mahoney '72, P'03,'14, Tufts' Kirk Pfrangle, Alfred University's Bob Sevene, track official Christopher Lane III '65, M.Ed.'68, and three coaches: Tufts' (Guy) John Pistone, William "Billy" Smith of Boston University, and Boston State's Bill Squires.

Squires, then 40 years old and a former All-American miler at Notre Dame, known for both his extraordinary coaching skills and his eccentricities, became the GBTC's founding coach.

In the foreward to Paul Clerici's book The History of the Greater Boston Track Club, Squires noted that the club's phenomenal success in the '70s and '80s was best demonstrated by four GBTC runners finishing in the top 10 of the 1979 Boston Marathon.

"

In the days before the running boom—which most pundits pinpoint as pre-1970—running was exclusively collegiate competition...there was no system or organization in place in Boston for a post-collegiate runner to find coaching, training support, and comradeship. It was into this gap that the GBTC was born.

"
"As the 'stable of horses' (runners) grew in the late 1970s, every athlete…went above and beyond his expectations," said Squires. "This was achieved because each runner believed he could make it to the next level, and thus constantly achieved personal records. In less than two years of training with this program, together with his GBTC teammates, Bill Rodgers finished third at the 1975 IAAF World Cross-Country Championships and shortly thereafter won the 1975 Boston Marathon in an American record (time of) 2:09:55. That's when things really took off."
Squires noted that with Rodgers serving as the magnet, the club quickly attracted the rest of the region's top distance runners, and eventually, drew some from outside New England as well, but it was the internal, motivational impact that had an even more dramatic impression on the club.
"Rodgers, after all, had run just 2:19:34 at Boston in 1974," said Squires. "His GBTC teammates now looked at him and said, 'Wait a minute. I can hang with him in workouts. If he can run 2:09, I can run 2:11.' That type of group training was what made GBTC so effective."
In 1979, Rodgers set a course record of 2:09:27 for his third Boston Marathon victory, but it was the top 10 finishes of his GBTC teammates Bob Hodge (third), Randy Thomas (eighth), and Dick Mahoney, then a full-time mailman (10th), that sealed the club's reputation as an elite runners' organization. Only the clubs in track meccas such as Boulder, Colo., Eugene, Ore., and Gainesville, Fla., could compare.
To underscore its pre-eminence as a producer of world-class runners, Alberto Salazar, wearing the GBTC's white and red singlet, won the 1982 Boston Marathon, captured the New York City Marathon three times, and set the '82 American record for the 5,000m and 10,000m.
"You share what you have; you kick around ideas, and you succeed," said Squires, who died at age 89 in June 2020. "You do things together that you would never do alone."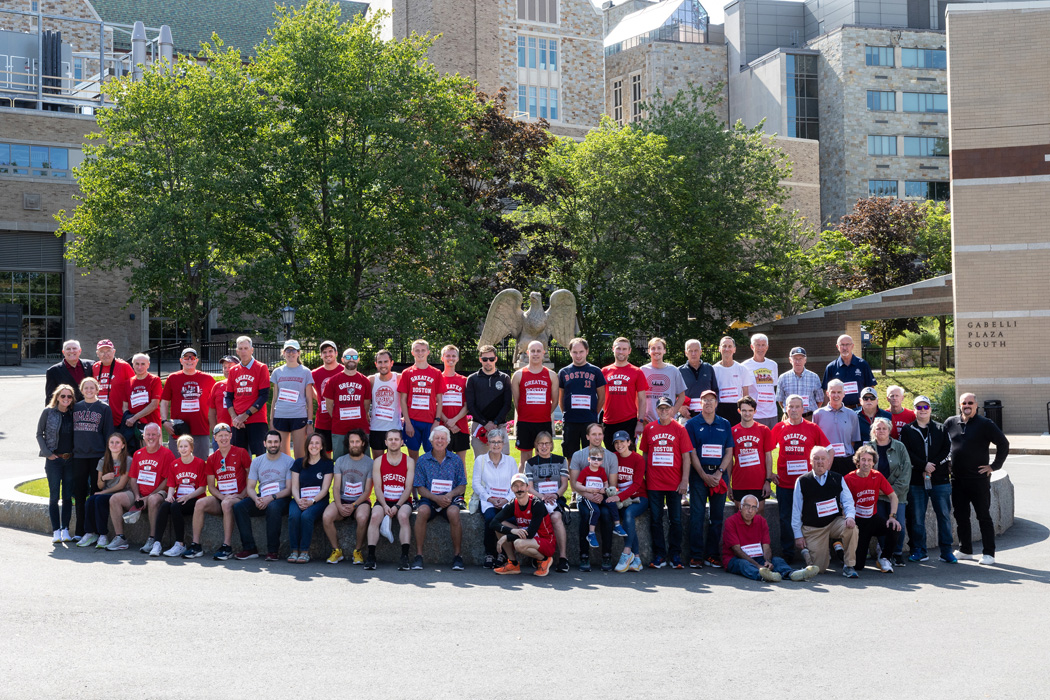 The club's success slowed in the mid-1980s, primarily due to the emergence and appeal of running shoe company-sponsored teams that recruited runners nationally and internationally, and paid runners significantly more than local clubs. The GBTC, nonetheless, had established itself as one of the greatest amateur running clubs in the United States.
The resume of achievement is long: GBTC has won over 70 New England club track titles, more than a dozen Eastern club regional titles and second-place finishes, over a dozen USA Track & Field club national championships and runners-up, and produced numerous individual Olympians, national champions, and record holders. Many of those in the initial crop of GBTC runners transitioned to coaching at the high school, college, track club, and Olympic levels, achieving considerable success.
A prime example is Randy Thomas, the legendary Boston College director of women's track & field and cross country, who retired in March 2022 after 35 seasons at the Heights. Thomas, who produced 54 All-Americans, guided the Eagles to 17 appearances at the NCAA Women's Cross-Country championship, capturing fourth in 2000—at that time the highest finish at a national championship for a BC women's team in any sport in school history. The Eagles also earned a sixth-place finish at the 2001 national championship, and that year, Thomas's peers at the U.S. Track and Field Coaches Association honored him as the National Women's Cross-Country Coach of the Year. He was also named the NCAA Northeast Regional Cross-Country Coach of the Year four times.
Similarly, "founding fathers" Smith and Lane also had remarkable careers. Smith, a nationally ranked middle-distance runner, who set several long-standing Boston University indoor and outdoor records during his undergraduate career, served as an assistant coach and then head track coach at BU for 15 years. Lane, a high school track All-American, and coach for 25 years at BC, Brandeis, and M.I.T., has logged more than 50 years as a track and field official and event manager at the local, regional, national, and international levels. A teacher and administrator in the Boston Public Schools for 43 years, Lane has served as president of the Massachusetts Track and Field Officials Association and was inducted into the Massachusetts State Track Coaches Association Hall of Fame in 2011.
Sevene, the founding coach of Athletics West—Nike's elite racing club—became a world-renowned running mentor best known for guiding Joan Benoit Samuelson to a gold medal at the inaugural women's marathon at the 1984 Olympic Games. His coaching career began in 1974 when he took the reins of the GBTC; in 1978 he was named the head cross country coach and assistant track coach at BU, before heading Athletics West in 1982. A star distance runner and cross country All-American at Alfred University, he also coached at Bowdoin College—where he earned Division III Coach of the Year honors—Bentley College, and California State University-Monterey Bay. He escaped death in a helicopter crash while serving as a captain in Vietnam, and was awarded two Purple Hearts. Sevene was inducted into the Alfred University Athletics Hall of Fame in 1979.
Deceased founders include Pistone, who captained the Tufts cross-country and indoor track teams, and held numerous teaching, counseling, and coaching positions at the youth, high school, and college levels, including guiding the Tufts' Men's and Women's Cross-country Indoor/Spring Track Teams from 1966 to 1981; and Pfrangle, a former Atlanta-area high school teacher and track coach who died in 2020.
Today, the GBTC continues to be a leader in the region's post-collegiate running tradition, competing at the national, regional, and local levels in cross country, track and field, and trail running under the guidance of highly experienced coaches, and through the same, friendly, competitive, team-oriented environment that spurred its exponential growth.
Said McDonald, a 1982 inductee into the BC Hall of Fame, "The Greater Boston Track Club's 50th Anniversary event was a wonderful opportunity to recognize the organization's founding and its initial members from the 1970s, along with its current members who ensure that it endures."