BCDS Sustainability
Eat Drink Talk THINK!!!
Boston College Dining Services places a high priority on sustainability and has made great strides to integrate sustainable efforts of local vendors, manufacturers and products into the department and university systems.
Boston College Dining Services fosters a culture in which the interwoven benefits of growing, cooking and sharing food become an integral part of the University's community experience. The University fosters working relationships with local growers, manufacturers and vendors who respect and promote ecologically sensitive agricultural practices, and food distributors who can trace their products to responsible sources.
The Dining Services team is committed to continuing a business strategy based on high-quality food and service that focuses on the principles of long term sustainable development that tie into our strong community support and respect for quality of life.
Recycling

Recycling services exist for glass, plastic, metal, cardboard, grease, mixed paper, as well as ink and toner cartridges. Here is what the dining halls have been doing to ensure efficient use of products and material.
We crush metal cans in the kitchens to decrease the volume and the number of required vendor pickups.
To prevent spillage during storage and extraction, we installed double insulated, sealed grease tanks in all dining locations.
In order to extend the life of cooking oils, we filter oils a minimum of once per day.
Dining Services regularly analyzes oil market conditions to ensure that we purchase the best oil with the longest fry life and health benefits.

We have developed collaborative relationships with national and local manufacturers, in order to discuss and encourage practices that benefit the sustainable initiatives of the food service industry. We aim to produce products and utilize processes with the least impact on the environment.

Energy Efficiency
Dining Services also considers its energy impact, and has taken the following steps to reduce water and energy consumption:
Dining Services continually researches energy and water efficient technologies when replacing foodservice equipment and purchases Energy Star or equivalent rated replacement equipment.
By replacing two dish machines in the past year, we cut water consumption by 50 percent. The equipment is manufactured and serviced by a local vendor.
We run dish machines during peak hours only, to conserve utilities and cleaning products.
We require vendors to shut off engines during deliveries to decrease gas emissions and noise levels.
To save energy, we turn the vending machine lights off.
Purchasing Initiatives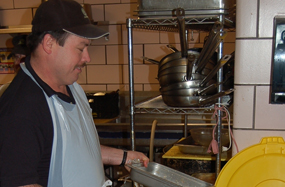 Dining Services makes certain only the best, most sustainable materials are purchased and used during food processing.

Dining Services incorporates sustainable criteria in RFB's (Request for Bid) for vendor analysis and selection.

We emphasize the use of local distributors and decreased deliveries to decrease fuel emissions.

Vendor food orders are consolidated as much as possible to decrease the carbon footprint.
Dining Services has a database of vendor and manufacturer sustainable practices, policies and initiatives.
Dining Services has been working with students to develop a more sustainable food system on campus as part of "Read Food BC". See the Student Initiatives Page for more information.

We partner with local manufacturers to develop programs that allocate rebates to support socially and environmentally responsible community projects and programs.
Dining Services is happy to list a few local distributors who have had an impact on Boston College and the products that are proudly served to our community:

Sid Wainer & Sons,
New Bedford, MA



Second generation family run business known worldwide for their leadership in food safety, support of local farmers and research for methods to develop new seeds for produce growth year round in the Northeast climate of products not previously known to be able to survive the climate changes.

Costa Fruit & Produce,
Chelsea, MA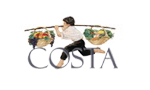 Costa Fruit & Produce is a second generation family run business. In an effort to become a more environmentally conscious company, Costa Fruit & Produce has developed an internal program called "Greening Our Goods and Services." The program has been in place for many years and continues to evolve as our company grows.
As a specialist and leader in the produce industry, Costa has supported local farmers and the utilization of sustainable and organic farming methods for more than fifty years. In fact, to help growers run their farms more efficiently, Costa instituted a seven day net payment program for all produce and agricultural products grown or produced in New England by independent farmers and producers.
Dining Services partnered with Costa Fruit & Produce this past fall with the introduction of the "Farmer's Market" that featured only local farm produce for five consecutive weeks in September to the beginning of October.
North Coast Seafood,
Boston, MA
Family operated business in a "state of the art" facility where products are tested in their "in-house" microbiological laboratory before being processed into fillets, steaks, loins or portions. All shellfish is placed into a wet storage tank that will eliminate any harmful bacteria that may exist. The water quality in the tanks is monitored constantly to ensure the quality exceeds the requirements of approved shellfish harvesting areas which also increases the shelf life of their shellfish. Seawater for these tanks is obtained from Chatham, MA.
North Coast Seafood partners with their customers to support sustainable seafood and practices as outlined by the Monterey Bay Aquarium Sea Watch program. This ensures that the species of fish purchased have been fished or farmed in environmentally friendly ways. Dining Services selections are made from the "Best Choices" and "Good Alternatives" list to support aquaculture sustainability.
Restaurant Operations

Lastly, Dining Services ensures quality and sustainability in the Dining Halls through recycling, reduced use of plastics, composting and more:


We support student sustainability initiatives through open communications with students and university groups.

Dining Services' Associate Director of Operations works with Ecopledge and the Environmental Law Society to promote an awareness program of recycling and sustainable initiatives. Please see our Student Initiatives Page for further information.

We serve Certified Fair Trade and Fairly Traded coffee exclusively at all restaurants.
We serve 100 percent rBST-hormone free milk from a local dairy processor who contracts with local dairy farmers within the New England region.
Dining Services develops seasonal menus and food procurement guidelines that prioritize seasonal variation of local and regional agricultural production.
Thursdays in the fall, we feature a farmer's market on Corcoran Commons Plaza.
Because food safety is our top priority, several times a year we utilize an outside laboratory for full restaurant and kitchen sanitation inspections and random food sample analysis. This is not a requirement, but rather an enhancement of the local health department inspections.
We have installed filtered water spigots in every dining hall.
In collaboration with UGBC, we promoted "Conscious Consumer" refillable water bottle. Discounted program for all fountain beverages and coffee are available for those that use a clean, refillable bottle or mug instead of a paper cup.
At Hillside Cafe, we offer compostable plates and bio-degradable cutlery as well as all natural burgers at the evening meal.

We promote local and sustainable menu options at the Loft @ Addies.

The Loft @ Addies now offers a choice of china for those customers staying or the new compostable plates and biodegradable cutlery for those that are to go.

Dining Facts
Corcoran Commons customers currently use 12 cases of large plastic "to go" containers per day. The weight in plastic works out to:
1 Day:
While you are here getting your BC Degree:
241,920 lbs
3,024,000 containers
This equals 88 Honda Civics in waste weight!
What is currently recycled at Corcoran Commons:
1 Day:
800 lbs Compost

600 lbs Cardboard Recycled

While you are here getting your BC Degree:

806,400 lbs Compost

604,800 lbs Cardboard Recycled
7,000 paper coffee cups are used in one week at BC Dining Facilities. Purchasing or using a reusable coffee mug would greatly reduce this amount.