International Scholars Program
international law program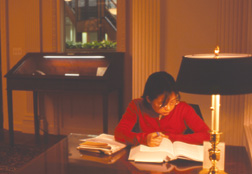 Each year Boston College Law School hosts a small number of Visiting Scholars ("Visitors") from around the world. Visitors are generally Professors of Law, doctoral students or post-doctoral researchers in law at institutions overseas. They normally are in residence at the Law School for either a semester or academic year. Applications for stays of less than one semester will not be considered.

The Program provides Visitors access to facilities of the Law School and the rest of Boston College so that they can conduct research on an approved topic while in residence. Those appointed have full library privileges, including dedicated carrel space. They also have the privilege of attending colloquia and other scholarly presentations at the Law School, and are invited to participate in faculty social events such as the Friday lunches. Visitors may audit Law School courses on a non-credit basis with the permission of the course instructor.

Visitors must be sponsored by a faculty member who is willing to act as a consultant on the Visitor's research project. It is the responsibility of a prospective Visitor to contact appropriate faculty members and arrange for such sponsorship.

Applying to the program

To apply to the Visiting Scholars Program, applicants must complete the program's application materials. These call for applicants to provide information about themselves and the specific research project they propose to pursue, letters of recommendation from professors and others who know their work, and (in most cases) transcripts from each university they have attended. In addition, all applicants must submit a letter from full-time member of the Boston College Law School faculty indicating his or her willingness to act as a consultant on the proposed research project. Whether or not a faculty member agrees to act as a consultant is completely within his or her discretion. In particular, some faculty members will only do so for scholars whom they know personally. You may download a pdf version of the application from our website.
English language proficiency is essential for a Visitor to insure the most beneficial and efficient use of time at Boston College Law School. LL.M. candidates whose native language is not English are required to achieve a minimum score of 100 (IBT) on the TOEFL examination. Visiting Scholar applicants should submit evidence of comparable English language proficiency. For additional information on the TOEFL examination, check their web site or contact them at TOEFL Services, Educational Testing Service, Rosedale Road, Princeton, NJ 08541, USA.


Deadlines for application are as follows:
April 15, 2017 for applicants wishing to commence research beginning in September 2017

September 15, 2016 for applicants wishing to commence research beginning in January 2017

Expenses
The costs of housing, food, health insurance, books and supplies, and personal and travel expenses for a single visitor are likely to total at least $9360 per semester. Visitors accompanied by family members should expect to incur significantly higher expenses.