Jane Hill, '09
m.a., columbia university; b.a., university of pennsylvania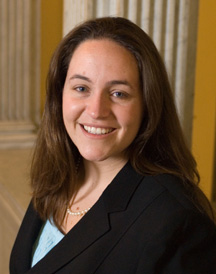 A former teacher herself, Jane Hill was most impressed by the relationship between Boston College Law School faculty members and their students.

"I was excited with how many professors joined the 1L class for a BBQ at Dean [John] Garvey's house, but I quickly learned that this was normal," said Hill. "Faculty tend to go out of their way to get to know us as individuals."

She spent six years at the blackboard – two of them while she was earning her Master's degree at Columbia – as a teacher in low-income communities. To gain more experience in youth education, Hill moved to Boston and worked as a research teacher at Tufts, where she taught children with severe reading disabilities and researched subtypes of dyslexia.

"I felt that effective teaching was the most significant way I could address larger issues of inequity," said Hill. "But over the years, the staggering class disparities facing my students and their families compelled me to reexamine my own ability to contribute to social equity."

Hill wanted to expand her knowledge and skills to help children and reform education. She looked at BC Law because of its strong clinical programs and internship opportunities in urban areas.

"Before I came here, I heard several professors and administrators discuss that part of BC's mission is to instill in its students a sense of responsibility to use the law to promote justice," said Hill. What finally tipped the scale, however, was BC's offer to become a Public Service Scholar. That was when Hill became certain BC Law was a perfect fit. In the future, Hill hopes to work in educational law and policy, particularly in areas that relate to race, class, and disability.