Shruti Kumar
class of 2009; b.a., northwestern university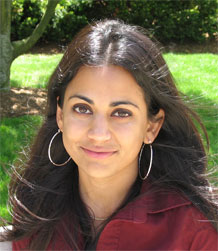 A former journalist, Shruti Kumar was drawn to BC Law because of its outstanding national reputation and location in the vibrant city of Boston, and because of the impression she received of students and faculty during phone calls and her visit to campus.
"BC Law has introduced me to some of the brightest and most interesting individuals I have ever met, a few of whom have also become my closest friends," she says. "The School provides an academic environment that is not only intellectually stimulating, but also nurturing and encouraging. Professionally, BC Law provides various avenues to network with practicing attorneys in different areas of the law."
She found the students and faculty eager to learn about different cultures, viewpoints and backgrounds. As vice-president of the South Asian Law Students Association (SALSA), Kumar helped organize a number of events celebrating the South Asian culture and was delighted by the number of students who showed up to learn about and support the organization. The faculty, she says, make it a point to participate in events and listen to suggestions on improving the law school environment.
Kumar was a staff writer for the Third World Law Journal, and will be doing a judicial clerkship as part of Semester in Practice. Last summer she worked for Shook, Hardy & Bacon, a Kansas City firm, and will work this summer in New York at McDermott Will & Emery.
"Because of the large number of doors that a law degree opens for you, I am still uncertain about what I ultimately want to do," Kumar says. "I've decided to begin my career working for a large firm, where I hope to spend time doing pro bono projects as well."