BC Hosts Russell, Winthrop Elementary School Students for 'Science Across the City Day'
Ed Hayward
Boston College Office of Public Affairs
617-552-4826
Chestnut Hill, Mass. (4-30-2009) – The Step UP initiative's second annual 'Science Across the City' day brought fourth and fifth graders from Dorchester's Russell and Winthrop elementary schools to Boston College for a hands-on lesson about turtles and the work of university scientists.
Students from BC's Step UP partner schools measured the palm-sized Cape Cod Diamondback terrapins, part of an ongoing study of the turtles overseen by BC Biologist Eric Strauss, director of the Environmental Studies Program.
"I really like turtles; when was younger I had my own turtle," said Russell School fifth-grader Kellsi Pemberton. "It's fun to measure them and collect the information."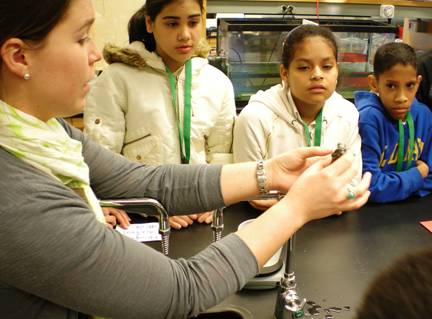 Russell School Principal Tamara Blake said the lessons taught by Strauss and students and staff from the Environmental Studies Program fit well with the school's science curriculum, but added a vital college and career preparation component. This was one of several visits Russell and Winthrop students have made to campus.
ABOVE: Jess Schmierer (far left), a program coordinator with BC's Environmental Studies Program, discusses research into the Cape Cod Diamondback Terrapin with Winthrop Elementary School students Jamilette Torres, Lihanlly Alcantara and Jericho Cruz.
"We're promoting students be college-bound," said Blake. "I think it's important for them to be on campus and to see college life, see the classroom and lab experience and to know what is expected of them. For us to say we want you to go to college, that may not be real enticing. But bringing them to campus teaches them that this is a realistic option and it is possible for them."
Throughout their morning at the University, the students met with BC undergraduates and graduate students, ate lunch, and toured campus labs and buildings.
AT LEFT: Biology junior Colin Kunzweiler teaches Russell Elementary School students Elizabeth Flores, Shanell Gourdine and Chien Hoang how to measure Cape Cod Diamondback Terrapin turtles.
'Science Across the City' brought students from eight schools in Dorchester, Jamaica Plain, Roxbury and Mattapan to the campuses of their Step UP universities – Boston College, Boston University, Harvard, Northeastern and Tufts – for hands-on lessons about science and preparing for college.
At BC, Step UP is coordinated by the Office of Urban Outreach Initiatives at the Lynch School of Education, which provides student teachers, professional development and other services to its Step UP partner schools.
Step UP is a new and unique school-university partnership to address the growing achievement gap in public schools. Convened by Boston Mayor Thomas M. Menino, the collaboration applies the universities' expertise, intellectual resources and experienced public education outreach to deliver targeted services to selected BPS schools.

###