BC Chemist Udayan Mohanty Named 2009 Guggenheim Fellow
Contact:
Ed Hayward
Office of Public Affairs
617-552-4826, ed.hayward@bc.edu
CHESTNUT HILL, MA (April 2009) – Boston College Chemistry Professor Udayan Mohanty has been awarded a 2009 John Simon Guggenheim Memorial Foundation Fellowship for his theoretical studies of rare chemical reactions.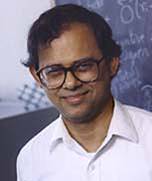 Mohanty said he was honored to be among the 180 scientists, artists and scholars chosen from a field of 3,000 applicants. The only U.S. chemist to receive a Guggenheim this year, Mohanty credited his Boston College colleagues for their support of his interdisciplinary research.
"When you work on these kinds of problems that take years of work, it is important to be surrounded by people who provide you with inspiration – both new faculty who bring energy and excitement and senior faculty who are intellectually world class," said Mohanty, who has been at Boston College since 1985.
Trained as a physical chemist, Mohanty embarked on an interdisciplinary research program in 1997 across the fields of modern physical chemistry, biophysics, biophysical chemistry and soft condensed matter physics.
Mohanty said his fellowship will allow him to spend the next year using new computational models to develop a set of tools that will allow scientists to describe rare fluctuations in chemical systems. He hopes to discover chemical reaction pathways that are as yet unknown, in particular those surrounding the behavior of DNA and RNA.
Mohanty joins a distinguished list of chemists to receive a Guggenheim Fellowship, including John Tully, Margaret Tolbert, and Laura Kiessling.
Since 1925, the John Simon Guggenheim Memorial Foundation's annual fellowship program has honored artists, scholars, and scientists in all fields. This year, the Guggenheim Board of Trustees has granted 180 Fellowships selected from a group of almost 3,000 applicants. Guggenheim Fellows are appointed on the basis of stellar achievement in the past and exceptional promise for future accomplishment. The ranks of Fellows include Nobel, Pulitzer, and other prize-winners.
For more information about Professor Mohanty, please see the website www.bc.edu/chemistry/faculty/mohanty.html
# #