Boston College Hosts Program that Builds Ties between Israeli and Palestinian Teenagers
artsbridge july 20 to aug. 9; public art display aug. 6
Contact:
Rosanne Pellegrini
BC Office of Public Affairs
CHESTNUT HILL, MA (7-16-09) — Boston College is the site this summer for an innovative program that brings together Israeli and Palestinian youths through arts-related activities to cultivate dialogue and fellowship—and raise the hope of future peace and coexistence in that troubled region, according to organizers.
Through "Artsbridge," a two-year-old non-profit organization based in Swampscott and founded by artist and art therapist Deborah Nathan, 26 teenagers aged 15-17 years old from Israel and the West Bank will be on campus from July 20 through August 9 for an intensive Leadership Development Program.
The Israeli and Palestinian participants will be paired in teams as they create art projects and join in other activities. On August 6, they will present an exhibition of their works, during an evening reception on campus which will be open to the public.
What distinguishes Artsbridge from other programs that bring together children caught up in conflict is the accent on dialogue in the art-marking process, according to Nathan. In addition to the artistic focus, Artsbridge uses a unique dialogic model, she said, which teaches the students to reflect on what they have heard and causes them to become more aware of how they are asking questions and how their answers are affecting those around them. The model also encourages curiosity as a basis for questions, as opposed to preconceived convictions and stereotypes.
Artsbridge utilizes art therapists, artists, psychologists and other professionals to work with the youths, helping them with both the artistic and inter-relational aspects of the program.
Members of the BC community also are involved; they include Center for Christian-Jewish Learning Director James Bernauer, SJ, Fine Arts Department chairman and filmmaker Prof. John Michalczyk, and Fine Arts Department faculty member Mark Cooper, who co-authored Making Art Together: How Collaborative Art-Making Can Transform Kids, Classrooms, and Communities and whose work with the University of the Middle East project has resulted in permanent collaborative sculptures.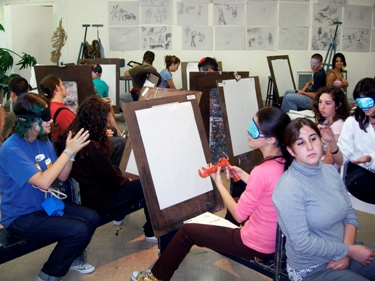 Participants in last year's Artsbridge program, which was held at Endicott College in Beverly. Activities include encouraging dialogue, trust and fellowship among participants. Photo courtesy of Artsbridge.
"What these groups of inter-religious students are able to accomplish provides new insight into how traditional animosities may be overcome," said Fr. Bernauer. "At the heart of this is their discovery of what they have in common—their artistic aspirations and talents—instead of what divides them—politics. I look forward to learning from this talented community of young people."
"Students," Nathan said, "learn how to use their creative talents for positive effect and empowerment. As they create, they discuss their personal experience of the process. The emphasis is on identifying and expressing students' creative experiences, with the goal of achieving a new understanding of the past and the future while honoring the experience of the other."
But that's not as easy it sounds, she pointed out.
"For generations, children on both sides of the Palestinian-Israeli conflict have witnessed and suffered trauma. Though most have never met their Israeli or Palestinian counterpart, they have come to see 'each other' as 'the enemy.' There is no trust, and no sense of understanding for the lived experiences of the other."
The youths who participate in Artsbridge are selected via the program's outreach to schools, Nathan said. "These are kids who have lost friends in bombings, or have seen their relatives injured by violence, or jailed. But they also demonstrate a desire —and the ability—to engage with others, to challenge the attitudes they've been exposed to all their lives.
"In the art-making process, these young people have to address some questions that don't always have straightforward answers: How do you work together? How do you agree on what kind of art to make? Who decides what things? The dialogue can be intense, but the next day, they still work together.'
The commitment to Artsbridge and its mission doesn't end when the participants return home, added Nathan: they work in five school-year-long satellite programs at 9; established Israeli and Palestinian community organizations, serving as mentors for the next group of students entering Artsbridge.
The youths create artwork that expresses their fears, hopes, ideas and everyday experiences, she said; three times a year an exchange of this artwork is held during reunions between Israeli and Palestinian programs "to create a dialogue using a strictly visual language."
Artsbridge is not immune to developments in the Middle East, Nathan noted: The flare-up of the Gaza war last December caused a cancellation of some events and activities, and several participants temporarily dropped out.
"Not all the kids had the same view about the war," she said, "but they all said that being in the program made it difficult for them to simply accept what was going on. It was plain to see their critical thinking skills were at work, because they'd had the experience of seeing things through someone else's eyes.
"That's the idea behind Artsbridge: Learn to speak in a way that others can hear you, ask questions out of curiosity rather than judgment, listen with respect, and appreciate each other's experiences."
For more information, or to arrange interviews with participants, please contact Artsbridge Executive Director Deborah Nathan: 781-726-0004; deb@artsbridgeinstitute.org; or Artsbridge Director of Development David Nathan: 781-775-7981; david@artsbridgeinstitute.org. More details on Artsbridge may be found on their Web site: www.artsbridgeinstitute.org.
--30--