Boston College Commissions New Book on Two Centuries of Boston Catholicism
book to be presented as gift from bc president william leahy, sj to boston archbishop cardinal sean o'malley, ofm cap.
Contact:
Kathleen Sullivan
Office of Public Affairs
617-552-8644
CHESTNUT HILL, MA (April, 2009) – Two Centuries of Faith: The Influence of Catholicism on Boston: 1808-2008, a new book commissioned by Boston College as a gift from the University to the Archdiocese of Boston, will be presented by Boston College President William P. Leahy, SJ to Cardinal Sean P. O'Malley, OFM Cap., archbishop of Boston, at an event April 21, 2009 at the University.
Book Presentation, Open to the Media & the Public: Tues., Apr. 21, 4:30 p.m., Boston College, Gasson Hall, room 100, 140 Commonwealth Ave., Chestnut Hill. Book editor and contributors will be present along with Fr. Leahy and Cardinal O'Malley. Books will be available for purchase and signing at the event.
Two Centuries of Faith: The Influence of Catholicism on Boston: 1808-2008(Crossroad Publishing Co.), is a series of essays by Boston College faculty and other scholars that look at various topics against the backdrop of the Church in Boston, from its early days of powerlessness victim of discrimination to the "golden age" under Cardinal Richard Cushing to more recent years when issues such as changing demographics and the clergy sex abuse scandal challenged the archdiocese's traditional standing. Two Centuries of Faith is a thematic, rather than chronological, retrospective of the role of Catholicism in Boston, exploring topics such as charity and justice, parish life, Catholic schools, diversity, the role of women and Catholic literature. The book's final essay is a comparative view of the eight bishops who have led the Archdiocese of Boston prior to Cardinal O'Malley.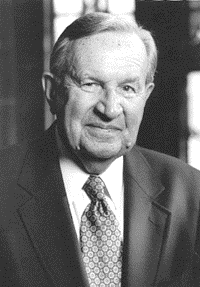 "We have to remember that 200 years ago, there was rampant anti-Catholicism in Boston and that the Church begins precariously. The archdiocese's story is that not only does it survive—which is incredible—but that it changed and contributed to the city for two centuries," said Two Centuries of Faith editor Thomas O'Connor, Boston College professor emeritus of history and University Historian.
"It is precisely those hardships and hostilities that made…its subsequent achievements so remarkable," writes O'Connor, who also contributed an essay on the relationship between the Church in Boston and politicians and policymakers.

Two Centuries of Faith editor Thomas O'Connor,
Boston College's University Historian
and professor emeritus of history.
The idea for the book started with Fr. Leahy, who sought a way for the University to mark the bicentennial of its home archdiocese. He tapped O'Connor, known as the "dean of Boston historians" and author of several books about Boston, to gather a community of scholars together to write the book. In Two Centuries of Faith, Fr. Leahy writes that he will present the book to Cardinal O'Malley "on behalf of the 150,000 alumni of Boston College" as a "contribution to the bicentennial celebration of the Archdiocese of Boston."
In addition to O'Connor, the other notable contributors to the book are: Boston College Clough Millennium Professor of History James O'Toole, a former archivist for the archdiocese; J. Bryan Hehir, secretary of social services for the Archdiocese of Boston and the Montgomery Professor of the Practice of Religion and Public Life at Harvard University; Boston College Lynch School of Education Dean Joseph O'Keefe, SJ; Libby MacDonald Bischof, assistant professor of history at the University of Southern Maine; William T. Schmidt, the pastor of St. Patrick parish in Stoneham, Mass.; William C. Leonard, associate professor of history at Emmanuel College; Francois Gauthier, consul general of France in Boston; Carol Hurd Green, a member of the BC English Dept. faculty and former associate dean; and Boston College doctoral student Aubrey Scheopner.
"In the course of 200 years, there have been enormous changes, in politics, economics and technology. These essays show the incredible ability for the church in Boston to adjust and move forward without abandoning its faith," said O'Connor. O'Connor added that he thinks readers will be struck by the realization that the Church in Boston has always faced change and challenges and that the only way to persevere is by adapting to, rather than bemoaning, change.
###