Honors for BC Sociology Alumnus, Grad Student
alumnus named president of society for the study of social problems; current graduate student wins its 'best paper' award
Contact:
Jack Dunn
Director of Public Affairs
617-552-3350; dunnjo@bc.edu


CHESTNUT HILL, MA (6-29-09) - A. Javier Treviño, who earned his Ph.D. in sociology from Boston College and now serves as professor of sociology at Wheaton College, has been elected as 2010-2011 president of the Society for the Study of Social Problems (SSSP). Treviño will begin his duties as president-elect at this summer's SSSP meetings in San Francisco.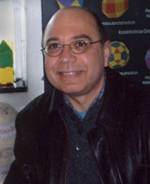 Treviño graduated from Boston College in 1990 and served as an assistant professor of sociology at Marquette University, before joining the faculty of Wheaton College where he also served as department chairperson. In 2006, he was appointed a visiting research fellow in sociology at the University of Sussex in the United Kingdom.
A. Javier Treviño
Treviño's many publications include the books "The Sociology of Law: Classical and Contemporary Perspectives" (St. Martin's Press, 1996); "The Sociology of Law: A Bibliography of Theoretical Literature" (The Edwin Mellon Press, 4th ed. 2007); and with fellow BC Ph.D. alumnus Susan Guarino-Ghezzi, "Understanding Crime: a Multidisciplinary Approach" (Lexis Nexus/ Anderson Publishing, 2005).
"Javier Treviño's election as 2010-2011 SSSP President is terrific news both for Javier and for the BC Sociology Department," said Assoc. Prof. Michael Malec, who taught Treviño during his doctoral studies. "I am sure he will be an outstanding president of the society."
Added Sociology Prof. Stephen Pfohl, "The Society for the Study of Social Problems is a highly influential professional association dedicated to cutting-edge scholarship in the service of social justice. Javier Treviño is an inspiring sociologist who will make an excellent SSSP President."


In addition, Sociology Ph.D. candidate Jared Del Rosso was named 2009 Recipient of the Best Graduate Student Paper Award for the Social Problems Theory Section of SSSP for his paper, "To Make a Prison Mobile: Social Problems Forms and the Construction of Abu Ghraib."

Jared Del Rosso
"Jared Del Rosso's study of congressional hearings into allegations of torture at the US administered prison at Abu Graib casts a critical sociological eye upon an issue of enormous ethical and political importance," said Pfohl. "Jared analyzes the language that lawmakers used to make sense of the controversial events that took place at Abu Graib. His outstanding paper is part of his path-breaking dissertation research and is clearly deserving of the award."
Del Rosso will be presented with the award at the SSSP meetings in August.



###