BC Hosts Carroll Ctr. for Blind College Prep Series
7 visually-impaired students attend 'transition to college' july 20-31
Contact:
Office of Public Affairs
617-552-3350
CHESTNUT HILL, MA (July 2009) - Seven visually-impaired students who plan to pursue higher education in their futures are taking part in a two-week "Transition to College" program hosted by Boston College from July 20 through 31.


The on-campus session, the final component of a six-week college preparation course sponsored by the Carroll Center for the Blind in Newton, offers the secondary school students from Massachusetts, New Hampshire and New York an opportunity to experience life in a campus setting and how to meet the specific academic needs that relate to their disability.

Joseph Quintanilla
"We try to give them a good all-around preparation," says Rabih Dow, a 1991 Boston College graduate, who is the vice president for rehabilitative services and international training at the Carroll Center. "We are not training them in academic preparation as much as how to communicate with people in taking care of your own needs as well as what will be expected at the college level."

Dow, who is blind, says that topics covered include personal safety, social activities, how to use library resources, use of college athletic and dining facilities, and the roles of various academic deans and administrators in a university system. He adds that staff members from Boston College and other area universities assist in the two-week program.

"There will also be a couple of academic classes offered to the students to give them a flavor of what it is like to take notes from a lecture, writing up information and taking a quiz under pressure – those types of things," said Dow. "We also want them to know how to go about getting things that they may need from professors, departments and the schools in general."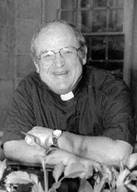 This is the second year that the 'Transition to College' campus component has been held at BC. This year's program is hosted by the Communication Department, and through the efforts of Communication Prof. Kevin F. Kersten, SJ, the group is occupying conference space at 21 Campanella Way and utilizing a range of campus facilities and resources.
Dow says that BC has been a long-time partner of Carroll Center programs for the visually-impaired. Earlier this summer, the University hosted a road race for blind runners and walkers organized by Joseph Quintanilla '98, a former track and cross-country athlete at Boston College who is now the Center's director of development. Rev. Kevin Kersten, SJ

Quintanilla, who is also visually-impaired, said that more than 1,000 participants took part in the June 7 race that started on Linden Lane and followed a course down Commonwealth Avenue to Cleveland Circle and then back up Beacon Street and College Road to campus.

"For me, it was just great," Quintanilla says, "I had a good running experience when I was at Boston College and it was wonderful to have an event at BC that could demonstrate what blind people can do. It's a great way, too, to show that BC has always been supportive of students with disabilities," Quintanilla says.

--Reid Oslin
###