'The St. Patrick Story' at BC's Burns Library
exclusive new england appearance of exhibitionshowcasing history and legacy of ireland's patron saint
Contact:
Patti Delaney
Office of Public Affairs
617-552-3352; delaneyp@bc.edu
CHESTNUT HILL, MA (May 2009) -- A new exhibit centered on the history, mission and legacy of Saint Patrick, patron saint of Ireland, makes its first and only New England appearance at Boston College's John J. Burns Library, now through June 15.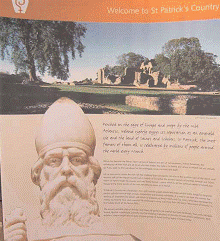 Visitors to "The Saint Patrick Story," which is free and open to the public, will experience images of towering cathedrals, ancient medieval towns and the story of Patrick based around the unique sites associated with him in Counties Armagh and Down.
"A little part of Saint Patrick's Country is coming to Boston this summer," said Dr. Tim Campbell, director of the Saint Patrick Centre in Northern Ireland, which developed the traveling exhibit. The Centre is a non-profit organization that houses the only permanent exhibition in the world about Ireland's patron saint, and has supporting chapters developing throughout America.
"This exhibition will strengthen the link between our part of Ireland and Boston, and surely anyone who witnesses it will want to follow in Patrick's footsteps when they plan their next visit to the Emerald Isle," he said.
The exhibit at Burns is appropriately located in its Irish Room, where visitors will also have an opportunity to view some of Boston College's permanent Irish treasures, added BC's Burns Library Director Robert O'Neill.
This tour is the first time the exhibit has been on view outside of Ireland. Following its engagement at Burns Library, it will travel to other venues across the U.S., including Old St. Patrick's Cathedral in New York, which celebrates its 200th birthday this June, the University of Notre Dame and the Irish Cultural Center in Phoenix, Arizona.
The John J. Burns Library of Rare Books and Special Collections at Boston College is named in memory of the Honorable John J. Burns, a 1921 BC alumnus who was one of its principal benefactors. It houses more than 200,000 volumes, 15 million manuscripts and impressive holdings of artifacts, maps, paintings, photographs, ephemera and architectural records. The library's Irish Collection, considered to be the premier, most comprehensive collection of Irish research material in the United States, documents the history, life and culture of the Irish people, and maintains strong holdings in Irish history, religion and politics, as well as significant collections related to some of Ireland's greatest writers, including one of the world's finest collections related to Nobel Laureates William Butler Yeats and Samuel Beckett.
The Saint Patrick Centre in Downpatrick, Northern Ireland, is one of the top tourism destinations in Ireland. Situated in the heart of "Saint Patrick's Country," beside Down Cathedral and Patrick's Grave, the Centre, with its cutting-edge interactive exhibition about the life and legacy of Patrick, is a central hub on the new St. Patrick's Trail. As a nonprofit organization, the Centre provides reconciliation education programs to thousands of children in Northern Ireland every year as well as running cross-border and international youth programs. For more information: www.saintpatrickcentre.com.
Through June 15, 2009: "The Saint Patrick Story," a visual history of the life and legacy of the patron saint of Ireland, developed by the Saint Patrick Centre in Northern Ireland, at its only New England venue: the John J. Burns Library Irish Room, Boston College, 140 Commonwealth Avenue, Chestnut Hill, Mass. The exhibit is free and open to the public. Hours: Monday through Friday from 9:00 a.m. to 5:00 p.m. (except holidays) or by appointment. Venue is handicapped accessible. For information call: 617-552-3282 or visit www.bc.edu/burns
###