Acclaimed Broadway Orchestrator Stages Exclusive Boston-area Benefit Production of "Songs for a New World" at Boston College
broadway hits the heights for one night only: saturday, may 9
Media Contact:
Rosanne Pellegrini, Media Relations
Public Contact:
BC Robsham Theater Arts Center
Box Office: (617) 552-4002
www.bc.edu/songsforanewworld
CHESTNUT HILL, MA (4-8-09) – Award-winning Broadway artist Mary-Mitchell Campbell— acclaimed orchestrator and music supervisor, and the inaugural holder of the Rev. J. Donald Monan, SJ, Professorship in Theater Arts at Boston College for the 2008-09 academic year—will conclude her BC tenure on a high note: directing a benefit production of the critically-acclaimed musical Songs for a New World.
Beyond her professional accomplishments, Campbell—one of the most acclaimed and in-demand musical theater artists currently working in New York City—is the founder and chair of Artists Striving to End Poverty (ASTEP), an international organization that seeks to empower young children through artistic self-expression.
Proceeds from the BC event—Campbell's first and exclusive Boston-area production—will benefit ASTEP. (More on Campbell and the production, including cast members, below.)
"I am thrilled to be joining forces with the students and alumni of Boston College to create an exciting tapestry of characters who are all trying to find their way through the critical moments of life," Campbell said. "It is a stunning score by Jason Robert Brown, who is one of the newest voices of the contemporary musical theater. And we have the additional joy of doing this to benefit some very worthy causes!"
Mary-Mitchell Campbell
Campbell has worked as a music director, vocal coach, orchestrator and private pianist to some of Broadway's most successful performers. She won a 2007 Drama Desk Award for her role as music supervisor and orchestrator for the Tony-nominated Broadway production of Stephen Sondheim's Company and was musical director for his latest creation, Road Show, which opened in November at New York's Public Theatre. She currently is musical director for The Addams Family, a new musical premiering on Broadway in 2010.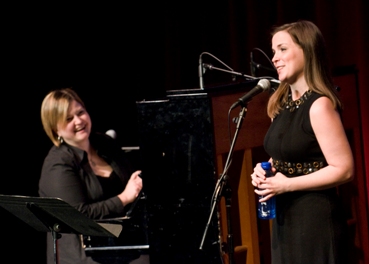 Mary-Mitchell Campbell (left) and Michelle Miller at a Fall 2008 performance at Boston College.
She has worked on myriad Broadway productions including Sweeney Todd, Beauty and the Beast, The Scarlet Pimpernel, The Prince and the Pauper, and Sweet Charity at Lincoln Center. Campbell is the music director for the annual Broadway Cares/Equity Fights AIDS benefit concerts, and has served for the past six years as music director for the late Paul Newman's Hole in the Wall Gang camp's annual fundraising gala. She has toured both with the Boston Pops and Tony Award winning actress Kristin Chenoweth, and has performed at the White House, Carnegie Hall and internationally in Russia and in Amsterdam where she began work as Cy Coleman's protégé.
Current initiatives of ASTEP—a human service organization that brings artists to impoverished areas to educate young people and empower them through self-expression—include art camps for disadvantaged youths in New York City, Florida and South Africa, and a volunteer program through which artists teach children in India.
At BC this academic year, Campbell has lectured, worked with students and faculty, and led a series of workshops. She also inspired BC students to form a campus club that is part of the ASTEP organization. Campbell has noted that BC is one of only a few colleges involved in ASTEP—whose members are professional actors and musicians as well as art therapists—as a result of her relationship with the University.
New York-based actor, singer, writer and producer Michelle Miller—a 1998 Boston College alumna and frequent lecturer in the BC Theater Department—serves as ASTEP vice chair, and is working with Campbell on the BC benefit production, in which she will perform and serve as associate producer and co-director. In February, Miller made her second trip to ASTEP's partner school in India.
Songs for a New World
This critically-acclaimed off-Broadway musical—by composer Jason Robert Brown, and dubbed a remarkable achievement from a remarkable new voice—transports and introduces the audience to an array of characters. Through their exploration of relationships, dreams, conflict, love and hope, they overcome challenges to face an ever-changing world with renewed hope and optimistic dreams, and present the stories and characters of today—the songs for a new world.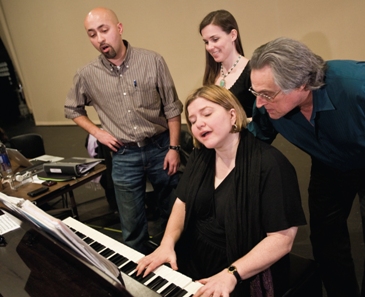 A recent rehearsal at Boston College for Songs for a New World. Left to right: cast member Jose Delgado; director Mary-Mitchell Campbell (at piano); associate producer, co-director and performer Michelle Miller, BC class of 1998, and BC Associate Prof. and Theater Dept. Chair John Houchin.
The outstanding score is influenced by a broad range of musical genres, including pop, gospel, jazz and classical. "It's about one moment. It's about hitting the wall and having to make a choice, to take a stand, or turn around and go back," Brown has said of his provocative revue. Brown also is the composer-lyricist of the critical smash hit Parade and Broadway's recently acclaimed 13.
Campbell will direct Songs for a New World, with a cast of BC alumni and friends working professionally in the arts and entertainment industries, including several Broadway veterans and regional award-winning performers. Among them are Broadway performers Ron Nahass, a 1999 BC graduate, and Maurice Murphy, most recently seen on Broadway in The 25th Annual Putnam County Spelling Bee and a member of the highly acclaimed Broadway Boys. Also in the cast is award-winning journalist Paula (Blute) Ebben, a 1989 BC graduate and a news anchor at Boston's WBZ-TV. The featured performers will be supported by current BC students.
Songs for a New World will be presented at Boston College on Saturday, May 9 at 7:30 p.m. in the University's Robsham Theater Arts Center. Tickets are available to the public at $50 each; tickets ($25 per person) also may be purchased to attend a champagne reception to meet the director and cast following the show. All proceeds will benefit ASTEP and the Boston College Arts Council. For more details or to purchase tickets, which are on sale through the Robsham Theater Box Office: call 617-552-4002 or visit www.bc.edu/songsforanewworld.
J. Donald Monan, SJ, Professorship in Theater Arts at Boston College
Named for University Chancellor and former Boston College President J. Donald Monan, SJ, the professorship enables nationally and internationally recognized theater artists to work and teach at the University.
Media Note
BC Theater Department Chair John Houchin is available for interviews about Campbell and the May 9 benefit production; contact him directly via email at john.houchin.1@bc.edu

—30—