Boston College Biologist Patrick Autissier Will Ride in the 2009 Race Across America
ultra-distance cyclist's non-stop ride benefits non-profits & research
Contact:
Ed Hayward
Office of Public Affairs
617-552-4826
CHESTNUT HILL, Mass. (6/2/09) –Boston College researcher Patrick Autissier will join roughly 30 other ultra-distance athletes this month in what is regarded as one of the most grueling athletic events in the world, the 3,000-mile Ride Across America (RAAM), which begins June 17 in Oceanside, Calif.
With a goal of reaching the Annapolis, MD finish line in 10 days, the Belmont resident will be riding nearly 24 hours a day solo to raise funds for two Massachusetts charities, but also for science – the science of suffering through a massive test of preparation, endurance and pain tolerance.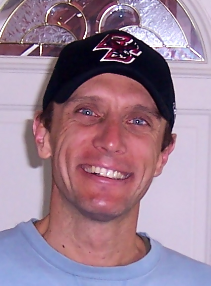 "It is a challenge to see how far you can go physically and mentally," says Autissier, a native of France who completed RAAM solo in 2007, finishing in 12 days, five hours and 34 minutes. "It is also a chance to see this country, which is so different from my own. I was fascinated to be able to ride across a continent. And it is an opportunity to raise funds for charities I support."
Autissier rides to benefit Partners in Health, which works with poor communities around the world to combat disease and poverty, and Nashoba Learning Group, which provides education and intervention services to children with autism and related developmental disabilities. All donations go to the charities as Autissier and his sponsors meet the $10,000 to $20,000 costs of crew, supplies and vehicles.
On June 9, he will hold a benefit screening of the RAAM documentary Bicycle Dreams in Devlin Hall on the Boston College campus. More information is available at his website www.patrickautissier.org.
A researcher who spends much of his time dissecting the cells, genes and molecules of HIV/AIDS, this year Autissier will use himself as a research subject during the ride. Riders endure exhaustion, dehydration, even hallucinations as they and their support crews make their way almost non-stop across the country at an average speed of about 16 m.p.h.
Autissier will have blood drawn daily and later analyzed by his colleagues to study how his immune system functions under intense stress. He will also be monitored daily by a psychology researcher probing the effects of exhaustion.
"I am a scientist, so I decided to do something nobody has done before because RAAM is so unique," he said. "You're cycling for 10 days, about 23 hours a day. You really push the body to its extremes and beyond."
The race is about 30 percent longer than the Tour de France, which takes place in 21 stages separated by the creature comforts of hot showers, hotel beds and meals. There's only one stage to the RAAM: from start to finish.
An experienced swimmer, triathlete and cyclist, Autissier knows the grueling nature of the race can wreck havoc on his body and his mind. He attributes survival to his support crew. This year he's aided by Dr. Robert Miller, crew chief and physician, Gregory Planchon, videographer, Maite Balda, a BC exchange student in psychology, and Jerome Pruneau, chief navigator, masseur, cook and motivational speaker.
He also credits the support of his Belmont family, his wife Anne-Cecile, daughter Estelle, 14, and son Damien, 8. Because of the time demands of training, Autissier says this will be his last RAAM.
Autissier admits that the fear of not finishing is part of the challenge that drives him as an ultra-distance athlete.
"That is the beauty of this race: you start something you don't know if you will be able to finish. Whether you're a world champion or an amateur like me, that's a very interesting challenge."
For more information about the race or the June 9 fundraiser, please see Autissier's website: www.patrickautissier.org.
# # #