BC's Maloney Honored for Service to Local Hospital
neighborhood center asst. director moe maloney receives this year's leadership award from brighton's franciscan hospital for children
CHESTNUT HILL, MA (5-13-09) – Richard "Moe" Maloney, assistant director of the Boston College Neighborhood Center in Brighton, Mass. has received the Franciscan Hospital for Children's Annual Community Leadership Award, bestowed at a recent dinner held at Boston's Intercontinental Hotel.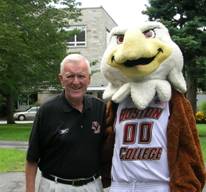 Maloney, who is BC's former varsity baseball coach, has organized dozens of goodwill visits by groups of Boston College student-athletes to children hospitalized in the pediatric healthcare facility.
AT RIGHT: Moe Maloney with BC's eagle mascot "Baldwin," who often visits Franciscan Hospital.
"Moe has dedicated so much of his time to bringing Boston College student-athletes to the hospital to spend quality time with the kids from all of our various programs," said Franciscan Hospital Chief Development Officer Steven Snyder in announcing the award. "His enthusiasm, energy and sincere care for our kids is infectious and we greatly appreciate all of his efforts,"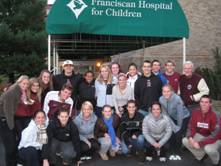 "There's no better commitment than the connection between Boston College and Franciscan Children's Hospital," remarked State Sen. Steven Tolman, whose district includes Brighton and Allston. "Moe is just a great human being; he's a mentor and he's a teacher."
LEFT: Moe Maloney has organized dozens of visits by BC student-athletes to Brighton's Franciscan Hospital for Children.
"I can't say how proud I am of both institutions - Franciscan Hospital and Boston College," said Maloney as he accepted the award and spoke of the weekly visitation program. "And, nobody has more fun than I do."
###