Psychologist Elizabeth Kensinger Honored by APA
receives 2009 springer early career achievement award
Contact:
Office of Public Affairs
617-552-3350


CHESTNUT HILL, MA (July 2009) -- Boston College Associate Professor of Psychology Elizabeth Kensinger is the 2009 recipient of the Springer Early Career Achievement Award in Research on Adult Development and Aging.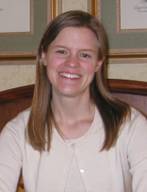 This award is given annually to "an individual whose work has made significant early career contributions to understanding critical issues in the psychology of adult development and aging" by the American Psychological Association, which represents U.S. psychologists and is the largest association of psychologists worldwide.

Kensinger's research areas include cognitive and affective neuroscience, notably the effect of emotion on memory, such as cognitive and neural mechanisms through which emotion influences memory's vividness and accuracy, and how such influences change across the adult lifespan.
Elizabeth Kensinger
"Elizabeth is no longer a rising star. She is a star," said Psychology Prof. and department chair Ellen Winner, commenting on the excellence and rigor of Kensinger's work.

She has received support for her research from the National Science Foundation, the American Federation for Aging Research and The Dana Foundation.
Last year, Kensinger was named a Searle Scholar, an award which provides funding to support the independent research of exceptional creative and productive young faculty in the biomedical sciences and chemistry. She was the first from Boston College to receive the award and one of only a handful of neuroscientists to be so honored since the onset of the program.