BC Master Plan Approved by Zoning Commission
plan aims to make boston college the first university in boston to meet 100 percent of undergraduate student housing demand

CHESTNUT HILL, MA (5-7-09) - The Boston Zoning Commission approved Boston College's Institutional Master Plan (IMP) at a hearing last night at Boston City Hall.
Following testimony from local residents, students and elected officials, the Commission gave its approval to the plan, which is composed of a university center, recreation complex, fine arts district and playing fields for baseball, softball and intramurals, as well as new residence halls to help BC meet 100 percent of demand for undergraduate housing.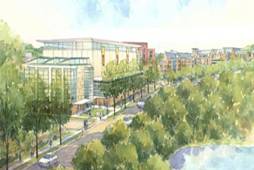 The Commission also gave approval for the conversion of the apartment complex at 2000 Commonwealth Avenue to University-controlled housing, which will provide 560 beds for BC undergraduates.

AT LEFT: A view of the proposed recreation complex at St. Thomas More Road.
In addition to these projects within the City of Boston, the University plans to construct four new academic buildings on the Middle Campus in Newton as part of its IMP.
"We are pleased that the Zoning Commission has approved the plan, which we feel is in the best interest of Boston College, the Allston-Brighton community and the City of Boston," said BC Director of Public Affairs Jack Dunn. "We are grateful to our alumni and employees who live in Boston and all BC students who attended the meeting and shared their enthusiastic support with city officials."
The IMP is designed to provide the facilities needed to support the University's Strategic Plan, which includes a focus on liberal arts in undergraduate education, student formation, societal needs-oriented research, international partnerships, and Jesuit, Catholic mission.
Following the approval by the Commission, the IMP and associated zoning map changes will be sent to Boston Mayor Thomas M. Menino for his signature.
###