Master Plan Gets Final Approval from City of Boston
plan will support bc's strategic vision for the 21st century
Contact:
Office of Public Affairs
617-552-3350
CHESTNUT HILL, MA (June 18, 2009) - Boston College's Institutional Master Plan has been approved by the City of Boston.

Boston Mayor Thomas M. Menino has signed the plan—the final step in a process that included four years of public meetings with city officials and community residents, and formal approvals by both the Boston Redevelopment Authority (BRA) and the Boston Zoning Commission.

The IMP, which will provide facilities to support the University's Strategic Plan, calls for the construction of a university center, recreation complex, fine arts district and playing fields for baseball, softball and intramurals, as well as new residence halls to enable BC to meet 100 percent of demand for undergraduate housing. In addition to these projects, all of which will be built in the City of Boston, the University will eventually construct four academic buildings on its Middle Campus in Chestnut Hill.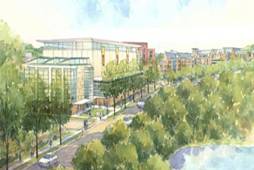 With the approval of the IMP, the University will begin planning and design work for the relocation of BC employees currently in More Hall to buildings on the Brighton Campus. More Hall will then be razed for the construction of a 470-bed undergraduate residence hall. Boston College is also in the design phase for Stokes Hall on its Middle Campus, which will provide space for classrooms and faculty offices.

Pictured: A view of the proposed recreation complex at St. Thomas More Road.

"Many individuals and organizations provided advice and support during the various phases of the IMP process," said University President William P. Leahy, SJ. "In particular I think of the assistance of Mayor Menino, local elected officials, and the Allston-Brighton Boston College Task Force.

"I also want to thank BC alumni, employees and students, as well as neighbors and unions representatives, who attended meetings and spoke in favor of our proposals," he said. "Implementing our IMP will require additional meetings and decisions, and I am confident that such investment of time, energy and resources will result in a stronger Boston College and an enhanced neighborhood."

###