Boston College Alumnus Gary Gabor Awarded Prestigious Fulbright for Study in Belgium
gabor was presidential scholar at bc
Contact:
Kathleen Sullivan
Boston College
Office of Public Affairs
617-552-8644

CHESTNUT HILL, MA (August, 2009) — Gary Gabor, a 2002 graduate of Boston College, has been awarded a prestigious J. William Fulbright US Student Grant. The coveted post-baccalaureate study fellowships are given annually to the nation's best and brightest college students. Gabor is currently a graduate student at Fordham University pursuing a doctorate in philosophy.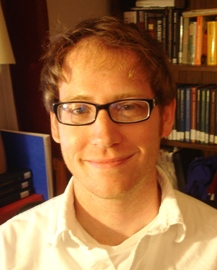 Fulbright winner Gary Gabor, Class of 2002
With his Fulbright award, Gabor will travel to the De Wulf-Mansion Centre for Ancient and Medieval Philosophy at the Catholic University of Leuven, Belgium. "I will be working on a translation with critical notes of Boethius' Commentary on Porphyry's Isagoge, an early medieval text which was influential in the transmission of ancient logic in the Middle Ages," Gabor said.
Established in 1946 and sponsored by the United States Department of State, Bureau of Educational and Cultural Affairs, the Fulbright Program is America's flagship international educational exchange program. Recipients of Fulbright awards are selected on the basis of academic or professional achievement, as well as demonstrated leadership potential in their fields. The program, which operates in 155 countries worldwide, provides grant recipients with the opportunity to observe each others' political, economic, educational and cultural institutions, to exchange ideas and to embark on joint ventures of importance to the general welfare of the world's inhabitants.
While at BC, Gabor was a member of the Presidential Scholars Program, an integrated honors educational experience for a select group of young men and women of outstanding talent and character, and the College of Arts and Sciences Honors Program. He also was editor of the award-winning student newspaper Crossroads.
Gabor will be joined in Belgium by his wife Virginia (Lipscy) Gabor '02, GSAS '03, and their daughter Elizabeth Pearl.
###