Haleh Esfandiari - Noted Scholar Freed from Iran -Will Speak at Boston College Sept. 30
author of 'my prison, my home' to discuss her ordeal, u.s.-iran relations
Contact:
Jack Dunn, BC News & Public Affairs
617-552-3351; dunnjo@bc.edu
Sharon McCarter, Woodrow Wilson Center
202-691-4016; sharon.mccarter@wilsoncenter.org
CHESTNUT HILL, MA (September 2009) — Noted Iranian-American public intellectual, journalist and scholar Dr. Haleh Esfandiari will discuss her eight-month detainment in Iran, at Boston College on Wednesday, September 30.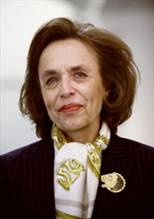 Esfandiari's arrest, interrogation and eventual incarceration for more than three months in Tehran's notorious Evin Prison was viewed as an affront both to human rights and to academic freedom by scholars worldwide. Her lecture at Boston College, which is free and open to the public, is the first appearance offered in conjunction with the launch of her new book My Prison, My Home: One Woman's Story of Captivity in Iran (Harper Collins). She will discuss her ordeal and the seemingly intractable problems between Iran and the United States, as well as possible solutions and future relations in light of recent and upcoming elections in both countries.
The Iranian-born Esfandiari said her book is about the impact of the Islamic Republic's isolation under controversial President Mahmoud Ahmadinejad, but also about her own will to survive the physical and mental stress of her detention – including 105 days in solitary confinement – following vague allegations of sedition.
"Being in solitary confinement was very tough," Esfandiari said in an interview. "But I decided I was not going to succumb to despair. That would break me down. I was a wife, a mother with a loving husband and a successful career. I had a rich life standing behind me. I was willing and ready to put up with the hardship being imposed on me."
Professor of Law Daniel Kanstroom, interim director of the Center for Human Rights and International Justice, says Esfandiari's distinguished career as a public intellectual and the story of her detainment in Iran will offer insights into Iran's leadership and its people.
Esfandiari's address adds to the growing body of human rights scholarship and service on campus, Kanstroom said.
"Her talk fits exceptionally well within the Center's goals of nurturing a new generation of theoretically sound and actively engaged human rights scholars and practitioners," he said. "This event promises to be enlightening and compelling. I am sure it will appeal to a wide audience who may have different backgrounds but who share a commitment to fundamental human rights."
Esfandiari is the former deputy secretary general of the Women's Organization of Iran, has taught at Princeton University, and has worked in Iran as a journalist. She is the author of Reconstructed Lives: Women and Iran's Islamic Revolution.
Her visit is co-sponsored by the Center for Human Rights and International Justice, the Political Science Department and the Woodrow Wilson International Center for Scholars, where Esfandiari is director of the Middle East Program.
WHAT: Scholar and author Dr. Haleh Esfandiari will recount her experiences in an Iranian prison and speak on U.S.-Iran relations.
WHEN: September 30, 2009 at 3:00 p.m.
WHERE: Gasson Hall, Room 100, Boston College
MEDIA RSVP: To arrange attendance and parking, contact Jack Dunn, director of the BC Office of News & Public Affairs, at 617-552-3351 or dunnjo@bc.edu
PUBLIC RSVP: Steven Guzowski at the Woodrow Wilson Center at 202-691-4342 or Steven.Guzowski@Wilsoncenter.org
###