BC Preps Boston High Schoolers for College
44 Brighton, West Roxbury students complete 'College Bound' program
Contact: Ed Hayward
Office of Public Affairs
617-552-4826, ed.hayward@bc.edu

CHESTNUT HILL, MA (May 2009) – Forty-four students from high schools in Brighton and West Roxbury were honored May 1 for completing this year's College Bound program at Boston College's Lynch School of Education, where the students attended classes, conducted research and worked with undergraduates and faculty.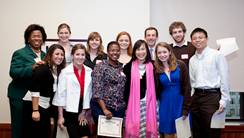 In its 21st year, College Bound is a pre-collegiate program designed to prepare students from Brighton High School and the West Roxbury Education Complex for college acceptance and the successful completion of college-level work.

PHOTO: Back row l-r: College Bound's Karen Terrell, Brittany Bryan '09, Andrea Chudzik '12, Kelsey Garrison '09, David Heighington '10, and Charlie Herrmann '10. Front l-r: Catrina Gallo '10, Erin Bradley '10, Chatequa Campbell '09, Lynch School Urban Outreach Director Catherine Wong, Katherine Worthington '12 and Steve Liu '11. (All photos by Kara Delahunt)
This year student research focused on creating action plans on issues of critical importance to the students and their peers: high school drop out rates, violence prevention and building positive teen culture with their peers. The research and presentation skills and mentoring taught through College Bound focused on helping the students create viable plans they could take back to their schools and communities


"As a result, students remain actively engaged in their learning, developed critical leadership skills, and envisioned college as a viable pathway to advancing their career interests," said Catherine Wong, who coordinates the College Bound program as executive director of Urban Outreach programs at the Lynch School.

PHOTO: Clair Alsindor and Djenaba Reynolds of the Urban Science Academy in the West Roxbury Education Complex were among the 34 local students to complete this year's College Bound program.

College Bound is a model early intervention program whose mission is to assist urban youth and their families prepare for success in higher education and the workplace. Students participating in College Bound are selected for their academic and leadership potential and possess the capacity to benefit from and contribute to the program. Approximately 85 percent of the students would be the first in their families to attend college.

Ten students from Brighton High School participated in College Bound this year and school Headmaster Toby Romer said the program's emphasis on research and skill-building makes it an excellent resource for his students.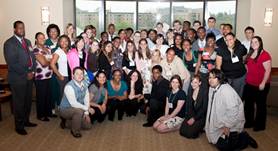 "They have reinvigorated the curriculum and made it more relevant and engaging for students and that helps us attract and retain students in the program," said Romer. "It's not drill and kill. They work on thoughtful research and leadership projects. I think that's indicative of the quality of the programs at the Lynch School and Boston College."
PHOTO: 2009 College Bound program participants.

The 34 students from the West Roxbury Education Complex come from its three small learning communities: Brook Farm High School, Media Communications Technology High School and Urban Science Academy.

Media Communications Technology High School Headmaster Sung-Joon (Sunny) Pai said he chooses students with the potential to do college-level work and also those in need of the opportunity to gain confidence in their abilities.

"Right from the start, I really wanted this to be a program for students who might not be getting in to college if they didn't have this," said Pai. "We look for students who could use a push for whatever reason; students who could use extra encouragement and extra attention. We send a mix of students."

Pai praised the coordination between Boston College and his teachers and counselors. "The best thing about College Bound is that both folks at BC and folks and my school are on exactly the same page. If I took only the top performing students, it would be real easy. But with a mix of students, there is the possibility some kids might drop out or it might take some extra effort to reach some students. BC and my staff are willing to work on those issues."

While some pre-collegiate programs often force students to choose between the program and their other school activities, Brighton High School's Romer says the BC program, which takes place on Saturdays, doesn't require students to give up their school activities.

"The opportunity to be involved in a Saturday program is unique as well," said Romer. "Many of our students are involved in extracurricular and afterschool activities. They can participate in the program and also take advantage of other school opportunities as well."

Students wrapped up the academic year on May 1 when they presented the results of their research projects, which were focused on the kids of issues Boston teens run across every day: the drop out crisis, violence prevention, and building strong networks for teens and schools.
"Many students remarked that College Bound instills within them the confidence and self-esteem needed to dispel the negative images and stereotypes that are often made about urban youth," said BC's Wong. "They complete the program with high expectations, and believing in their capacity to overcome adversity and hardship to pursue their dreams."
For more information about the Lynch School of Education and its programs, please visit: /schools/lsoe/

# # #