NASDAQ OMX Group CEO Robert GreifeldAt Chief Executives' Club of Boston
Reid Oslin
Boston College News & Public Affairs
(617) 552-3630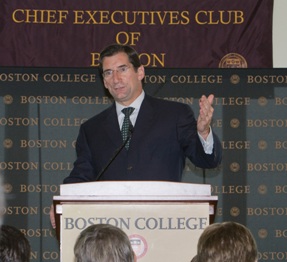 Robert Greifeld
CHESTNUT HILL, MA (9-09) – Robert Greifeld, President and Chief Executive Officer of NASDAQ OMX Group, Inc., the world's largest exchange company, was the guest speaker at Boston College's Chief Executives' Club of Boston luncheon on Tuesday, September 22 at the Boston Harbor Hotel's Wharf Room.
NASDAQ OMX Group has over 3,800 listed companies (including 172 in Massachusetts) with a total market value over $2 trillion.
In his remarks to the Chief Executives' Club of Boston, Mr. Greifeld offered his analysis of the problems that caused last year's stock market downturn; the current status of the market; and his outlook for the future.
-30-