BC MBA Students Hosted by Warren Buffett
mogul stresses ethics, reputation, communication and common sense
Contact:
Ed Hayward
Office of Public Affairs
617-552-4826, ed.hayward@bc.edu
CHESTNUT HILL, MA (April 2009) – Twenty-seven MBA students from the Carroll School of Management at Boston College recently made something of a pilgrimage to Nebraska to meet with billionaire investor Warren Buffett at the headquarters of his Berkshire Hathaway holding company.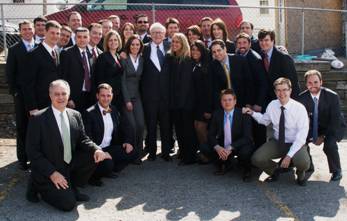 What they left with after a two-hour closed-door Q&A with Buffett, lunch with him at one of his favorite steakhouses, and a friendly photo session in an Omaha parking lot was a sense of the man behind the financial empire.
While visiting with Buffett in his offices was something akin to sitting down to chat about baseball in the dugout with Babe Ruth, students were most impressed by Buffett's humor and unassuming approach.

"I wasn't expecting him to be so funny," said Courtney Lemoine, '09. "I wasn't expecting him to provide so much in-depth detail during the Q&A. I wasn't expecting him to act as if we were the most important item on the agenda that day."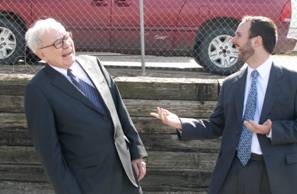 At left: Enterprising student Brendan Kaisershot asks an obliging Warren Buffett to pretend he's laughing at one of the aspiring MBA's jokes.
Carroll School Lecturer Robert Radin submitted BC to the annual selection process, where Berkshire Hathaway officials pick a few dozen business school groups to meet with Buffett and tour nearby Berkshire companies, like the Nebraska Furniture Mart. Radin received word last fall that he could bring a class and then spent the next few months preparing the selected students for the March 13 visit.

Radin called the trip a once-in-a-lifetime opportunity to meet with one of the world's foremost business leaders. The graduate students described the experience alternately as "funny," "surreal," and "life-changing."

"He was completely open and transparent," said Radin. "You feel like you know him and he knows you. He has that ability to connect with a room of 170 people."

###