Boston College Hosts Third Annual Leadership Workshop for Boston Catholic Middle School Students
Chestnut Hill, MA (Jan. 2010) – The Center for Catholic Education at Boston College and The National Catholic Center for Student Aspirations (NCCSA) at Assumption College are hosting the third annual leadership conference for middle school students from the Archdiocese of Boston on January 15.
The conference, "Stand Up, Speak Out," will be attended by 125 student participants from approximately 25 Catholic schools in the Archdiocese of Boston. In addition to students, faculty and staff from BC's Lynch School of Education, school principals, teachers, coaches and parents will also participate in the conference as part of a workshop on student aspirations.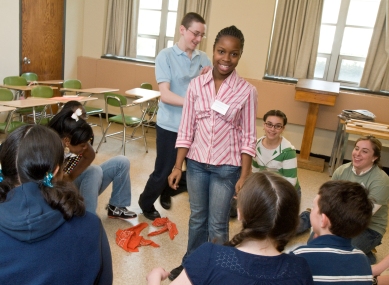 Students attend "Stand Up, Speak Out" in 2008
(Photo by Lee Pellegrini)
The middle school students will take part in three workshops: Speaking and Listening, Team Building, and Clarifying Values, under the direction of 20 Boston College student volunteers. Some of the exercises within the workshops include students sitting back-to-back and describing diagrams to each other; traversing across a room in teams with only the use of five wooden blocks; and a values auction where students can bid on love, beauty and peace with artificial money. Other full group activities such as a human centipede race will take place in the Heights Room in Corcoran Commons on the Chestnut Hill campus.
The goal of the conference is to give middle school students an opportunity to be leaders among their peers. Students attending the conference are chosen by administrators at their respective schools. The day ends with students discussing goal setting within their individual school groups. This activity gives the students a chance to address problem areas within their own schools and to come up with ways of solving them.
For more information, contact Ed Hayward in the Boston College Office of News & Public Affairs, ed.hayward@bc.edu.