Haiti Before the Quake: Exhibit at Burns Library
haitian artists' work on view through march 31
CHESTNUT HILL, MA (February 2010) – Paintings by various Haitian artists depicting scenes of everyday life before the earthquake struck, as well as of the country's history, are now on display at Boston College's Burns Library. The works are part of the exhibition "Caribbean Art: Haitian Paintings & Jamaican Anansi Stories," on view through March 31.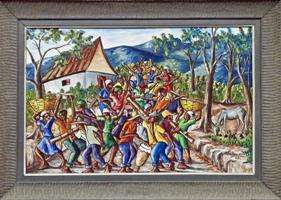 Artists include Fritz Merise, Sénéque Obin, Dieùdonne Rouanez, Abelard Gesner, L'ouverture Poisson and others, whose works are drawn from BC's Dr. Arthur M. Morrissey Haitian Painting Collection. In addition, three paintings were acquired from former Houghton Library curator Anne Anninger.
Dr. Arthur M. Morrissey, an ophthalmologist and a 1929 graduate of Boston College, collected 30 or more paintings during his visits to Haiti as a volunteer with Catholic Charities from 1964 to 1975. During that time, he worked chiefly at Port-de-Paix, providing ophthalmic services on a volunteer basis for a least one month a year
Many of the Morrissey Collection paintings focus on scenes of everyday life and of celebration, according to exhibition curator Justine Sundaram of BC's Burns Library.
Fritz Merise's Country Market Scene shows his gift for using color and pattern to express the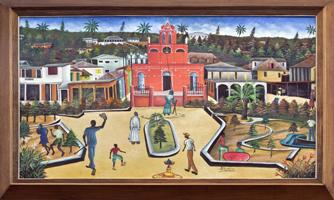 vibrancy of his culture and also his gentle sense of humor. In contrast, she said, Ernst Louizor's Country Market Scene shows a sophisticated style using more muted colors. Edouard Wah's paintings, Women Pounding Grain and Haitian Men Playing Dice, like L'Ouverture Poisson's Village Scene and Abelard Gesner's Cathedral Plaza (at right) show Haitians engaged in everyday activities against the unique backdrop of their island home.
One of the most well-known celebratory paintings in the Morrissey Collection is Country Dancers (shown at top, left), said Sundaram, painted by Dieùdonne Rouanez in 1967. Rouanez studied under Gerard Valcin at the Centre d'Art and is best known for his paintings portraying voudo u themes. He has exhibited in Haiti, Brazil, Italy and France, and his works are included in the permanent collection of the Musée de l'Homme in Paris. Rouanez also studied at Le Foyer des arts Plastiques, an institute formed to counter the "naif" style fostered by the Centre d'Art, Sundaram said.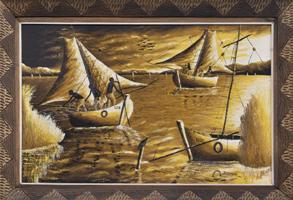 Several of the paintings on view show the presence of voudo in Haitian life. One of Decourcelle Gourgue's paintings - of the ships on the sea at night - might be on a theme related to one of the major "loas" or spirits of the Voudo pantheon. (Decourcelle's Fishing Village is at left.) Ricardo Godefroy's wonderfully colorful underwater scene, titled Grotto at Evening is a depiction of where the loas live, she said; a fire demon dances in Poisson's Fire Scene, and Sherlee DePhonce's striking Spirits Waking the Dead, acquired from Anne Anninger, depicts a burial chamber with a winged goddess surrounded by spirit-like figures.
The history of Haiti is honored in Sénéque Obin's painting of Dessalines creating the Haitian flag, according to Sundaram, who notes that Obin was also well-known for his paintings of everyday life. As they vary in subject matter, so these paintings on view reveal a range of painting styles varying from naïve realism to much more sophisticated techniques. "They each have something to show the viewer about a most complex culture," Sundaram said.
The exhibition of Haitian art is accompanied by selections from the Burns Library's Anansi Stories – a collection of nearly 5000 hand-written folk stories submitted by Jamaican school children in a 1931 contest organized by Jesuit missionary and ethnologist, Father Joseph John Williams, S.J. (1875 – 1940). These folktales about the clever spider character, Anansi, were recorded from the memories of the children and their elders. Some manuscripts include illustrations, musical scores and lyrics. The Burns Library's is the largest collection of Anansi folk tales in existence.
The John J. Burns Library of Rare Books and Special Collections at Boston College is named in memory of the Honorable John J. Burns, a 1921 BC alumnus who was one of its principal benefactors. It houses more than 250,000 volumes, 16 million manuscripts and impressive holdings of artifacts, maps, paintings, photographs, ephemera and architectural records.
Burns Library is located at 140 Commonwealth Avenue, Chestnut Hill, Mass. Hours: Monday, Tuesday, Thursday, Friday 9 a.m. – 5 p.m.; Wednesday 9 a.m. – 8 p.m. (9 - 5 on Mar. 3); Saturday 10 a.m. – 2 p.m. (closed Feb. 27 and Mar. 6). Closed Sundays and holidays. Venue is handicapped accessible. For information call: 617-552-3282 or visit www.bc.edu/burns
--Patricia Delaney is deputy director of the Office of News & Public Affairs: delaneyp@bc.edu