Boston College Law Students Aid in Overturning Lowell, Mass. Curfew Criminality


CHESTNUT HILL, MA (October 2009) — Two Boston College Law School students were a part of the legal muscle behind a Massachusetts Supreme Judicial Court decision to overturn a law that allowed criminal sanctions for minors who broke curfew in the city of Lowell.
Released in late September, the SJC decision states that minors may only be handled civilly through fines if police find them in violation of the city ordinance. The ruling prevents the children who break curfew from being deemed "delinquent" and committed to the custody of the Department of Youth Services.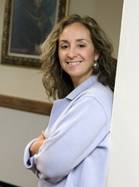 Boston College Law School Associate Professor Francine Sherman, who works as Director of the Juvenile Rights Advocacy Project, said she and two second-year law students - Leah Rabinowitz and Ashley Lewis – took up the cause last year, writing an amicus curiae brief with other advocacy groups against the current law. Amicus briefs allow third parties with an interest in the issues to weigh in on court decisions during appeals.
LEFT: Francine Sherman

Lewis explained that federal and state laws clearly state that status offenses – which are only offenses because they apply to youth, such as curfews - cannot be treated the same way as a criminal offense in juvenile law.
"The law clearly states that juvenile rehabilitation – not incarceration – is the goal for status offenders," said Lewis, a native of Buffalo, New York. "We believed that our argument made logical sense and were, of course, very happy when the court agreed."
"I was able to watch the oral arguments and it was very exciting to see the court not only hear, but understand our points," said Rabinowitz, who is from Brooklyn, New York. "I realize that not all second or third year students have the opportunity to make an impact like that, to change Massachusetts law."
Sherman said the Lowell case was a natural fit for her clinic. The Boston College Law School Juvenile Rights Advocacy Project is a curricular-based legal clinic providing comprehensive representation and policy advocacy to youth, and particularly to girls, in the juvenile justice system. The clinic works closely with the Lowell court system and was asked by several advocacy groups to contribute to the case.
"This is what it is all about," said Sherman. "Our students in the clinic are used to handling individual cases that come through the courts, day in and day out. They have seen how the laws impact individual children. In this case, our students have seen the real power of the law: policy change to shape the lives of many, many kids," said Sherman. "This is the part of the job that I enjoy most. It's when students can step back and see the big picture."
For more information, contant Melissa Beecher in the Boston College Office of News & Public Affairs at melissa.beecher.1@bc.edu

###