Boston College Student Takes Business Plan from Classroom to Start-Up
college entrepreneurs' WakeMate in multi-billion dollar market for a good night's sleep
Chestnut Hill, Mass. (December 2009) – Eight months ago, college juniors Greg Nemeth and Arun Gupta had a business plan good enough to win top prize at the Boston College Venture Competition. Today, that idea is now WakeMate, a technology start-up have launched in California's Silicon Valley.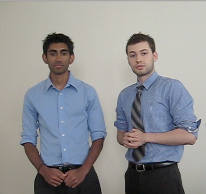 (L-R): Arun Gupta and Greg Nemeth
Nemeth, a student in BC's Carroll School of Management, and Gupta, who attends Yale University, have taken leave from their studies for real-world tutelage at the cutting-edge venture firm Y Combinator and launched their company just in time for the holiday retail season.
The two young entrepreneurs hope sleep-deprived consumers will buy WakeMate, a Bluetooth cell phone accessory that's worn on the wrist to monitor sleep and then signal the cell phone to sound an alarm that wakes the user at the optimal point in their sleep cycle. WakeMate also analyzes the sleep patterns and offers suggestions for a better night's sleep.
"WakeMate's technology is based on the same science used in sleep labs run by doctors, but it is designed for a mainstream audience and at a much more reasonable cost," said Nemeth. "We think this will appeal to people who want to feel better when they wake up, not necessarily people suffering from sleep disorders. We think WakeMate has the potential to change your whole day."
WakeMate, which retails for approximately $50, consists of a nylon wristband containing motion-sensing technology that tracks the user's sleep cycles. When the user reaches an optimal point in REM-stage sleep within 20 minutes of the designated wake-up time, WakeMate's Bluetooth technology signals the mobile device, triggering the morning alarm. Just in case, there's a secondary "fail-safe" alarm feature as well. The WakeMate's analytical capacity charts users' sleep patterns and provides a "sleep score," as well as recommendations for improving sleep.
The product is positioned as a sleek and affordable alternative to four competing products, which range in price from a pedometer-like $99 fitness and sleep tracker to a $350 "sleep coach" that includes a headpiece that measures brainwaves. WakeMate users, Nemeth said, are looking for simplicity, sound technical design and a price that doesn't cost more than the cell phone that's paired with the WakeMate accessory.
WakeMate's application supports iPhone, BlackBerry, Android, Windows Mobile, and a standard Java-based application for non-smart phones and Nemeth expects to be able to support Palm's WebOS soon. Already, the product has received favorable reviews in tech blogs such as TechCrunch (www.techcrunch.com) and Geek (www.geek.com), which reach millions of tech users.
Nemeth and Gupta moved to California to launch WakeMate after they were accepted last summer into Y Combinator, a pioneering start-up accelerator launched by start-up guru and Viaweb founder Paul Graham, which specializes in funding early-stage start-ups in software and web services. Y Combinator and other start-up accelerators help entrepreneurs get from the idea phase to an up and running company by providing seed money, supports and mentoring to new entrepreneurs.
Nemeth and Gupta have been interested in the idea since they were classmates in high school in Long Island, NY. Early morning tennis practice used to leave them wondering why some days they felt good and played well and other days they played as if they were sleepwalking.
In college, both have studied for careers as entrepreneurs. For the past three years, they teamed up with Boston College seniors Ryan Flaherty and Peter Wojda for the annual BCVC, a business plan competition that pairs teams with BC alumni mentors and faculty advisors to help develop their ideas and then pitch them to a panel of judges consisting of financiers, entrepreneurs and faculty experts.
After two failed efforts, the team took first place in the competition last April. The victory came with a $10,000 prize and the team credited the scientific guidance they received from Harvard Medical School Professor Robert Stickgold and mentorship from BC alum Patrick Grady, now a partner with Sequoia Networks.
"The first few times you stand up there and lay out your ideas to the judges, it's pretty nerve-wracking," said Gupta. "But through the competition, were got the experience and feedback we needed. We were able to network with a lot of executives in the Boston area, including the judges and potential investors. Even when we won, we still got great feedback about how we could improve."
For more information about WakeMate, see the company website at www.wakemate.com. Additional information about Paul Graham's Y Combinator can be found at www.ycombinator.com.
For blog coverage of WakeMate, see:
TechCrunch: www.techcrunch.com/2009/11/24/wakemate-sleep-aid/
Geek: http://www.geek.com/articles/mobile/wakemate-can-help-you-wake-up-more-refreshed-in-the-morning-20091125/
--Ed Hayward, Boston College Office of News & Public Affairs, 617-552-4826
ed.hayward@bc.edu