Boston College Professor Emeritus Rebecca Valette And Her Husband, Jean-Paul, Honored By The Saint Boniface Haiti Foundation
Making "a crucial difference to hundreds of Haitian families"
CHESTNUT HILL, MA (11-4-09) -- Boston College Romance Languages and Literatures Professor Emeritus Rebecca Valette and her husband Jean-Paul, who are Chestnut Hill residents, were honored with an award for their humanitarian work by the Saint Boniface Haiti Foundation (SBHF) on October 14.
A US-based charitable organization, the foundation's primary mission is to provide health care to the poor of Haiti in the rural area of Fond des Blancs and the surrounding region. SBHF also seeks to improve the quality of life in this Haitian community through education programs and humanitarian aid, and to raise awareness in the United States of the extreme poverty endured by the Haitian people.
"What impressed us most about the Saint Boniface Haiti Foundation is that it started as a small personal project initiated by people of modest means and extraordinary good hearts who, 25 years ago, created a one-room clinic in one of the most remote and poorest areas of Haiti," according to the Valettes. "Thanks to their effort and unflagging dedication, Fond des Blancs now has full-fledged hospital and health center run by Haitian doctors and nurses.
"Moreover," they add, "the lives of the people in the area have been considerably improved by a variety of social projects administered by local community leaders: for example, digging new wells, teaching fish farming and beekeeping, establishing adult literacy classes, helping families build better homes, and creating a hospice for the elderly."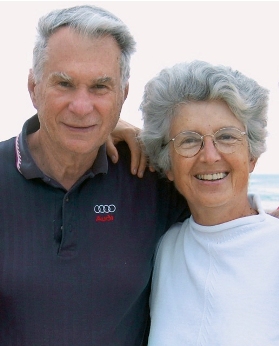 Jean-Paul and Rebecca Valette
Rebecca and Jean-Paul Valette have introduced French students to the history and artistry of the Haitian people since 1975, and became aware of the work of the Saint Boniface Haiti Foundation through the sermons of Boston College Law School Associate Professor Francis Herrmann, SJ, who has served on the foundation's board for six years. At Mass at BC's St. Mary's Chapel, he spoke of his experiences in Fond des Blancs during service trips with Boston College students to Haiti during winter breaks.
"The Valettes have made a crucial difference to hundreds of Haitian families who now have a bright future, where before they had no chance," according to Fr. Herrmann. SBHF, he explains, "is dedicated to helping the poorest of the poor in Haiti. On learning of the foundation's work, the Valettes responded with extraordinary compassion and generosity.
"They began supporting the construction of sturdy houses for people who had lived in tiny shacks with mud floors and leaky palm roofs," he said. "Rebecca and Jean-Paul then personally travelled to Haiti, bringing with them their granddaughter Zoe, to experience first-hand both the need and the courage of the Haitian people.
"As soon as the Valettes saw the many hundreds of children around the village who dream of going to school but cannot afford to," Fr. Herrmann added, they "began supporting educational projects that have transformed poor and illiterate youngsters into proud, enthusiastic students."
After that 2007 visit, the Valettes' granddaughter gave presentations to school and church groups to raise money for SBHF, and the trips have since become a family affair. This past spring, the Valette's two granddaughters Zoe and Esme—along with their father, Pierre Valette and aunt Nathalie Valette—spent a week in Haiti filming, taking photographs and getting to know the people and the area. Next year, other family members plan to travel to Haiti.
"We were both brought up recognizing that charity is a moral obligation," the Valettes say. "Supporting the Saint Boniface Haiti Foundation was, therefore, an easy decision. Our visit to Haiti was one of the most rewarding experiences of our lives and our involvement in the work of the foundation now includes our children and grandchildren. We have all been gratified to help the people of Fond des Blancs by making it possible for more children go to school—and receive daily lunches—and by restoring a sense of dignity in parents who are finally able to move with their families into new homes."
More information on the foundation is available on their web site: http://www.haitihealth.org/. To view footage from the Valette family's travels to Haiti, click here.
For more information, contant Rosanne Pellegrini in the Boston College Office of News & Public Affairs at rosanne.pellegrini@bc.edu

###