Rev. Uwem Akpan, SJ, to Discuss Best-Seller 'Say You're One of Them' at Boston College Nov. 12
jesuit author's tales of life in africa was oprah book club selection
CHESTNUT HILL, MA (11-6-09) – Jesuit Father Uwem Akpan, author of The New York Times #1 best-seller Say You're One of Them -a collection of short stories selected by Oprah Winfrey for her wildly popular book club - will talk about his book, the intersection of spirituality and art, and his life as a Jesuit priest and author at Boston College on Nov. 12.
The event will take place at 7:30 p.m. at 9 Lake Street, Room 100, on Boston College's Brighton Campus. Copies of Say You're One of Them will be available for purchase. Father Akpan's appearance is sponsored by the Boston College School of Theology and Ministry.
Say You're One of Them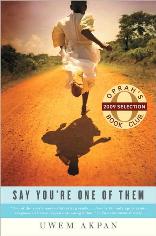 In five stories, each told from the perspective of a child from a different African country, Say You're One of Them (Hachette Book Group) vividly portrays the horror and beauty to be found in both the history-altering events and the mundane details of everyday life. The stories pay testament to the wisdom and resilience of children, even in the face of the most agonizing circumstances.
In one of his stories, "My Parents' Bedroom," the tribal conflict in Rwanda is seen through the eyes of a young girl, who, with her little brother, witnesses the worst possible scenario between parents. The book also takes the reader inside Kenya, Nigeria, Benin and Ethiopia, revealing the harsh realities of life in Africa for children.
Say You're One of Them won the Commonwealth Writers' Prize for Best First Book (Africa Region) 2009 and PEN/Beyond Margins Award 2009.
Uwem Akpan, SJ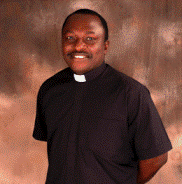 Father Akpan was born in Nigeria. When he was growing up, his mother told him folktales and encouraged him to read. He says he was inspired to write by the people who sat around his village church to share palm wine after Sunday Mass, by the Bible and by the humor and endurance of the poor. He was ordained as a Jesuit priest in 2003. He received a MFA in creative writing from the University of Michigan in 2006. He serves at Christ the King Church, Ilasamaja-Lagos, Nigeria.
For more information about the book and the author, visit:
http://www.hachettebookgroup.com/features/sayyoureoneofthem/content/index.asp
--Kathleen Sullivan, Boston College, Office of Public Affairs, 617-552-3350, kathleen.sullivan.1@bc.edu