Boston College Women's Basketball Players Visit the Russell School in Dorchester
players help step up and russell elementary focus on college readiness
CHESTNUT HILL, MA (October 30, 2009) – Members of the Boston College women's basketball team visited Dorchester's Russell Elementary School to talk to students about setting goals to attend college and then working tirelessly to achieve their dreams.
The players went to the Russell on Thursday, October 29, on behalf of the Step UP initiative, which partners the Russell with experts from BC's Lynch School of Education. Step UP is at work in 10 Boston Public Schools, where the city's five largest universities commit resources and expertise toward coordinated learning support services designed to raise academic achievement.
Towering above the fifth-grade students, the players offered their own life lessons about achieving goals and striving to be the best, providing examples that Russell Principal Tamara Blake-Canty says will help engage her students and their parents embrace college readiness at a young age.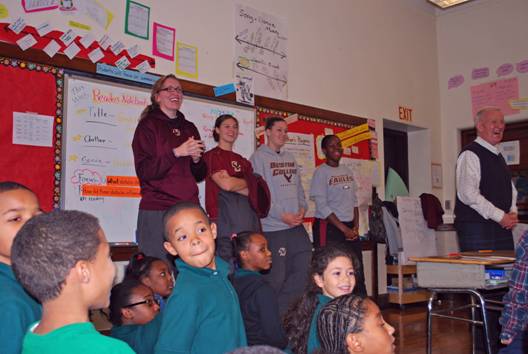 Boston College women's basketball players visited the Russell Elementary School in Dorchester. Pictured (L-R) Carolyn Swords, Ayla Brown, Stephanie Murphy, Brittanny Johnson and Boston College Neighborhood Center assistant director Moe Maloney. The players talked about how they prepared to go to college as part of a program organized by the Step UP Initiative, which partners Boston area universities with Boston Public Schools. BC's Lynch School of Education coordinates Step UP projects at the Winthrop and Russell elementary schools.
The visiting players included fifth-year senior Brittany Johnson, senior Ayla Brown, and juniors Stephanie Murphy and Carolyn Swords. They were accompanied by Moe Maloney, assistant director of the Boston College Neighborhood Center, Alison Quandt, coordinator of BC Athletics Help Educate Through Athletic Responsibility (HEAR) Program, and assistant women's basketball coach Angelita Forte.
Each player spoke about the work they had to do to achieve as student athletes.
BC student athletes visit Boston Public Schools through the HEAR program, a joint effort of the BC Neighborhood Center in Brighton and the Athletics Department. Student athletes share who they are, where they are from, what sport they play, and how they planned for college. Their stories speak to overcoming adversity, balancing life priorities, and emphasize the importance of goal setting.
In addition to the athletes' visit, the Lynch School of Education works with the Russell on a range of projects through Step UP. BC provides student teachers, professional development for teachers and administrators, and support for programs related to literacy, college readiness, science education, and assessing student progress.
For more information contact Ed Hayward, Office of News & Public Affairs, Boston College, 617-552-4826, Cell: 617-922-8024, ed.hayward@bc.edu