'Yom Kippur in Amsterdam' to launch Nov. 11
new book by boston college professor maxim d. shrayer offerstales of modern immigration experience, jewish-christian relations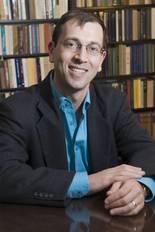 Maxim D. Shrayer
(Photo by Gary Wayne Gilbert)

CHESTNUT HILL, MA (11-9-2009) -- A new collection of stories by noted author and scholar Maxim D. Shrayer offers a captivating and distinctive perspective on the modern immigration experience and on Jewish-Christian relations.
Yom Kippur in Amsterdam will be launched at Boston College on November 11, 2009 at 7:30 p.m. in Devlin Hall 101. The event is free and open to the public; Shrayer will read from the new collection and sign copies. More
Yom Kippur in Amsterdam, Shrayer's tenth book and his first book-length work of fiction, offers eight tales tracing the lives, obsessions and aspirations of accomplished and educated Jewish-Russian immigrants as they face the complex task of reconciling their European culture and traditions with their new lives in America. Several stories in the collection previously appeared in leading American literary magazines such as Kenyon Review. Many of the tales "viscerally reveal the inability to shed one's past," according to Publishers Weekly. Yom Kippur in Amsterdam also appeared in the Library of Modern Jewish Literature, a series that has previously featured works by Cynthia Ozick, A. B. Yehoshua, S. Y. Agnon and other prominent Jewish writers.

Emerging from the traditions of Isaac Babel, Vladimir Nabokov, and Isaac Bashevis Singer, Shrayer's vibrant literary voice significantly contributes to the evolution of Jewish writing in America. Whether set in his native Russia or in North America and Western Europe, his stories explore emotionally intricate relationships that cross traditional boundaries of ethnicity, religion and culture.

"The stories are not connected in terms of the narrative, but they are connected in terms of a thematic fabric," said Shrayer. "A number of the characters are either Jewish or grapple with relations with Jews."
Though his previous book, Waiting for America, was a literary memoir, Shrayer says that the stories in the book are not autobiographical, but adds that they are "certainly informed by the things that move me as a person, as an individual. I do not believe that you can write fiction that is not steeped in one's personal reality," he says.
One of the stories, "Trout Fishing in Virginia," is a tragic tale, Shrayer says. "It's about a Jewish-American author who really doesn't quite feel at home despite all of the accolades his work has received. He feels so inadequate."
Two other stories, including the title entry, focus on the dilemmas faced by young lovers from different religious backgrounds whose life decisions are influenced by their own deeply-held faiths and traditions.
The title story follows Jake Glaz, a young Jewish man apprehensive about intermarriage to a Catholic woman. After realizing she will not convert, Jake leaves the United States to spend Yom Kippur in Amsterdam, a "beautiful place for a Jew to atone." In "Sonetchka," a literary scholar and his former Moscow girlfriend reunite in her suburban Connecticut apartment. As they reminisce about their Soviet youth and quietly admire each other's professional successes, both wrestle with the curious mix of prosperity, loneliness and insecurity that defines their lives in the United States.
"Yom Kippur in Amsterdam… has qualities of humor, soulfulness and insight."
—Jewish Week
"This intricate, thoughtful collection explores the inexorable complexities of relationships and religion…Shrayer's eight delicate stories trace his characters' diverse struggles against the limits of tradition and culture." —Booklist

ABOUT THE AUTHOR
Maxim D. Shrayer was born in Moscow in 1967 to a Jewish-Russian family. With his parents, he spent almost nine years as a refusenik and immigrated to the United States in 1987, after spending a summer in Austria and Italy.
Shrayer has studied at Moscow University, Brown University, Rutgers University and Yale University, where he received his PhD in 1995. He is currently Professor of Russian, English, and Jewish Studies at Boston College, where he co-founded the Jewish Studies Program in 2005.
A bilingual author and translator, Shrayer won the National Jewish Book Award for the two-volume Anthology of Jewish-Russian Literature, which includes stories, excerpts from novels, essays, memoirs and poems by more than 130 Jewish writers of the past two centuries who worked in the Russian language, most appearing in the anthology for the first time in English or in new translations.
His first book-length literary work in English was Waiting for America, published in 2007 - the first English-language memoir to capture the experience of Soviet Jews waiting in Europe while in transit to North America.
He also is the author of a number of influential critical studies, including The World of Nabokov's Stories and Russian Poet/Soviet Jew, as well as three collections of Russian poetry. He edited and co-translated from Russian two books of fiction by his father, the writer David Shrayer-Petrov: Jonah and Sarah and Autumn in Yalta. Shrayer's English-language prose, poetry, and his translations have appeared in Agni, Commentary, Massachusetts Review, Partisan Review, Southwest Review and other magazines. He has received a number of fellowships, including those from the National Endowment for the Humanities, the Rockefeller Foundation and the Bogliasco Foundation.
Shrayer lives outside Boston with his wife, Dr. Karen E. Lasser, and their daughters, Mira Isabella and Tatiana Rebecca. For more information, visit www.shrayer.com
###
For more information, contact Patricia Delaney at the Boston College Office of News & Public Affairs at delaneyp@bc.edu. To request a review copy of the book, contact Mona Hamlin at Syracuse University Press, email mhamlin@syr.edu or call 315-443-5547.