Boston College Students Raise $125K for the American Cancer Society
bc football player mark herzlich opens relay for life event
CHESTNUT HILL, MA (2-17-10) – More than 1,300 Boston College students raised $125,000 for the American Cancer Society by participating in the ACS's "Relay for Life" event held on campus Feb. 12-13.
Relay for Life is the American Cancer Society's signature fundraising activity. Donors sponsor participants who commit to having a member of their team walk the athletic track continuously throughout the overnight event. 86 teams participated in the event at BC.
Last year, the American Cancer Society ranked BC 5th among national college relays for fundraising per capita, according to BC junior Danielle Rosato, one of the co-chairs of Relay for Life-Boston College. In addition to students, BC faculty, staff and friends participated in the event.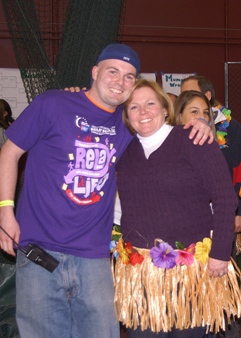 Mike Giblin '10, BC Relay for Life
Co-Chair, with his mother, Maureen,
at this year's event.
(Photos by: Kathy Giblin Stark)
"The reason I relay is so that the money we raise with this great event can go to cancer research and so other cancer patients can be in my position today: healthy and living happily," said Senior Mike Giblin, a cancer survivor and Relay for Life-Boston College co-chair. Giblin's Relay team, Eagles for Life, raised more than $7200. As they've done the past two years, Giblin's family came from other parts of Massachusetts, Rhode Island, New Jersey and Maryland to BC's Relay for Life event to participate and support him.
"We are so thankful that Michael's cancer is in remission, and we are so proud of him for choosing to help organize the BC Relay and to share his story with other young people so that he might give them hope in their struggles with cancer, " said Kathy Giblin Stark, Mike Giblin's aunt. "Our family has lost many beloved members to this dreaded disease -- two since we first did the Relay three years ago -- and we are grateful to have the opportunity to come together at BC to remember them, to celebrate and honor the lives of the survivors, and to raise funds to help find that elusive cure."
Joining Rosato and Giblin as BC Relay co-chairs were junior Kevin Porter and senior Caroline Maguire.
Mark Herzlich, who waged a high-profile battle against Ewing's sarcoma throughout most of 2009, offered remarks at the event's opening ceremonies. He also participated in the Relay, raising the second-highest personal total and leading the HerzNation team, which brought in more than $5500.
Many of the Relay for Life-Boston College participants have had a personal encounter with cancer. Senior Jenn Cosio walked in memory of her grandfather who died from leukemia in 2002. Senior Giovanni D'Onza participated in honor of a beloved high school teacher who died of cancer in 2005. Sophomore Caitlin Keville participated in honor of her aunt who is currently fighting breast cancer. Sophomore Robert Swanson walked in thanksgiving for his father who is a survivor of non-Hodgkin's lymphoma.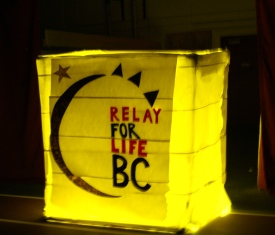 A poignant part of the spirited event was the Luminaria Ceremony, where illuminated bags created in honor of loved ones who have cancer or who have lost their battle with cancer lined the track.
American Cancer Society
According to the American Cancer Society, one in three people will be diagnosed with cancer during their lifetime. Relay for Life brings together more than 3.5 million people across the country each year to celebrate survivors, remember loved ones lost and fight back against the disease.
Donations are still being accepted. For information go to www.relayforlife.org/bostoncollege

--Kathleen Sullivan, Boston College Office of News & Public Affairs, kathleen.sullivan@bc.edu