Boston Public Library Exhibition Presents a New View of the Poe-Boston Connection
curated by boston college english professor paul lewis; exhibit opens dec. 17 with "great poe debate"
BOSTON, MA (12-1-09) -- Over the 200 years since the birth of Edgar Allan Poe near Boston Common, the connection between the city and the most influential writer ever born here has generally been downplayed or ignored. An exhibition at the Boston Public Library, "THE RAVEN IN THE FROG POND: Edgar Allan Poe and the City of Boston" means to set the record straight.
The exhibition will read Poe back into the landscape of the city: from Long Wharf where his grandmother and mother arrived in 1796 to the neighborhood where he was born in 1809; from the Frog Pond he frequently joked about to Castle Island where he served as a soldier in his late teens; and from the shop on Washington Street where his first book was printed to the Federal Street/Odeon Theater where three generations of his family appeared on stage.
According to Paul Lewis, the Boston College English professor who is curating the exhibit (more on Lewis below), "it's true that Poe fought a career-long battle against Boston-area authors whose moralistic poems and stories sounded to him like the croaking of frogs. But it's also true that his engagement with local literary figures contributed to his development as a writer and critic, and that he had positive feelings about the place."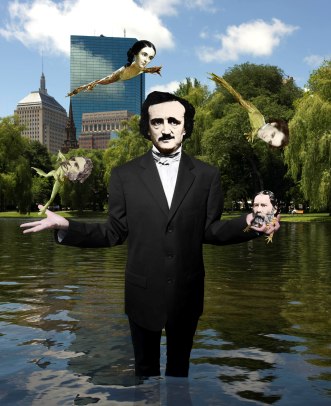 Image created by Kerry Burke, Media Technology Services,
Boston College. Image Guide
Opening on December 17, 2009 and running through March 2010, the exhibit will feature pieces from the collections of the Boston Public Library, the American Antiquarian Society, and Susan Jaffe Tane. These include a rare first edition of Tamerlane and Other Poems (1827); the iconic "Annie" daguerreotype; two letters Poe wrote to a young farmer-poet from Attleboro, Massachusetts, who contacted him in 1843 seeking friendship and advice; other letters by and to Poe, first editions of books by Boston authors Poe reviewed and first editions of his reviews that appeared in periodicals of the 1830s and 1840s. These materials—essential to understanding both what Boston meant to Poe and what Poe meant to Boston—have never been displayed together.
"Poe was no foe to Boston," says Amy E. Ryan, President of the Boston Public Library. "The Boston Public Library is proud to help dispel that myth by sharing treasures from our special collections that connect him to this wonderful city. The Raven in the Frog Pond exhibit creates an exciting opportunity to showcase the Library's extensive Poe-related holdings. We are very pleased to join with Boston College in celebrating one of Boston's most important writers and native sons."
Along with Lewis, independent historian Dan Currie, Boston College graduate students Katherine Kim and Sarah Poulette, BC undergraduate Megan Grandmont, and independent literary historian Rob Velella have worked with library staff on the exhibition. The strength of the Boston Public Library's Poe collection and the generous loan of materials from the American Antiquarian Society and Susan Jaffe Tane collections made this exhibition possible.
The opening on December 17th will feature brief comments about the exhibition in the Cheverus Room, McKim Building, Third floor, at 6:15 p.m. and what has been called the "Great Poe Debate" moderated by NPR's Charles Pierce at 7 p.m. in the Rabb Lecture Hall, Johnson Building. In the debate, Poe advocates from Baltimore, Boston, and Philadelphia will make the case for their city's claim to the Poe legacy. The event drew a standing-room-only crowd last year in Philadelphia and was dubbed "…a literary spectacle, a memorable and raucous affair…" by Baltimore Magazine.
The Great Poe Debate: Thursday, December 17 at 7 p.m.
Boston Public Library, Rabb Lecture Hall, Johnson Building
Moderator Charles Pierce: The author of four books, Pierce appears on National Public Radio, writes for Esquire magazine and is on the staff of the Boston Globe Sunday Magazine.
Baltimore advocate Jeff Jerome is the Curator of the Edgar Allan Poe House and Museum in Baltimore and a frequent media commentator on Poe. A Baltimore native, he oversees the city's Poe birthday celebration each January.
Boston advocate Paul Lewis is the author of books including Cracking Up: American Humor in a Time of Conflict, and of articles on gothic fiction, dark humor, and US literature and culture from 1790-1860.
Philadelphia advocate Edward Pettit is the "Philly Poe Guy." Pettit's Ed & Edgar blog chronicles his adventures in the Cult of Poe. A freelance writer, book reviewer and literary provocateur, he lectures about Poe and Philadelphia Gothic.
About the BOSTON PUBLIC LIBRARY: For more than 160 years, the Boston Public Library has pioneered public library service in America. Established in 1848, the Boston Public Library was the first publicly supported municipal library in America, the first public library to lend books, the first to have a branch library, and the first to have a children's room. Today, the Boston Public Library boasts a Central Library, 26 neighborhood branches, free Internet access, two unique restaurants, and a robust bpl.org web site. Each year, the Boston Public Library hosts 12,000 programs, answers more than one million reference questions, and serves millions of people. All of its programs and exhibits are free and open to the public. At the Boston Public Library, books are just the beginning.
THE RAVEN IN THE FROG POND: Edgar Allan Poe and the City of Boston
/schools/cas/english/poebostonexhibit/
December 17, 2009-March 31, 2010
Boston Public Library, Copley Square, McKim Building, Third Floor, Cheverus Room
Opening: December 17, 2009, 6 p.m. Boston Public Library, Copley Square
McKim Building, Third Floor, Cheverus Room
Great Poe Debate: December 17, 2009, 7 p.m., Boston Public Library, Copley Square,
Rabb Lecture Hall, Johnson Building
/schools/cas/english/poebostonexhibit/debate.html
Events are free and open to the public.
BC English Prof. Paul Lewis' Boston-Poe Campaign
Boston College Professor of English Paul Lewis—curator of the Boston Public Library exhibit devoted to the "master of the macabre"—has led a campaign for Boston to reclaim author Edgar Allan Poe's Hub legacy, and his efforts have gone a long way in cementing Poe's ties to Boston.
Lewis organized a bicentennial celebration last January at BC, "The Raven Returns to Boston," and at his urging Boston Mayor Thomas Menino declared January 2009 "Edgar Allan Poe Appreciation Month" and designated the intersection of Boylston Street and Charles Street South, off Boston Common, as "Edgar Allan Poe Square" in honor of the author's Jan. 19, 1809 birth in Boston.
Lewis also is literally putting Poe back on the map of Boston. He and his research team—which includes BC undergraduate and graduate students— are creating a map identifying some 20 places in the area "with Poe-rich connections" associated with his life and work in the Hub.

Media: For more information, contact Jack Dunn, BC Office of News & Public Affairs
(617) 552-3350; dunnjo@bc.edu or Gina Perille, Communications Manager, Boston Public Library (617) 859-2273 (office); (617) 388-5690 (mobile), gperille@bpl.org
General Public: For more information, contact Paul Lewis (Curator), Boston College
(617) 552-3710; lewisp@bc.edu or Dan Currie, (Associate Curator), 617-448-7115; dcurrieus@yahoo.com