Teacher Burnout Doesn't Have to Happen, According to Authors of The Mindful Teacher
lynch school co-authors say peer support helps retain talented teachers
Chestnut Hill, Mass. (October 30, 2009) – A Boston College professor and a Boston Public Schools teacher have co-authored The Mindful Teacher, a book that offers a new strategy to help overburdened teachers resolve the pressures that are driving them out of the classroom.
The book, published by Teachers College Press, is based on the successful Mindful Teacher leadership seminars developed by co-authors Dennis Shirley, a professor at the Lynch School of Education, and Elizabeth MacDonald, a veteran Boston teacher and adjunct faculty member at BC.
The co-authors say there's a better way to support overwhelmed teachers. It starts by talking with colleagues about the daily challenges inside and outside the classroom and draws on the use of small group discussions, journal writing, research-proven strategies and even a little meditation.
Shirley emphasizes that there are no quick fixes to retain good teachers.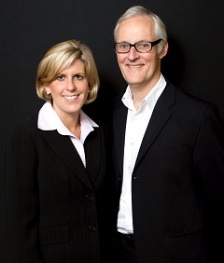 Elizabeth MacDonald & Dennis Shirley
"Mindful teaching is not a program that can be purchased, a recipe that can be followed, or a silver bullet that can be fired into your instruction to raise your test scores," he says. "It is a form of teaching that is informed by contemplative practices and teacher inquiry that enables teachers to interrupt their harried lifestyles, come to themselves through participation in a collegial community of inquiry and practice, and to attend to aspects of their classroom instruction and pupils' learning that are ordinarily overlooked in the press of events."
The Mindful Teacher argues that the pressures on classroom teachers have become so great that few teachers are able to find time to reflect on their successes and failures in the company of their fellow teachers. Mindfulness is a term that is used in a variety of forms in different philosophical and religious traditions. Shirley and MacDonald use the term to denote heightened awareness of the choices that teachers make and their consequences for student learning.
A 14-year veteran of the classroom, MacDonald says teachers – particularly those working in urban schools – face numerous pressures that make teaching today harder than ever.
Celebrate the release of
The Mindful Teacher
with the co-authors
at a book signing on
Saturday, November 21, 2009,
from 1-4 p.m.
at the restaurant Rocca,
500 Harrison Ave.,
in Boston's South End.
"The measures of accountability forcing teachers to constantly look at data to improve their numbers, the greater expectation to serve on multiple committees within and outside of their school, the frequent changes of curriculum and district mandates along with meeting the emotional, linguistic, cultural and academic needs of their children and families have contributed to the professional burnout of teachers today," MacDonald says. "Mindful Teacher is a place where a teacher's voice is heard and their leadership is fostered, nurtured and supported."
Initiated through a grant from the Lynch School's Boston Collaborative Fellows Program, The Mindful Teacher is a way to address "alienated teaching" – the kind of teaching performed under external pressures that can range from policy changes to union politics to street violence in the school community.
Overcoming alienated teaching calls for "mindful teaching" that helps teachers lead themselves, their schools and their students to a more satisfactory and successful classroom experience.
Former Boston Public Schools Superintendent Thomas W. Payzant offered this advance praise for the book: "In The Mindful Teacher, Elizabeth MacDonald and Dennis Shirley show that even the best of reforms require a distinctive blend of professional expertise and ongoing reflection if they are to reach their full potential. This book provides powerful evidence of the benefits of authentic school and university partnerships. The Mindful Teacher will be treasured by educators everywhere."
For additional information, contact Ed Hayward in the Boston College Office of News & Public Affairs at 617-552-4826 or ed.hayward@bc.edu, or visit the website www.mindfulteacher.com.