Mahalik Recognized for Outstanding Contributions
lynch school of education professor james mahalik nameda fellow of the association for psychological science

CHESTNUT HILL, MA (12-8-09) - James R. Mahalik, Ph.D., a professor in the counseling psychology program in the Lynch School of Education at Boston College, has been selected as one of this year's Fellows by the Association for Psychological Science.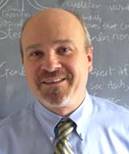 James Mahalik
Lynch School of Education
The awarding of Fellow status recognizes Professor Mahalik's sustained and outstanding distinguished contributions to psychological science during his career.

He was also awarded Fellow status by the American Psychological Association in 2006.

Professor Mahalik's research examines the contributions of gender socialization and social influence variables as they explain psychological and physical well-being including health behaviors. He received the Researcher of the Year Award from the Society for the Psychological Study of Men and Masculinity, Division 51 of the American Psychological Association in 2003.

The Association for Psychological Science (previously the American Psychological Society) is a nonprofit organization dedicated to the advancement of scientific psychology and its representation at the national and international level. Its mission is to promote, protect, and advance the interests of scientifically oriented psychology in research, application, teaching, and the improvement of human welfare.

###